Art teachers bring the art classroom to students' homes
To many students, art classes play a unique role in their school schedule. It gives them a break from the lecture-based classroom and encourages them to display individuality through their own work. When art classes were at risk of halting due to shelter in place, art teachers worked extensively to bring the best art experience home as possible.
Art teachers, realizing that some students might not even have basic art supplies, carefully crafted kits for each of their classes and organized pickups for the students. For example, besides receiving a 5-pound-block of clay and the basic tools, ceramics students also received a tablecloth to protect their workspaces and a towel to wipe their hands in case they needed to use the computer. All the art students also received basic school supplies: scissors, glue sticks, extra paper, a notebook, pencils, markers and more.
Ceramics classes and 3D Design classes were particularly concerned about how they would proceed with the clay projects. In a normal setting, ceramic sculptures would be fired in a kiln for the clay to harden. After that, the sculptures would be painted with glaze for a glossy surface and fired again. While shelter-in-place may have limited students' access to a kiln, 3D Design and Ceramics teacher Charlotte Kruk allowed her students to drop off their projects in front of her classroom so that she could fire their projects.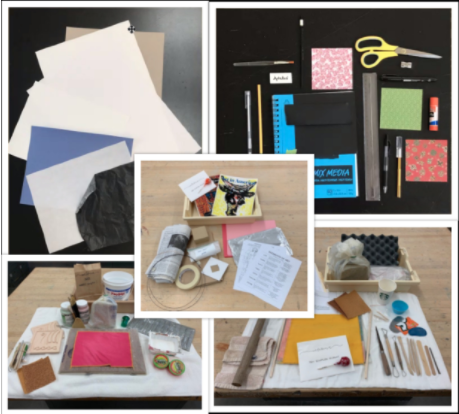 "One of the teachers I know was just going to have her students build and then squash it back down and then rebuild another form and then squash it back down," Kruk said. "But the beauty of ceramics truly comes from seeing the miraculous transformation of clay into its final product. To honor the significance of that, you have to understand the entire process, which means firing the work, glazing the work, and then re-firing the work."
Despite the extensive efforts of the art department to revive the art classroom through Zoom, the constantly evolving circumstances of the COVID-19 pandemic can create a wide variety of issues for even the most prepared teachers. As a result, art teachers needed to be creative in making an adaptable class plan. For instance, Kruk recovered Lynbrook's discarded library books and instructed her students to cut out some pages, bind the book with colored paper, and create a book collage of the art vocabulary that they had learned in class. 
Art 1 teacher Haviland Hage introduced students to "knolling," the art of arranging similar-themed objects in aesthetic patterns, which was intended to help students create art with objects located in the convenience of their homes.
"I honestly expected more of a paper and pencil-oriented class when I entered Art 1," sophomore and Art 1 student Isabella Yang said. "Instead, however, we're doing many more mediums of art than I expected, such as collages, knolling and more. It's pretty interesting because you get to truly experience the variety in the art field."
According to Hage, she believes that her innovative thinking can last her class a long time even if she did not have sufficient resources.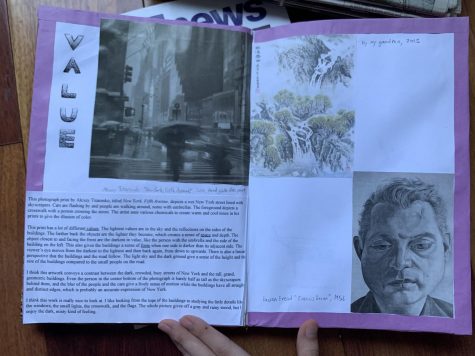 "The supply kit may seem like a limited amount of supplies, but the variety of things you can do with those supplies is extremely vast," Hage said. "This is a time for us to think outside of the box. Some of the best art and inventions that have ever been made are from a situation that caused people to get creative with a limited toolbox, so I believe that this is definitely an opportunity for my students and I to explore."
Another aspect the art teachers had to get creative about was the logistics of each school day. For the 2020-2021 online school year, Lynbrook transitioned from a two-block schedule from the prior year to a four-block schedule. Teachers had to replan their curriculum to fit the online environment while keeping students engaged. Most of the art classes adapted the format of 15 to 30 minutes of synchronous work to start the class, followed by individual work time either in breakout rooms or off of Zoom for the rest of the period. To monitor progress, students would submit in-progress photos of their artwork, and teachers would then comment with feedback accordingly. 
"Working on something with my hands helps my eyes take a break from the screen time I get from other classes, which is quite nice," junior and 3D Design 1 student Sophie Chen said.
Although the asynchronous-dominated schedule gives students a break from the screen, it also hinders verbal communication and social connections that are usually fostered in an art classroom. Students are less likely to consult others for advice on their artwork, and teachers are still exploring new methods to replace the interactive atmosphere of an in-person class. 
"A nice thing that I've seen is that students start having conversations through the Google Slide without me prompting them to do so," Art 2, 3 and Studio Art teacher Matthew Reynolds said. "But I think the verbal social interaction is still missing from this online setting."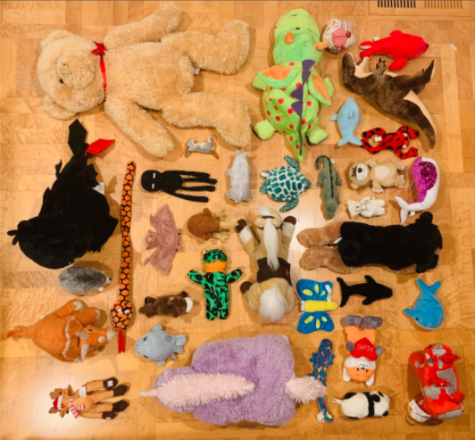 Art students also agree that the lack of verbal communication is a major difference between the in-person art classroom and Zoom art classes. However, Reynolds has constantly been making renovations to his class plan to allow more comfortable verbal interactions to happen. 
"Most of our breakout rooms used to be pretty silent," senior and AP Studio Art student Julia Wang said. "I didn't know where my peers were because they had their cameras off, so it was kind of awkward to start a conversation from silence. However, with the addition of chosen breakout rooms, people have definitely been interacting more than before."
Despite the difficult circumstances of online learning, art teachers continue to develop their curriculum and add new elements. For example, to contribute to the anti-racism culture that Lynbrook is advocating, Hage has renovated her curriculum to include more black artists, minority artists and female artists to broaden her students' perspectives on art in general.
"The art world is a predominantly white male world, and part of my job is to make sure that I expose my students to a huge, vast, diverse group of artists," Hage said. 
Meanwhile, Kruk is incorporating more current events and social discussions into her lessons, guiding her ceramics students to create a beaded necklace where each bead symbolizes an issue worth addressing in society. She has also created a planter project to symbolize the work that parents invest in their child in hope that family members will have a greater appreciation for each other.
"I feel that it's super critical to have a conversation around anti-racism," Kruk said. "Right now, we're talking about symbols and words around social justice. Together, we're trying to unpack our biases and come united to either make a grand necklace with all these beads or think about how each of these beads could be hung or displayed in a unique three dimensional space."
In this large learning curve for art teachers to transition from an in person classroom to online, art teachers most frequently cite their students as their pillar of support. Students familiar with technology helped teachers adapt to a whole new style of teaching. 
"Students have been great at sharing resources and ideas about what they think would help, and I really appreciate that," Reynolds said. "Especially in this context, collaboration is more essential than ever, so I am glad that we are figuring out how to navigate online learning together."
As for Kruk, she received technical support from her students and her colleagues, which gave her more time to help students in the area of her expertise.
"When we just started distance learning, I didn't even know how to set up a video camera," Kruk said. "Mr. Taylor was nice enough to teach me how to do it and teach me all the other simple things such as making bookmarks for Schoology. I also do see it in the chat when someone will say something, and another student will try to help and address it. I really honor that because we should understand each other's struggles and help each other out in these difficult times."
Through extensive planning and commitment, the art department was able to adapt the art curriculum to the online environment, allowing for students to receive the best art experience as possible in current circumstances. Although in person school is the more ideal option in terms of hands-on education, teachers continue to positively influence their students in hopes that they will be able to reunite in the future.