New specialist Loughran navigates virtual attendance
In online Zoom meetings, students have interacted with their classmates and teachers, but are unable to greet the rest of the Lynbrook staff like they would in person. If school were on campus, students might notice a few new faces, among them Nicole Loughran, the new attendance specialist.
Loughran is originally from the Bay Area, having grown up in Sunnyvale. After graduating from Homestead High School, she studied public relations at San Jose State University. Organizing and leading events had always appealed to her, so after her college graduation, she worked for six years as an events coordinator and pastor in a church ministry. In addition to leadership, education has also always been an interest for Loughran. In the past, she worked as a kindergarten teaching assistant and coached boys and girls' basketball at Cupertino Middle School.
After spending some time at the Santa Clara County Office of Education, Loughran found an opening for the attendance specialist position at Lynbrook. She wanted to work with high school students and was drawn to the position after hearing about Lynbrook's spirited culture.
"I remember being in high school," Loughran said. "It's a very interesting time navigating yourself as an individual, navigating social groups, navigating where you want to head as a young adult. So I think for me, I really like positions where I can interact with students."
Due to Lynbrook's remote learning environment this year, Loughran has not been able to interact with students the way she had hoped, though her work with attendance still naturally revolves around the students. As an attendance specialist, her job is to process attendance and communicate with parents. Throughout the day, she fields a stream of calls and emails mainly from students and parents, investigates unexplained student absences and verifies student presence with teachers.
Loughran's favorite part of the job is tracking patterns in student attendance. If a student shows up late to class or misses the same class consistently, Loughran tries to get to the bottom of the problem. Once she figures it out, she usually tries to address it by contacting and having conversations with families. Sometimes, this requires the help of guidance counselors and other staff.
"It's making that deeper connection with the families and students, and diving into the reasons why, because a lot of what you'll find is their struggles at home, their struggles personally," Loughran said. "I think really being able to dig and figure out how to best support the students is the most important and life-giving portion of the job."
Besides limiting interaction with students, the pandemic has also changed many other aspects of Loughran's duties. For example, she has had to adapt to using e-passes, which are being filled out by students in place of paper ones this year. Loughran has also dealt with many technical issues that can pose obstacles for student attendance now that school is online. She finds that attendance is harder to enforce, due to students irregularly entering and leaving Zoom meetings.
"It's been a big learning curve, especially being brand new in this field," Loughran said. "It was a big learning curve for everybody involved."
Loughran recognizes that flexibility is key during this time. She understands teachers and students may be facing difficulties during the pandemic, from engaging large virtual classrooms to managing mental health while social distancing. From her experience so far, she has come up with a few tips to help students to lessen anxiety and stress over attendance.
Loughran suggests that students show up a couple minutes early to class, in case any technology issues pop up. When problems do occur, she strongly encourages students to have their parents call her immediately. Loughran also noticed that students are sometimes not vocal enough when they enter class late, which results in accidental absences. To avoid this issue, students should communicate with their teacher to ensure their presence is known.
As she has handled the different attendance issues that have come with the transition online, Loughran is grateful for the friendliness and helpfulness of other Lynbrook staff that have made joining the Lynbrook community during this unconventional time easier.
Senior clerical assistant Jena Rajabally has worked quite closely with Loughran since her arrival, and gotten to know her more through conversations.
"Some of us that have been working here for several years always go and talk to [new staff] to make sure they feel welcome," Rajabally said.
In addition, monthly staff lunches, now on Zoom, are an opportunity to welcome new staff.
Outside of work, Loughran treasures her personal relationships, and she loves to spend time with friends and family. Quarantine has pushed her to adjust in that regard.
"My main love language is quality time, so I've had a particularly difficult time with not having access to friends and family, in-person, doing the 'normal' connection things," Loughran said. "I'm half Filipino, and family time around food is huge for us. So, we've definitely been missing that time together."
As an avid foodie, Loughran loves trying different restaurants with her brothers. This summer, playing Animal Crossing with them was a great bonding experience as well. In her spare time, Loughran enjoys reading and playing basketball, or recently, tennis. Disney+ is one of her go-to entertainments, as she has a passion for Disney and its heart-warming, emotionally gripping films. Her two current favorite Disney movies are "Moana" and "Inside Out," though "The Good Dinosaur" was also a tear-jerker, she notes.
In the future, Loughran hopes to get to know students in person. Until then, she will continue to help school run smoothly and support students and their families.
About the Writer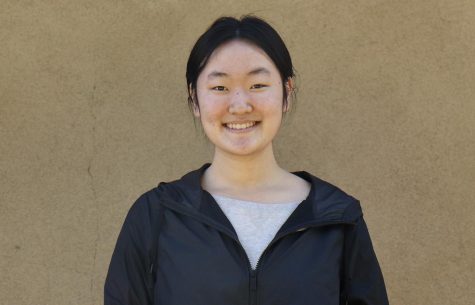 Melissa Chen, Writer
Melissa can't wait to continue writing for the Epic this year, though she's a little sad that, as a senior, this will be her last year. Soggy cereal, hot...