Katya Tsikina catches the eye of VSCO
Senior Katya Tsikina has taken the term "VSCO girl" to another level. After sharing her photography skills online for several years, Tsikina's work has recently been recognized by VSCO, which has featured her as a creator on their website.
Tsikina has been passionate about photography since a young age. Her initial foray into the world of photography came when her grandfather gifted her her first camera, which she still considers a prized possession. She also recalls fighting with her sister over a Canon camera her sister received for Christmas. With these tools, she began to capture images of the world around her and never looked back. She now uses VSCO, Adobe Lightroom and Adobe Photoshop to edit the photos she takes with her Canon EFS 15-85 mm camera.
Tsikina's relationship with photography is one of growth and reflection. She sees her photographs not as individual entities, but rather a series of installments in her progression as an artist.
"As I grew and matured, the photographs I took began to change," Tsikina said. "Photography was no longer about taking photos of things that captured my eye. Instead, it became an important form of self-expression for me."
Photography has allowed Tsikina to see herself and the world from a different perspective, reminding her of how far she has come since the outset of her journey.
"I am overwhelmed with everything inside me at times, and giving all my thoughts and worries a physical existence helps me free my mind," Tsikina said. "While looking at my photographs, I can study them and understand myself. Photography helps me emotionally as I face everything that is weighing me down."
Tsikina keeps a journal in which she reflects on her emotions and plans compositions. It serves as a hub for her brainstorms and rough drafts of poses and compositions. Because her stories are often filled with depth and meaning, she enjoys thinking about the many ways in which she can give her subjects a voice through their bodies and facial expressions, tapping into their emotions.
"I give my thoughts and emotions a physical existence in my photos through careful consideration of the setting, subjects, lighting and props," Tsikina said. "I like to think of my photographs as having two sides to them: one side is the composition and how the colors, clothing and setting blend together to create a visually compelling image, while the other side focuses on how the poses and props tell a story and evoke feelings from my audience."
While taking photos, Tsikina uses an array of positions and angles. This technique allows her to bring diverse perspectives to the same set of poses and compositions. In this way, Tsikina's style is very different from the works of traditional photographers, as her photos focus not on the subjects featured, but rather on the emotions a viewer feels.
"I've found a way to connect to her photos on a more personal, intimate level," senior Amudha Sairam said. "Through viewing her photos, I've realized that a lot of us have similar thoughts and feel similar emotions, including empathy, isolation, love and connectivity."
Tsikina has collaborated with fellow Lynbrook photographers Jalene Chok and Rhea Anand, noting that the unique circumstances of their photoshoots allowed her to learn from her peers.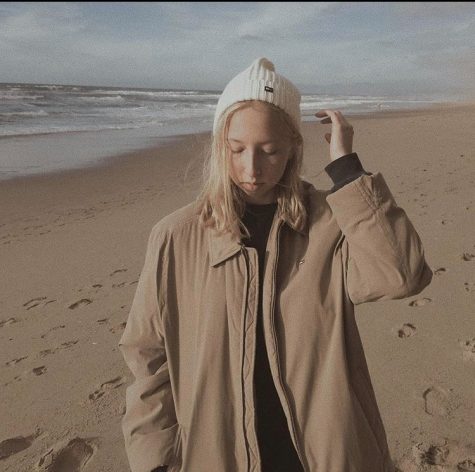 "Collaborating with Jalene was an interesting experience for me, as I was the subject as well as the photographer in the photoshoot," Tsikina said. "Rhea and I had lots of fun taking retro photos with our film cameras in a laundromat while the people around us were doing their laundry."
Photography has transformed the way in which Tsikina faces her emotions. She believes that each photoshoot takes her a step further toward grasping her own identity.
"Instinctively, I am used to pushing down and forgetting everything that bothers me, but through photography, I try to give these feelings another meaning," Tsikina said. "I try to create something that can express how I feel and hopefully help others who may be feeling the same."
Tsikina's experiences as a dancer have influenced her photography style. She uses her knowledge of the way in which the human body and its movements can express different feelings to plan her subjects' poses. She emphasizes the emotional value of her photos, composing them to evoke otherwise dormant emotions in her audience.
"Through photography, I am able to translate motions into poses, capturing them in place," Tsikina said. "I fell in love with creating poses that reflect a deeper meaning behind my compositions. From my experience in dance, I am able to compose them in my mind and draw rough drafts in my journal."
Tsikina's photography captured the attention of a VSCO editor, who published a journal post about her photography process on Jan. 24.
"Having a whole journal published about my work was such an amazing opportunity and achievement," Tsikina said. "This recognition has helped me see that I create pieces that others enjoy. I am excited to continue sharing my photos with my audience."
Tsikina hopes to turn her photography hobby into a career through a photography minor in college and to reach others through her imaginative compositions. She advises aspiring photographers to search for an emotion to serve as a guide when imagining creations. She also recommends exploring the unique perspectives of different angles and distances.
"As long as the photographs you are taking are meaningful to you, the photoshoots will always be a success," Tsikina said.