Brain and Brawn showcases students' varied strengths
Brain and Brawn was a strenuous competition that tested both participants' physical and mental skills. Hosted by Lynbrook's Athletics Unlimited Club, the tournament took place during lunches in the quad from Feb. 11 to 14. The competition involved three events: Connect Four, arm wrestling and tug-of-war.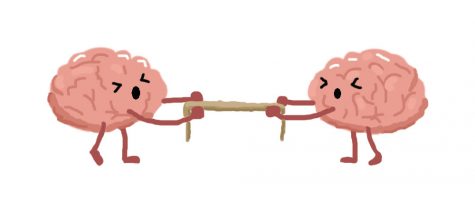 Juniors Fred Lee and Eric Zhang came up with the idea for Brain and Brawn, hoping to host a competition that would allow both athletes and non-athletes to participate. It took the pair of them around a month and a half to plan the event, as they had to come up with events and their rules from scratch, and faced many challenges along the way.
"In order to host a Connect Four game, we needed the game board, and we couldn't find one," said Athletics Unlimited officer Jessica Atmadja. "Luckily, the LHS staff had one lying around and were so generous to let us borrow it."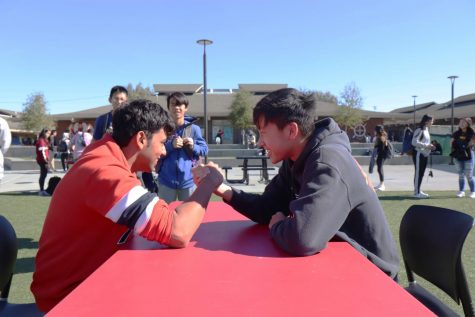 Six teams participated in the tournament. In order to compete, each team was required to have three members, one of whom had to be a girl. Two members of each team participated in the Connect Four and arm wrestling events. The two members played cooperatively for the Connect Four game and took turns for the arm wrestling event. All three members participated in the tug-of-war, which was the only event that the third member took part in. The tournament was designed to be bracket style: the winners of each day moved on to play each other throughout the week until the overall winner was determined. The winning team was awarded with anything of their choice within a twenty dollar budget.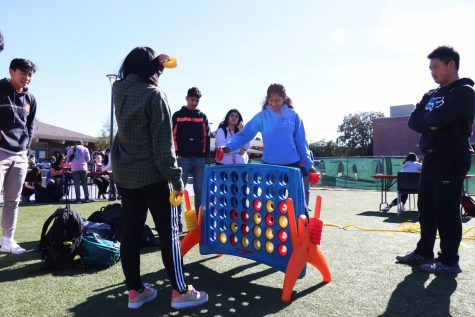 Junior Naman Singhal paired up with his friends, juniors Ammar Khan and Elina Kulakkotial, to compete in the tournament. They played against their first opponents, a team with juniors Justin Dong, Amy Sun and Alex Cheng, on the first day of the tournament. Singhal's team was able to win every event and move on to the next day. Although they fell short of winning, Singhal still had a fun time with his teammates participating in this tournament.
"My favorite part of the tournament was the tug-of-war because it was the most intense event," Singhal said. "All three of us had to work together to win."
The winners of the overall tournament were juniors Hayden Cho, Alexa Kwan and Benjamin Leung. In their championship game, they played juniors Fabio Peralta-Costa, Ishan Saharoy and Dasha Kir. They were able to win the Connect Four and tug-of-war event to win the overall tournament. The tug-of-war match was especially close, with Peralta-Costa's team winning by a slim margin.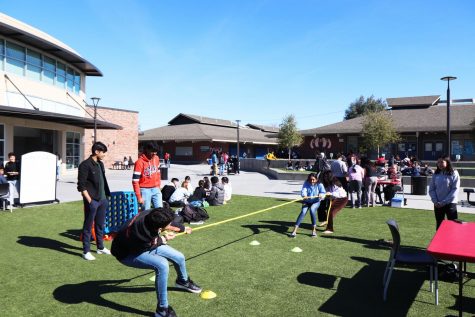 Athletics Unlimited concluded that the tournament did not turn out according to their expectations, as they had hoped for more involvement and enthusiasm from the competitors and audience.
"We hoped for a little more excitement from people for the tournament, but sometimes it just doesn't work out," Atmadja said. "It was a unique experience hosting a new tournament, but as of right now, we do not plan on having this tournament again."
The club has decided to stick to their roots in the future and mainly host tournaments that have already proven to be successful, such as dodgeball, Spikefest, and March Madness. Following the end of the Brain and Brawn tournament, the March Madness basketball tournament is slated to begin next month.