NBA's support of Morey is justified
China has cut off numerous ties with the National Basketball Association (NBA) following a controversial tweet by Houston Rockets General Manager Daryl Morey, through which he expressed support for the Hong Kong protesters. Many prominent figures in the NBA have shared dissenting views on Morey's tweets, including NBA commissioner Adam Silver, coaches Gregg Poppovich and Steve Kerr and Los Angeles Lakers star forward LeBron James, all of which have resulted in unwarranted backlash and controversy.
In a since deleted tweet initially posted on Oct. 4, Morey shared a graphic with the words "Fight for Freedom. Stand with Hong Kong." The fallout between China and the league was instant — the Chinese government cancelled NBA fan events, refused to broadcast NBA preseason games and took down NBA posters and Houston Rockets merchandise from online shopping websites.
Aiming to clarify the NBA's stance and rectify its relationship with China, Silver issued a statement conveying his support for Morey's freedom of speech as well as the league's affinity for China.
"We have seen how basketball can be an important form of people-to-people exchange that deepens ties between the United States and China," Silver said. "The NBA will not put itself in a position of regulating what players, employees and team owners say or will not say on these issues."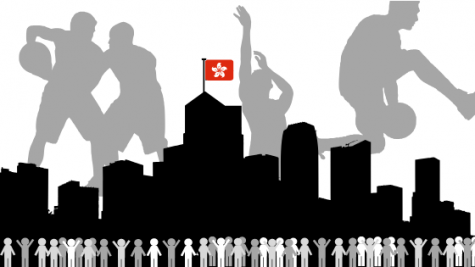 China, however, was not satisfied with Silver's statement or Morey's apology and made no efforts to improve relations with the NBA. With more than 600 million viewers of the NBA in China along with countless broadcasting and sponsorship deals, some worth upwards of one billion dollars, the discontinuation of NBA broadcasts in China will not only cause a significant plunge to the NBA's viewership, but also have a detrimental economic effect on the NBA. While the anger that China is feeling is understandable, their refusal to broadcast games despite public apologies from Morey is unjustified since the NBA serves as a source of entertainment to people who live in the nation. In addition, NBA players act as role models to young children.
Kerr and Poppovich have also received criticism for their comments. The two outspoken coaches have been known for sharing critical statements regarding the U.S. government, namely the Donald Trump administration. When asked about issues related to China, however, they remained tight lipped, declining to comment. As a result, many people questioned why the coaches did not share their thoughts and chastised them for not speaking up. Trump, for example, tweeted about the coaches' refusal to speak out, referring to Kerr as a "scared little boy".
These coaches should not have received the backlash, as it is their right to speak on topics of their choosing. With such a controversial issue, they may have wanted more information on the matter before taking a stance. It is unacceptable to be criticized for not saying anything.
James' comments that Morey's tweet was "uneducated" were also met with criticism. Max Kellerman, an Entertainment and Sports Programming Network analyst, even went so far as to calling James a sellout. Also, many Hong Kong protesters who were once fans of James burned and trampled over his jerseys.
The NBA should continue encouraging freedom of speech. Morey's tweet was not heavily offensive or absurd, so he should not have had received so much backlash for voicing what he thought was right. Expressing personal beliefs and supporting a cause is a right that all American people are entitled to. I stand with Morey for exercising his right to freedom of speech and applaud Silver for encouraging this right. Regardless of the NBA's ties with China, everyone affiliated with the association, including players, coaches and management, should be able to fight and support what they truly believe in — which is exactly what Morey did.