Staff cheer on their favorite sports team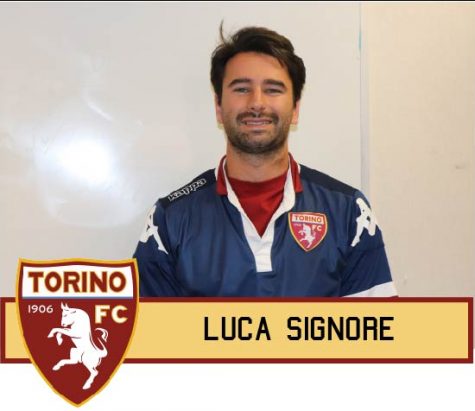 Luca Signore:
History and physical education teacher Luca Signore has been an avid fan of Italian soccer team Torino F.C. since the day he was born. Soccer is pervasive in Italian culture; it is customary to know all the different teams in Italy and watch soccer as a family. 
"Every family supports a particular team, and so you were born into being a fan of that team," Signore said. "From as young as I can remember, I was already getting team merchandise as presents like jerseys or soccer balls." 
Signore still regularly watches soccer whenever and wherever while balancing his time with teaching students, coaching sports and advising clubs. Signore's favorite team, Torino F.C., is a team in the Serie A league in Italy near his hometown of Torino, Italy. Although his family lived near Juventus F.C., a more popular and higher-ranked team that boasts the famed athlete Cristiano Ronaldo, they have always supported Torino.  When Torino earned its promotion to First Division in 2006, Signore attended that game with his father and friends and he considers it his most memorable experience. 
Every year, Signore visits a museum memorial built on the hill. In 1949, Torino was one of the best teams in Italy, but tragically, all the team members died in a plane crash. He has a team souvenir book that contains newspaper clippings and various items illustrating the history of Torino. 
However, Signore's favorite soccer player does not play for Torino. Francesco Totti, a midfielder who played from 1993 to 1997 for A.S. Roma, another Italian soccer team based in Rome, is his all-time favorite. Totti received many offers to join Real Madrid and other famous teams, but he turned them down to spend his career in his hometown of Roma. 
"That sort of loyalty doesn't really exist anymore, and it's refreshing to see someone give their heart and soul to the city and people they love," Signore said. 
As the 2022 FIFA World Cup approaches, Signore hopes to see his two favorite countries, Italy and the U.S., succeed.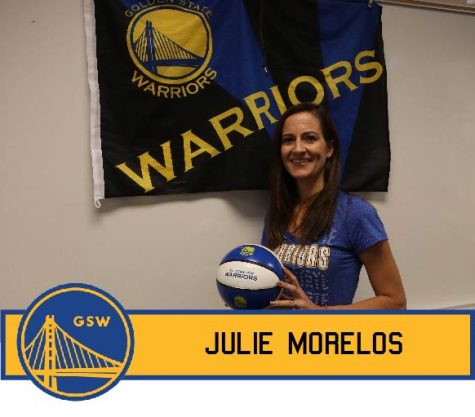 Julie Morelos: 
Basketball has played a great role in Spanish teacher and Lynbrook alumni Julie Morelos's life. While in school, Morelos played basketball, and afterward, she coached for 10 years. 
Currently, Morelos has a two-year-old son she wants to spend all of her time with, so she has less time to play basketball. Lynbrook offered a coaching position to her, but she turned it down. Consequently, she began to watch National Basketball Association (NBA) and some collegiate games as her means of continuing to engage with basketball. Her favorite team is the Golden State Warriors, her local team. 
"Currently, Stephen Curry [is my favorite player]," Morelos said. "Everybody says that, but he has changed the game of basketball." 
She believes that his shooting skills are outmatched and that he is a great role model in both life and basketball. Her best piece of fan merchandise is Stephen Curry's jersey, which she acquired through a basketball game at Great America. 
"I actually played quite well and my final score was the best for the day. And so I won a legit Stephen Curry jersey," Morelos said.  
As the NBA season approaches, she is also very excited about how the Los Angeles Lakers will fare since LeBron James and Anthony Davis are playing together for the first time. In addition, New Orleans Pelicans have gained a lot of promising young players such as Zion Williamson. 
"People are comparing [Williamson] him to James. So I'm super excited to see what he does." Morelos said.  "In the preseason, he was scoring 30 points a game."
Morelos believes that it's important to have a hobby or something one is really passionate about, like basketball is to her, rather than studying all the time. She encourages this mindset among all her students.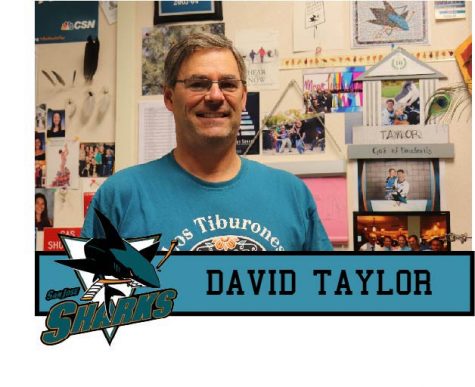 David Taylor:
Unlike many San Jose Sharks fans, physics teacher David Taylor has been a Sharks fanatic  for nearly 30 years, since their first season. In 1991, Taylor moved to San Jose as the Sharks debuted as the city's only professional ice hockey team.
"The excitement is what drew me in," Taylor said. "Ice hockey is a very fast-paced sport and the action just never seems to stop."
Taylor is a season ticket holder of the Sharks and goes to as many games as he can. He never misses watching a game. 
Among the Sharks, Taylor has many favorite players including forward Patrick Marlowe, alternate captain and forward Tomas Hertl, and defenseman Brent Burns. 
"They all come through in tough times," Taylor said. "When we really need someone to step up and take control over the things, these are the guys that usually do so and take the measures to be responsible for the team."
Although all games are intense and filled with fast-paced action, Taylor feels the most stressed when the games involve such high stakes as winning against a rivaling team like the Vegas Golden Knights. 
Taylor's favorite game in his nearly 30 years of being a Sharks fan was the Sharks' win in Game 7 of the 2019 Stanley Cup playoff first-round series against the Vegas Golden Knights. To Taylor, winning this game after losing for most of it, especially when the stakes were the highest for the Sharks, was the strongest and most memorable comeback of all time.
This season, Taylor can't wait to watch more Sharks games and make more memories with the team and their fans. Taylor is hoping the best for the Sharks and is excited to see the Sharks defeat all rivaling teams and win the Stanley Cup.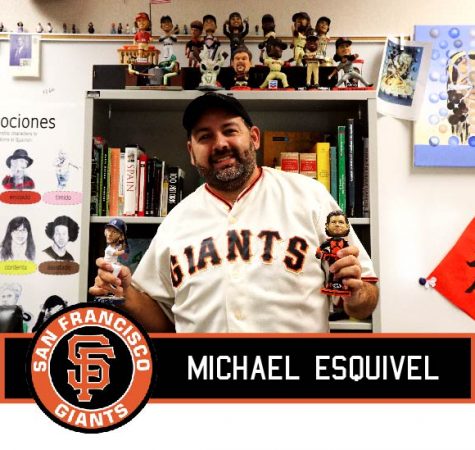 Michael Esquivel:
Spanish teacher Michael Esquivel has not always been an avid fan of baseball. For a short period of time in his childhood, Esquivel watched Major League Baseball (MLB) and collected baseball cards. However, as Esquivel grew older and attended high school without playing any sports, his connection with baseball began to fade. It was only when Esquivel married his wife that he was able to rekindle his love for the sport.
"My wife's brothers are huge sports fanatics, and spending time with them got me back into watching baseball," Esquivel said. "I married into a family who were diehard fans of the San Francisco Giants, and I guess if I married into a family who were diehard fans of the A's, I would be a huge A's fan right now." 
Esquivel tries to watch Giants' games at home as frequently as he can, however, doesn't   many chances to as his family prefers watching the Giants play at the stadium instead of on television. As a result, Esquivel goes to several games every season and has only become more of a fanatic.
One tradition that Esquivel follows when attending games is getting to the stadium as early as possible and claiming the giveaway item at the game. Esquivel's collection of free merchandise ranges from bobbleheads to a variety of shirts and sunglasses. 
"A cool bobblehead I got is the one of [Clayton] Kershaw," Esquivel said, "Kershaw is actually a pitcher for the Dodgers, the Giants' biggest rival. Even though he is on our rival team, I think he is one of the best pitchers if not the best pitcher in the MLB, so I have him up there to give respect where respect is due."
Next season, Esquivel is looking forward to finding out who the new Giants' coach is. He hopes the new coach can lead the Giants through a successful season, which the Giants have not had in a long time.