911 texting service launches
Text to 911 program was officially released by Santa Clara County in September, and it is currently available to most cities in Santa Clara County, excluding Campbell and Los Gatos.
This program provides those who are deaf, hard-of-hearing or have a speech disability with a way to contact 911 in case of an emergency. Before this program was released, people with hearing and speaking disabilities had to communicate using sign language or through a specially designed typewriter device to a relay service, which would then notify emergency dispatchers. With the 911 texting program, they can now efficiently communicate their situation through text message.
Additionally, if an emergency situation arises in which it is unsafe or impossible to call, the victim can quickly and silently text 911, rather than endangering themselves by speaking out loud. However, citizens are reminded to text only when absolutely necessary and to call whenever possible.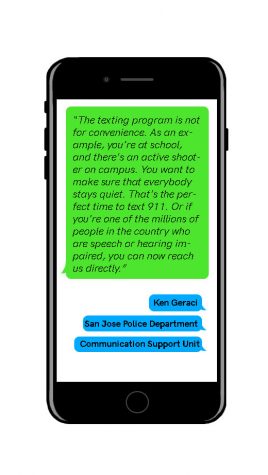 "The texting program is not for convenience," said Ken Geraci, a member of San Jose Police Department's (SJPD) Communication Support Unit. "It's for some very specific situations. As an example, you're at school, and there's an active shooter on campus. You want to make sure that the shooter doesn't know who's in there, so everybody needs to stay quiet. That's the perfect time to text to 911. Or if you're one of the millions of people in the country who are speech or hearing impaired, and simply cannot use the phone, you can now reach us directly."
The SJPD webpage lists several guidelines for texting 911. The text messages must include the user's location and type of emergency. Additionally, senders are advised to send simple, concise messages without using abbreviations.
"Texting is not new to anybody in the control room," Geraci said. "We all text. We all know a lot of the shorthand abbreviations. The difficulty is that sometimes those mean different things to different people in different contexts. Being misunderstood results in a question that delays [the user] from getting help."
On Jan. 2, SJPD released a soft opening of the 911 texting service after testing it for several months. The purpose of this soft opening was to test the reliability and consistency of the program before officially releasing it to the public. According to Geraci, SJPD has received 670 text messages since the soft opening, excluding professional testing. A majority of these texts have not been real emergencies. Rather, curious citizens have been texting in to confirm that the service works. Out of the 670 text messages that have been sent, only four were actual emergencies.
Despite the extensive testing, there are still restrictions to the 911 texting program. For example, the user location tracker is often inaccurate, services are only available in English and photos and videos cannot be sent through the program.
"I really like the concept [of the program] because it allows people who are already at a disadvantage because of their disabilities to contact 911," said sophomore Anwen Huang. "But there should definitely be an option to text in different languages because not everyone is an English-speaker, and location-tracking should definitely be improved."
The program vendors, along with the Federal Communications Commission, are working to develop NG911, also known as Next Generation 911. Changes include refining location tracking by adding a z-coordinate and allowing users to send photos.
"It's all in the works of technology being developed," Geraci said. "Some people in the country may already have some components of that in the system they're using. It just hasn't been refined to make it here yet."
With citizens encouraged to "call when you can; text when you can't", the future of the text to 911 program is bright, and improvements are rapidly being made to ensure that the public can easily access 911.