Halloween staff bake-off takes the cake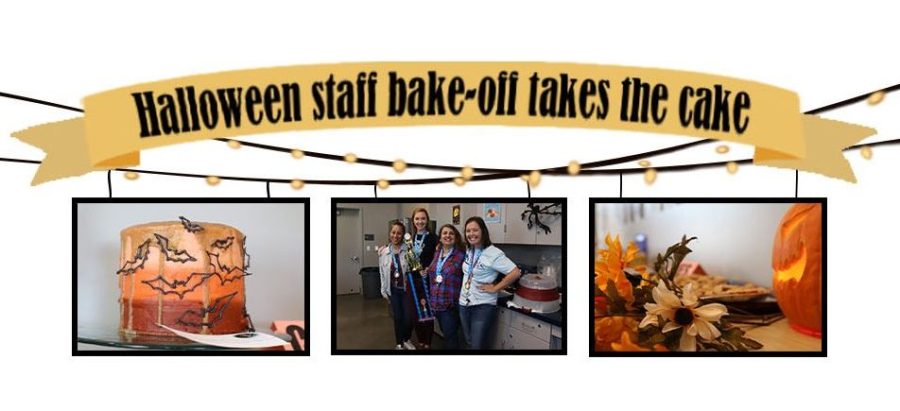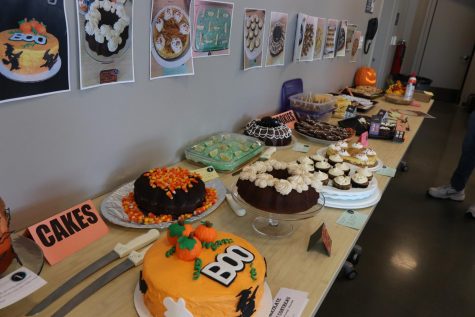 Halloween is the perfect time for both students and staff to come together to enjoy sweet, spooky indulgences. After the success of last year's Chili Cook-Off, the organizers of the Lynbrook Staff Association (LSA), English teacher Andrew Seike and print center technician John Hott, decided to hold a Halloween Bake-Off for their monthly staff event.
The Halloween Bake-Off, which occurred on Oct. 30, had three categories for teachers to compete in: pies, cookies and cakes. Each teacher was allowed to participate in as many categories as they liked, and their entries were judged by four staff members, including guidance counselor Nikki Dang, retired Lynbrook principal Rich Amlin and music teachers Michael Pakaluk and Crystal Isola.
English teacher Erin Levin brought a three-layered cake and prepared for the contest days in advance. A layered cake takes hours of careful preparation, but to Levin, the effort was worth it. As others ate the cake, they were able to enjoy a variety of flavors and could appreciate the carefully constructed layers. Levin was excited for the event, especially since baking is one of her favorite hobbies.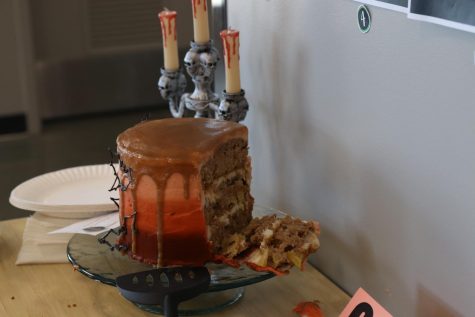 "I like that it's an opportunity for the teachers to show a hobby that's completely unrelated to school," Levin said. "I really enjoy seeing other people eat the stuff that I've made too."
On the morning of the event, teachers brought their confections to the staff lounge for the four judges to sample during fifth period. A variety of desserts were brought in, including skeleton cookies, candy corn cake, carrot cakes, key lime pie and witch fingers.
As teachers entered the staff lounge, they noticed the room's decor and the dishes placed immaculately on the sides. The tables were decorated with autumn leaves, small pumpkins, fake crows and string lights. Tables of soup and salad were set up against the walls as refreshments before the main event.
The judges started to tally their votes and decide on the winners as the other teachers arrived. Every judge rated each dish out of twenty points — ten for the taste, and ten for the appearance. After a short period of discussion, Seike and Hott revealed the winners and runner-ups.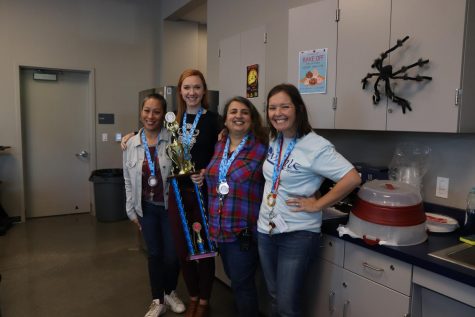 Guidance counselor Malissa Goldstein's peach pie, culinary and special education teacher Megan Miller's "Witch Fingers" and Levin's "Batty Cake" were the winners in the pie, cookie and cake categories respectively. The runner-ups were English teacher Jessica Dunlap's "Toad Venom Pie" and administrative clerk Jena Rajabally's "Pecan Sandies" cookies and "Death by Chocolate" cake, winning second place twice. Levin's three-layer "Batty Cake" was selected as the overall winner with the highest scores in taste and appearance.
"There was nothing [about Levin's taste] that was polarized," Dang said. "It was not too sweet or too tart. It was not too crunchy or too moist. [The cake] was good and pleased everyone's palate."
As the event came to a close, teachers left the staff lounge having satisfied their hunger with delicious desserts. Seike looks forward to holding a similar event during second semester.
"[The Bake-Off] is about bringing people together through sharing good food and having a relaxing time to be with each other without any stress," Seike said.
About the Writer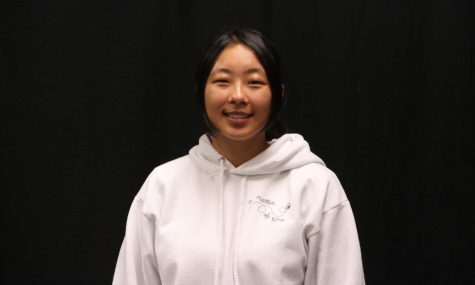 Stella Huang, Writer
Stella is a junior writer for the Epic. She likes writing and making friends, and is often wasting time or talking online. She hopes to travel to Japan...