Bailey Gong fights for a spot on national kung fu team
Sophomore Bailey Gong was just eight years old when his friend, senior Brian Chou, suggested that he try out martial arts. Little did Gong know then that kung fu and wushu, a more advanced type of Chinese kung fu, would later become his specialty and passion.
"[Martial arts] is actually one of the things I am good at," Gong said. "I was never really good at sports like basketball and soccer, so I stuck with kung fu."
Gong first started martial arts by taking classes with friends like Chou, but his passion truly started to develop when he realized his potential in kung fu. Gong's love for the sport is what continues to drive his motivation to pursue martial arts.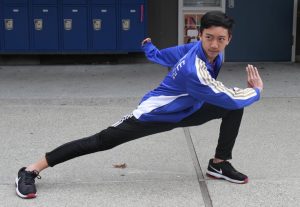 Gong often wins first place awards in many popular local tournaments. Martial arts tournaments, in which contestants compete within age groups and experience level, involve competitors performing three forms in front of multiple judges. The judges will give scores up to 10; 8.0 to 9.0 is an average score, whereas 9.0 and above is considered exceptional. The contestant's final score is the average of all three scores.
Gong also competes nationally; in April 2018, he placed seventh in a national competition in Texas. While pleased with placing seventh, he hopes to improve, as an individual must place at least sixth place to become a substitute for the national team. This year, his goal is to qualify for the USA national team.
Of course, this dream would not be possible without effort. With one and a half to three-hour practices, four days a week, Gong faces many physical challenges in his martial arts training. Throughout these rigorous training sessions, he has bruised his legs, blistered his hands and even pulled muscles: injuries that can take weeks to fully recover from.
Gong also faces many mental challenges in martial arts. Sometimes, he gets discouraged from how painful conditioning can be for him and from little mistakes that can cause him to drop in ranks during competitions. At the high level of competition he participates in, Gong finds it difficult to win against opponents who practice every day. These competitors are more experienced and their skills often improve quickly, which makes catching up and bypassing them very difficult. Still, Gong's perseverance pushes him to keep practicing.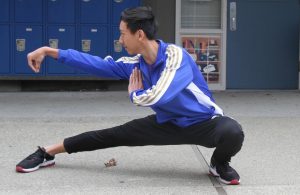 "Many times, I thought 'I can't do this, I want to quit,'" Gong said. "But still, I fight through it."
Although these physical injuries and mental challenges can often discourage Gong, his shifus — the Chinese term for teachers — and his friends motivate him through moments of hardship. In particular, Gong's friends inspire each other to work harder by competing, challenging and encouraging each other to be the best they can be.
"Bailey always lightens up the mood and makes training more fun and cheerful," said Andrew Xi, a junior at Irvington High School and one of Gong'
s teammates. "He is also a hard worker who often influences us to train even harder."
To Gong, his favorite part of participating in martial arts is interacting with his friends during practices. His team has a close bond and cherishes many moments together, helping and motivating each other along the way.
"There are times in class where one of us makes a mistake, and we're all laughing about it, but we're all still trying to help each other get better," Gong said.
Gong's years of grit and perseverance have made him both physically and mentally stronger. Despite moments of hardship, Gong has his friends and shifus for support. As Gong's skills improve throughout his journey in martial arts, the bonds he has made grow with them. Most importantly, Gong has come to understand the importance of dedication.