"I was nervous when I arrived at cheer camp," senior Annabell Macias said. "Though I had previous experience in cheer, the other teams seemed much more advanced."
Lynbrook's varsity cheer team joined teams from all over the Bay Area in a four-day intensive cheer camp hosted at Saint Mary's College this summer. Macias joined cheer in her sophomore year to fulfill her childhood aspirations and to follow in the footsteps of some of her family members. But cheer camp was new — this was the team's first time at camp since the COVID-19 pandemic.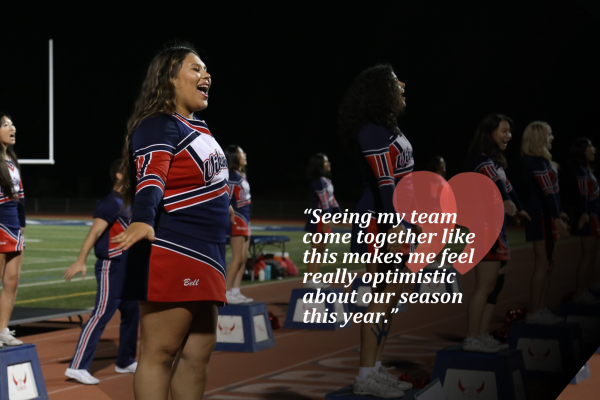 New team, new coach, new environment.
To their surprise, Macias and her team went home on the second day with a new skill: the full-extended lib — a one-legged stunt in the air that requires a great deal of core and hip strength to achieve stability and balance. Macias felt a sense of unity in the team as they perfected this new stunt together. 
"It's really fulfilling knowing that I'm already doing skills that I didn't even know about last year," Macias said. "Seeing my team come together like this makes me feel really optimistic about our season this year."