Editorial: Respecting academic resources in the library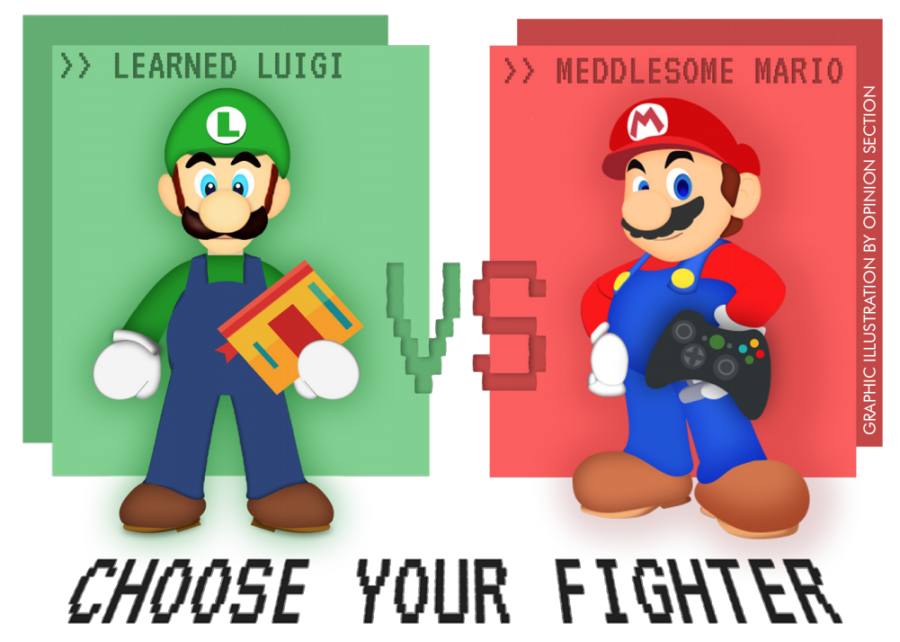 Walking into Lynbrook's library, one might notice students playing games on school computers as others wait for computers to free up so they can complete schoolwork. While playing video games can alleviate stress, using school computers to do so is a display of both disrespect for school's resources and blatant disregard for students who may need to use these computers for academic purposes.
Current library policies allow students to play video games on school computers during library hours except during tutorial and Homework Center. While allowing students computer use recreationally, this policy ensures that resources are available for educational use, especially during tutorial. However, in recent months, more students have been playing video games during educational hours despite repeated reminders to use library resources for their outlined purposes, such as educational research, online learning or online publication of student work.
Although gaming may seem highly unproductive to some, it can help students destress and relax amid the stressful environment of school. Additionally, gaming can help facilitate social interaction, as many student gamers find it enjoyable to be with friends as they play online video games.
"I like to game during brunch and lunch because that's when my friends are here with me, which is definitely more entertaining because you're able to do more as a group rather than alone," said junior Shinda Huang. "While tutorial is a time when students can ask about homework and tests, I also believe it should also be a time when students can relax."
However, gaming in the library does not come without consequences. If library computers are being used to play video games at times of high demand, when many students need to study or print documents for classes, having such resources becomes counterproductive. Because of the gamers, students who need the computers and the space to study for tests or finish homework are deprived of resources that should be readily available to them.
"The hard thing for us [supervising the library] is that students have to come up to us and ask for a computer [if they wish to use a computer that is currently being occupied by someone playing video games]," said Library Media Teacher Amy Ashworth. "We don't want students to have to do that because it means that the students who are too shy or don't want to bother people might not get to print something out for a class."
Student gamers can be found in the library after school during Homework Center as well. Since the purpose of Homework Center is to provide students with a quiet environment that has the necessary resources for students to study and finish homework, gaming during Homework Center on school computers is strictly prohibited.
"In other years, I have maybe had one student gaming, which wasn't an issue, but all of a sudden, in the last month, gaming has invaded Homework Center," said Homework Center coordinator Miko Otoshi. "It's been the biggest problem, and that's why the 'no gaming' rule for Homework Center was instituted last month. It is a problem because [students who are gaming] take up space when somebody is trying to study and also make a lot of noise, especially when they get excited about winning the game."
In order to reduce the number of students playing video games, Ashworth sent out an email via SchoolLoop on Oct. 26 reminding students of the library's gaming rules: gaming in the library is strictly not allowed during Homework Center and tutorial. Moreover, gaming must follow FUHSD Responsible Use Policy for technology, which states that gaming should not interfere with other students.
"When I think of a library, I think of it as a place where I can enrich my learning," said senior Arushi Gautam. "When I go into the library and see 15 computers occupied by video gamers, I get distracted. There are kids just screaming across the library, 'I got a point here' or 'kill that dude.' So, I don't think the library is the appropriate place for them to game."
To uphold proper use of the library's resources, students who wish to play video games during school hours should bring their personal devices and maintain respectful decorum. As gaming in the library is distracting to other students and takes up resources that can be employed for school-related purposes, students who wish to game after school should game at home, and students should refrain from gaming at school if the library is crowded during the day.
Although it is up to students' own discretion as to how they spend their free time at school, staying off screens may be a healthier use of time than gaming. A recent study conducted by the University of Michigan showed that reduced screen time increased happiness. Teenagers indicated to be the happiest spent less than an hour on screens everyday, while those with longer screen times experienced more anxious and depressive thoughts. Thus, students may benefit from spending their breaks at school socializing or participating in activities, rather than using electronic devices.
If gaming in the library continues at such a high rate, students may even be banned from gaming on their own personal devices in the library at any time so that other students can still use the library for academic reasons.
"In the past we said 'no gaming on school computers at all, but it was very loosely enforced," Ashworth said. "However, it seems like more and more people are gaming, so I might have to resort to clearly stating that gaming will no longer be allowed on school computers."
While student gamers are permitted to game during school hours such as lunch or seventh period, they should be mindful of their peers while using school computers to game. If the problem of distracting gaming in the library persists, students may be prohibited from gaming completely. Student gamers should keep this in mind and be courteous while they game in the library.
*the Epic staff voted 38-0 in favor of this stance