Jonathan Leslie takes the moment on and off the field
In fifth grade, junior Jonathan Leslie came across a quote that he has kept with him ever since: "Don't wait for the perfect moment. Take the moment and make it perfect."
When he is on the baseball field, this quote serves as a reminder to just hit the ball and give it his all even when the pitch is tough. When he is conditioning for football, the quote reminds him to look past the pain to improve his stamina. But Jonathan also embodies the quote outside of sports by finding positivity in each moment, no matter how challenging.
Jonathan was first placed into foster care because his biological mother used methamphetamines while pregnant. At 16 months, he was placed into the care of Melissa Leslie. Jonathan was her first foster child.
"Even though he was just 16 months, I could see the absolute distrust in his eyes," Ms. Leslie said. "I wasn't willing to have another failed placement for him. I made a promise to him that I wouldn't give up on him."
In the beginning, taking care of Jonathan meant giving him consistency and a space where he could explore his interests: art, reading and sports. Ms. Leslie's caring nature and generosity sets an example for the person Jonathan wants to be.
"My mom made me into the person I am now," Jonathan said. "She taught me to be respectful, look out for others and do the right thing."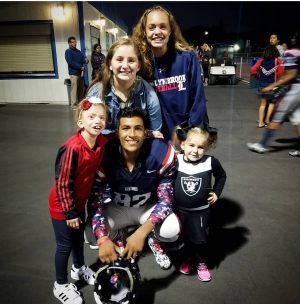 At first, it was just the two of them, but the family has now expanded to seven, including his dad, two biological sisters and three adopted sisters. He enjoys teaching his sister Makailah baseball. Two of his sisters, Serenity and Anastasia, have disabilities. Before leaving for school, Jonathan checks on Serenity, whose disabilities include epilepsy and an inability to speak.
"I feel like I can understand Serenity even though she can't talk," Jonathan said.
During first period, Jonathan takes part in Lauren Blazek's PE Inclusive class, working with special needs students. He has been part of PE Inclusive since the program started last year.
"It's important to me," Jonathan said. "I love making [the PE Inclusive students] feel happy and normal."
Jonathan can often be seen giving high-fives to senior Enereo Gonzales, an ACT student. Gonzales attends Jonathan's football games to cheer him on, waving to him and giving him hugs before Jonathan takes the field.
"He's my best friend," Gonzales said, smiling. "He makes me very happy."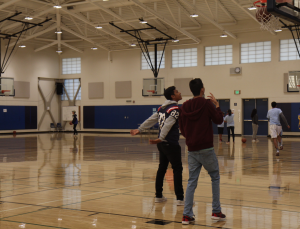 Jonathan's teammates recognize him for the positivity he brings as well.
"He's a bit of a goofball and an extremely hard worker," said senior Dave Desouza-Lawrence, co-captain of the varsity football team. "He's always smiling and happy to be here. When we're in tough situations, he motivates us."
Both on and off the field, special education teacher Miguel Alderete, who has known Jonathan since his freshman year, has watched Jonathan become someone who is not afraid to stand up for others.
"Jonathan's grown into a confident leader," Alderete said. "He does not want anyone feeling left out."
Jonathan hopes to earn an athletic scholarship to play football or baseball in college and continue making the most out of each moment.
"Everything is stable in Jonathan's life now, and it's easy to forget all he went through," Ms. Leslie said. "But looking at the hard truth of his past, you can see his resiliency. His strength keeps me going. His story is a reminder that it doesn't matter where you come from, what matters is what you turn yourself around to be."