Marching band and colorguard keep up the pace
Hang on for a minute...we're trying to find some more stories you might like.
Marching to a 120 beats-per-minute tempo with measured steps, precise technique and a 35-pound instrument is no simple task. For students in the Lynbrook marching band, however, these are tasks they are able to execute skillfully as a result of the athletic training each marcher and colorguard member undergoes during the season.
"It takes time and effort," said senior and alto saxophone section leader Richard Lin. "We only have a month and a half to bring our show together and make it into something we're all proud of."
The marching band and colorguard perform a different show every school year with a new theme and corresponding music repertoire, choreography and visuals. They have presented this year's show, "A Matter of Time," at various competitions, including the Cupertino High School Tournament of Bands, the Bands of America (BOA) NorCal Regional Championship and the BOA SoCal Regional Championship, which was held in Los Angeles on Nov. 3 this year. The SoCal BOA is a prestigious competition the program decided to enter this year following a successful past season, in hopes of growing as a program.
"The SoCal BOA is a more competitive circuit," said band director Michael Pakaluk. "Our band has gotten better where we can hold our own and place in finals. We've improved greatly over the past few years. We're consistently scoring higher and placing higher."
The band holds three-hour practices on Mondays and Thursdays and seven-hour practice on Saturdays, which consist of running show segments, polishing visuals, rehearsing music and of course, physical training.  
"We want the students to perform at a higher level and not to let the performance suffer because they're physically overwhelmed," Pakaluk said. "That's why we prepare more with conditioning."
Three-minute planks are often the most demanding part of the workout, done in sets with short breaks between every repetition. The goal of the exercise is to build core muscles and physical endurance, which are essential to marchers, as they must maintain a steady and strong airstream for full sound and controlled tone when playing instruments on the field.
"The planks are difficult for me," said freshman marcher Yixuan Liu. "Sometimes I want to give up, but the people around me are all pushing through, so that helps me to stay motivated."
On Saturdays, the marching band and colorguard assemble in a tight block formation on the track to run laps. The leading drum major, a student conductor, begins to tap slowly on a wood block. Marchers and colorguard shuffle forward to the beat. As the drum major increases the speed of the rhythm, shuffling turns into marching, marching moves into a slow jog and jogging settles into a light run. Some people do end up dropping behind, but the tradition is that those who complete the laps earlier return to cheer on and run with the people behind them, and everyone finishes together.
Beside helping students develop strength and stamina, physical training is also a bonding experience.
"The training is definitely challenging," said junior and colorguard captain Emily Zhang. "We work together to help each other out. We encourage each other."
In addition to regular practices, the colorguard holds its own sectionals, or group practices, Tuesdays and Fridays after school. During these afternoons, colorguard members practice with flags and other equipment while working on training specific to colorguard, such as dance and flexibility.
The athletic training not only strengthens each marching band and colorguard member's physical capabilities, but it is also rewarding in that it builds self-discipline.
"You have to have strong willpower," said sophomore colorguard member Alicia Chuang. "You have to breathe and push through even though it's really hard."
In marching band and colorguard, the mind must concentrate on a number of tasks that the body must execute. For marching band, beside the concrete steps of the show and music, there are horn angles, upper body position and projection. Besides knowing the choreography, colorguard members need to be aware of the emotions conveyed through their body movements. These seemingly insignificant details are just as central to the overall performance.
Arguably, the most crucial task is to be conscious of surroundings when moving between one's dots, or positions on the field during the show. Practically, spacial awareness helps avoid collisions and errors. Artistically, awareness is integral to creating synchronization. Marching band and colorguard is not designed to showcase the individual. One must move accordingly with the people around them.
"It's not really what a marcher has to do," said sophomore drum major Catherine Zheng. "It's more of what a marcher has to do with everyone else. There's no special marcher. Everyone is one and the same."
As emphasized by the physical training, unity is a core theme in all marching band and colorguard shows. Ultimately, the marchers and colorguard put in hours of practice and training together to present the best show possible. Under the bright floodlights, the energy and connection between the members is palpable. Though each marcher may be on their separate dots, and colorguard moving through their individual choreography, the eye is not drawn to any single person, but instead, one mesmerizing and constantly transforming body.
About the Writer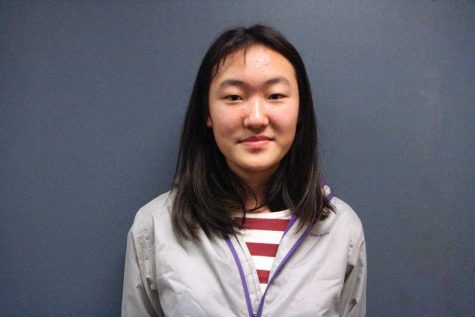 Melissa Chen, Writer
Melissa is a sophomore, and plays tennis and the flute. She loves food (but is a terrible cook) and watching cooking shows like Masterchef. She enjoys...