RateMyTeacher: the hate behind the rate
Hang on for a minute...we're trying to find some more stories you might like.
When a student sees a two-star review next to her new biology teacher's name on the website RateMyTeachers, images of a dull classroom and poor grades start to form in her mind. What those two-star reviews may neglect to acknowledge, however, are the grueling hours the teacher has put into making his lesson plans, the sleep he has sacrificed in grading papers and the money he has spent on chocolate and sticky-notes for his students.
From the time it was established in 2001, RateMyTeachers has stated that its purpose is to "help students, parents and faculty make informed decisions by promoting transparency within education." It has become apparent, however, that the website can cause major problems within the teaching community due to the insensitive comments left on the site.
"RateMyTeachers is a website that is often hurtful because its comments can get more personal than necessary," said Nelda Clark, English Department Chair. "I often tell new teachers to avoid the site for this reason. I know that while most high school students are incredibly warm and encouraging, they are prone to fits of anger and poor judgment, which can lead to personal attacks on teachers online."
Clark herself has had her own history with the website. A few years ago, she visited the site to find that someone had left her a poor rating, and the only comment attached to the review was "horrible and worthless!" Clark, however, was not deterred by the insult, and instead found it almost amusing. She joked about the comment in her class, and to her pleasant surprise, the student behind the review came to her a few weeks later to apologize. Needless to say, she forgave him.
Not all teachers have the capacity to take uncivil feedback with such dignity, however. Due to the fact that the RateMyTeachers website has no form of registration or screening process, students are free to leave whatever ratings they wish without the burden of responsibility or justification. As a result, ratings on the website tend to be very polarized, and students are often inclined to leave negative reviews out of frustration at a poor grade rather than genuine dissatisfaction with a teacher's class.
"I think a number of students that use websites like RateMyTeachers often forget to consider the amount of effort teachers put into their their daily lessons," said math teacher Sarah Kraemer. "I know that it can be really disheartening for teachers to read rude comments [about themselves] online. It might even make them less motivated to teach because they feel so discouraged."
According to teachers like Clark and Kraemer, RateMyTeachers is likely better suited to the college graduate rather than the high school student. In a secondary school environment like Lynbrook, students generally tend to like the classes that are easier to receive good grades in, rather than those which prepare them for college life and beyond. Consequently, the ratings on the website are rarely representative of the actual teachers or their classes, and instead may portray them in a detrimental light.
"Coming into Lynbrook for the first time, I felt that RateMyTeachers was often inaccurate, and it gave me wrong first-impressions on teachers whom I gradually have gotten to know on my own," said freshman Kevin Li.
While RateMyTeachers may not be the ideal way to give teachers criticism, many teachers at Lynbrook do feel the need for an increased transparency between students and themselves. Physics teacher Mr. Nguyen, for example, has started using "perts.me," an alternative feedback system suggested by the district.
"Perts.me has structure, which websites like RateMyTeachers lack," Nguyen said. "The fact that it is anonymous is a double-edged sword, but it helps me gauge which students need help and helps me structure the classroom to suit everyone's needs."
Nguyen thinks that perts.me is a step forward, though far from perfect. In the future, he hopes to establish direct student-teacher conversations for more direct feedback.
Although it is true that Lynbrook needs an improved system to link its students and teachers, it is important for students to remember the destructive power that websites like RateMyTeachers possess. After all, clicking that "enter" button could send tremors through the life of someone who has dedicated their profession to the happiness of their students.
About the Writer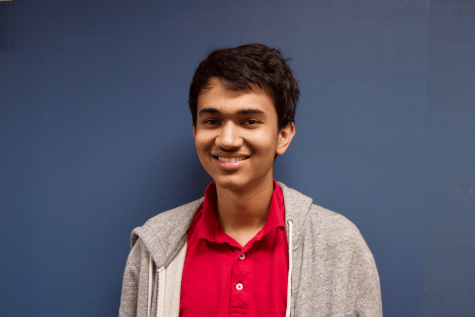 Pranav Mishra, Writer
Pranav Mishra is currently a junior at Lynbrook and a first-year staffer for the Epic. He moved from India in 2017, and he's still discovering new things...