Editorial: Adjusting homeroom to adapt to student needs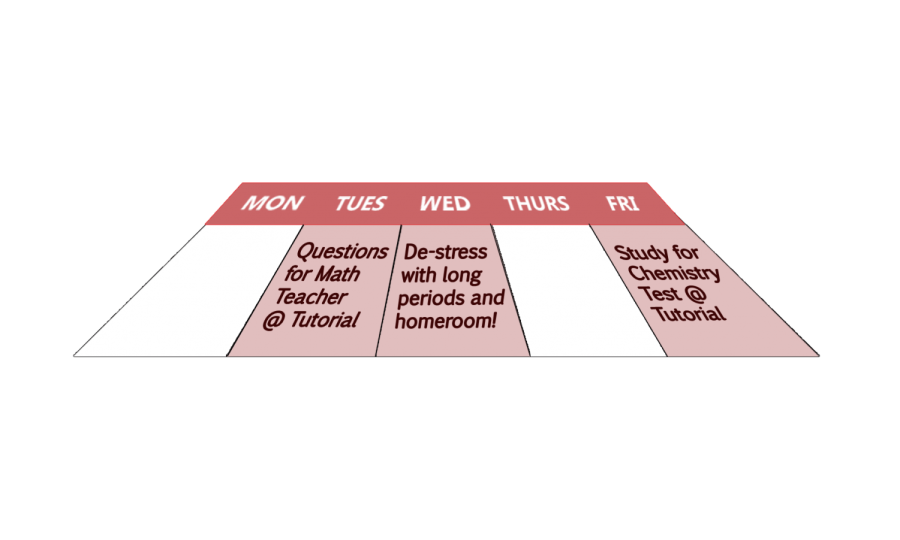 In hopes of alleviating student stress, the Lynbrook staff and administration have introduced Homeroom, which falls on Fridays with occasional exceptions, such as rally days and days before the end of a grading period. While this 35-minute period has been designed to help students take their minds off of schoolwork, many have instead been experiencing heightened stress due to the lack of Friday tutorials. Homerooms should thus be rescheduled to an earlier day of the week, in lieu of the Tuesday or Wednesday tutorial, while Friday tutorials should be brought back.
After it was decided that the 2018-2019 school year would have a new bell schedule with three tutorials, a survey was sent out to the Lynbrook staff to gauge interest in brainstorming viable ways to utilize the additional tutorial. Once staff members began to show interest, a committee of roughly 15 teachers, administrators and mental health staff formed and began to convene in January 2018. The committee agreed to introduce Homeroom in the following school year to help students manage stress and deliberated about which day to have it on.
"We decided on Friday because we didn't want to pick a day that would make it harder for students," said Malissa Goldstein, interim assistant principal. "We thought that it would be better for students to have more consistent tutorial periods than one that might get taken away by rallies, Homecoming and other special events."
When tests, quizzes and projects fall toward the end of the week, however, the current bell schedule may pose a problem. The absence of Friday tutorials makes it difficult for students to find time outside of class to work on a group project assigned late into the week or ask teachers questions about an upcoming test. In the latter situation, students would have to wait until the following Tuesday to talk to their teachers; if a test is on Friday or Monday, they may never even get their questions answered in a tutorial setting.
"I have my tests and big assignments on different days of the week," said senior Margarita Sokolenko. "If the tutorials were more spread out, I could use them to get my work done more efficiently."
To increase student productivity and reduce the high levels of stress, Friday Homerooms should be moved to Tuesdays or Wednesdays, and tutorials should be reinstated to Fridays. This change would allow for a larger gap between the two tutorials in each school week, giving students more time to ask teachers questions about tests, homework and general class topics. In addition, teachers can get in contact with their students if they were unable to do so earlier in the week.
"I don't think it's beyond the realm of possibility to change [the timing of Homeroom] even mid-year," said assistant principal Kathleen Sullivan. "It's not a commitment, but we're open to the possibility."
Stress levels may also be largely reduced if teachers give tests on days other than Friday. Though placing quizzes on Fridays may seem a favorable way to end the week and assess how much class material a student has absorbed, doing so consistently may fuel the stress culture.
"There are staff members concerned about the days for Homeroom," said Goldstein. "Homeroom on Fridays is not a long term permanent decision, and the school is willing to revisit this issue after this school year. The Homeroom Committee is always open to feedback from teachers and students."
For this school year, the administrators are experimenting with Homeroom and looking at all the different questions and concerns that are being raised. Teachers and administrators should thus work together to find the most effective means to lower student stress, whether that involves switching the timing of Homeroom or avoiding Friday as a testing day, or perhaps even both. These may be difficult changes to enact, but they can help with working against the prevalent stress culture at Lynbrook.