Meet four of the new faces on Lynbrook's faculty
Hang on for a minute...we're trying to find some more stories you might like.
On the first day of school, students and teachers alike prepared themselves for the new school year. Among the fresh faces were brand new faculty members. Lynbrook is excited to welcome 23 new staff members for the 2018-19 school year, four of whom are featured here.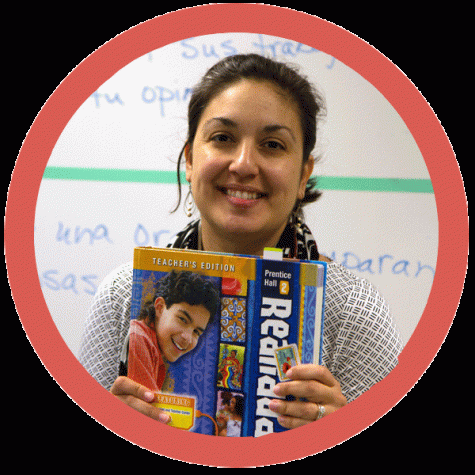 Barbara Sweet is a new face on campus, teaching several Spanish 2 and 3 classes and advising Interact Club. Before coming to Lynbrook, Sweet was a Spanish teacher and the technology lead at Sobrato High School in Morgan Hill. Sweet's husband, a Lynbrook alum, mentioned Lynbrook's strong academic reputation, which sparked her interest in teaching at one of the top schools in America.
Her experience at Lynbrook so far has been quite different from her experiences at other schools due to Lynbrook's competitive academic environment, as she finds that the rigid structure surrounding clubs differs from her previous schools. However, she finds teaching truly gratifying.
"I enjoy my classes," Sweet said. "I like to make assignments fun for the kids, but I have a lot of fun with it too. I get a kick out of listening to students planning and strategizing — I find it cool."
Sweet hopes that her students will gain the most out of the school year; her ultimate goal is to push her students to immerse themselves in the Spanish language and culture. She wants the Lynbrook student body to know that her high expectations stem from her love for her students and her hope for their success.
Aside from loving teaching, Sweet also has a big heart. Outside of class, she enjoys volunteering at the Belmont Nursing Home with her Chihuahua, Chiquita, and provides patients with hospice care. Sweet talks to patients and gives them a sense of community, while Chiquita gives them cuddles and kisses.
As the school year progresses, Sweet hopes to get to know not only her students, but those outside of her class through clubs and events.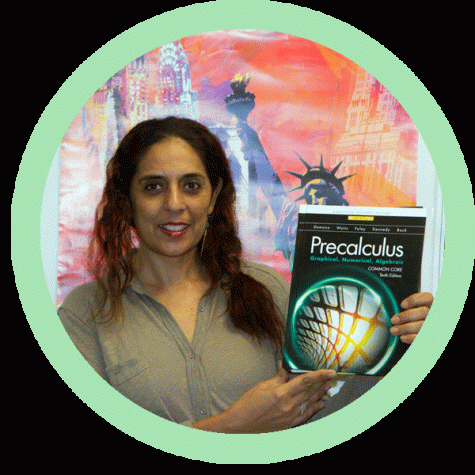 Roma Rajpal, a new math teacher, differs from many other teachers in that she started her teaching career later in her life than most others. Rajpal, who has lived in the South Bay for more than 30 years, never thought she would become a teacher. She started off her career in computer programming after receiving a degree in mathematics from the University of Connecticut. She soon moved to California and began raising a family, starting a new job as a stay-at-home mom.
              Once her three sons had all graduated high school, Rajpal was encouraged by both her sons and the principal of Hyde Middle School to pursue a career in education. Rajpal was a substitute teacher at Hyde, then accepted an offer for a teaching position in math at the Harker School. After obtaining a master's in teaching, Rajpal taught at Los Gatos High School. She eventually decided to transfer to the FUHSD due to her children's excellent experiences at Cupertino High School.
              In her first weeks at Lynbrook, Rajpal was impressed by the strong work ethic and responsibility of her students. One student in particular who helped a new student in the class caught her attention.
"I was just in awe of the way he taught him. He was like a teacher," Rajpal said. "He started assessing him all the way back, and I was like, 'This is unbelievable.' I was just blown away. It made me so happy to this amazing citizenship in this school, and this is what it's about, in the end — helping each other. I was just very happy to see it."
Outside of her teaching career, Rajpal loves watching Bollywood movies and finds working in coffee shops relaxing. This year, Rajpal hopes for her students to see the beauty in mathematics, but above all, she wants them to understand the importance of pursuing their goals and finding their passion, no matter what obstacles they face.
"I went from being a stay at home mom for 20 years, giving my all to my kids, then I totally changed paths," Rajpal said. "Now, I give all of my energy to this teaching world and have really immersed myself into it. The thing is, you can do anything, at anytime in your life. You have to want to do it, that's all. If you want to do something bad enough, you will do it. You can do anything."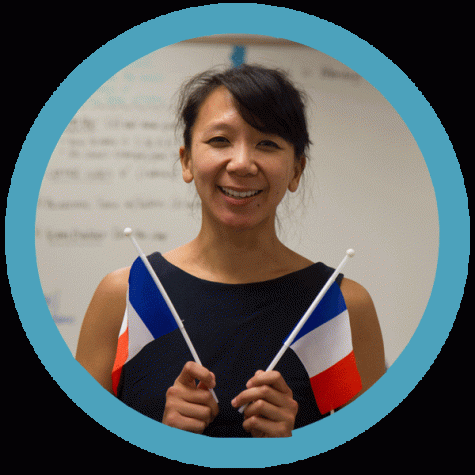 Elizabeth Louie is a new French teacher who graduated from the University of California, Davis, where she majored in psychology with a minor in French. Later, once she realized she had an interest in teaching, she received her teaching credentials from San Francisco State University. Louie first became drawn to teaching at Lynbrook when her old high school cross country coach mentioned that Lynbrook had a great environment and community.
"When I got here, everybody was so supportive and open to helping me," Louie said. "They were optimistic and enthusiastic, which is great. As a teacher, it's super refreshing to have students who are motivated."
Louie, who taught at Alameda High School for six years before coming to Lynbrook, was greeted with support and acceptance throughout her first days teaching at Lynbrook. She also quickly learned about Lynbrook's unique environment which is considerably different than that of Alameda's.
"I had heard about the stress levels at Lynbrook before, but the school that I came from wasn't really at as high of a stress level, so getting a sense of that here was a little bit of a shock for me," Louie said. "The student demographic is also very different, and the amount of focus and concentration on academics here is just way higher. But it's a great mix, and I feel like the community here is tighter."
One of her favorite experiences so far has been connecting with her students by walking around the school and getting a sense of the atmosphere on campus. Louie's goal for her students is for them to feel comfortable making mistakes and to enjoy engaging with the cultural and historical background of France.
Outside of teaching, Louie is an avid runner. She is a member of a competitive all-women's running team in San Francisco. She also loves eating and recently participated in the Tikim Filipino Food Run, a five-kilometer race with a food tasting station at every kilometer, and likes shooting street photography in her free time. Louie finds that her hobbies allow her to have a good balance between work and fun, and she wants to remind the Lynbrook community of the importance of having that balance.
"I love it here," Louie said. "Everyone is so amazing and so driven; it is really, really impressive. But I do hope that students find a good balance between schoolwork and personal life, because I know what it's like — I was one of those students at Mills who was determined to take every AP course, but honestly, finding that balance is so important."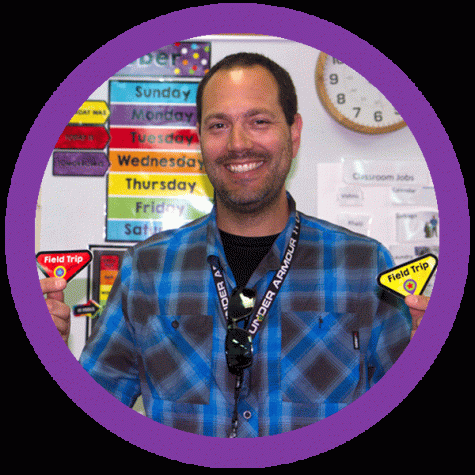 Brandon Clark, a Cupertino High School alum and former Lynbrook basketball coach, is new to the Special Education department this year. He taught at Miller Middle School after attending the University of San Francisco and San Jose State University. From a young age, Clark knew that he wanted to go into the field of education, as he was drawn to the world of teaching students with disabilities and wanted to guide students through learning real life skills.
"I had a job where I was a teacher aide working with students with disabilities, and I really liked it," Clark said. "I knew I wasn't going to do any other job after that, so I got my teaching credentials. I like that with the particular students I work with in high school, it's more of a focus on job skills, living skills, being out in the community and less about them learning math and reading. I'll never teach anything else."
Clark's expertise differs from that of other teachers at Lynbrook; while other teachers focus more on curriculum and textbooks, he focuses on behavioral management and life skills education. He enjoys bringing his students out into the community, whether it be to Rainbow Park, Safeway or other nearby locations where his students can interact with others in a real world setting.
In his free time, Clark loves spending time with his wife and 11-month-old son. He is also a huge fan of the Marvel movies and enjoys biking. Some events that he looks forward to at Lynbrook include attending the dances held by his department and helping out at football games.
Clark also wants to extend an open invitation to the rest of the Lynbrook community to stop by and greet the Special Education department once in a while.
"While we may be a little bit separated, we're a part of this school," Clark said. "They are students here. They have the same internal things going on that all Lynbrook students do, like trying to make friends, and wanting to be part of something. I'd like the community to maybe come meet some different students that they may otherwise not get to meet."
About the Writer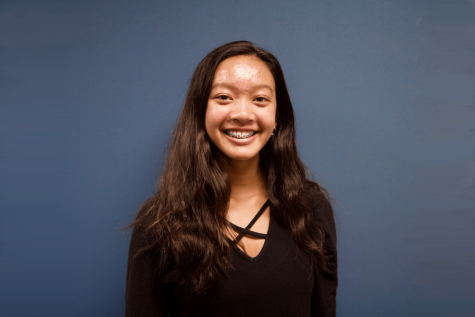 Alisha Naidu, Writer
Alisha Naidu is a junior at Lynbrook High School and a staff writer for the Epic. She loves mid-distance and long-distance running and hopes to compete...