Swim season ends with a splash
Racing into league championships undefeated
Hang on for a minute...we're trying to find some more stories you might like.
Pushing onward stroke by stroke, kick by kick, through the clear blue water, Lynbrook swimming and diving is right on the heels of celebrating a victorious season. Though the team has yet to compete in league championships, the team has managed to swim undefeated in all league matches.
This season, both new and returning swimmers have been working incredibly hard and have brought the Vikings to victory. In addition to having top-notch freshmen swimmers in the ranks of athletes to rack up points for the team, returning athletes have also greatly improved their times.
"Lynbrook swimming has been able to be so successful this season because of everyone's dedication and strong work ethic during practice," said sophomore Patrick Phelan. "I think I have done pretty well this season. I've improved my stroke technique and endurance, I'm swimming on faster intervals during practice and some of my times are faster than last season."
Although Coach Aaron Waldrip has been coaching swimming and diving for more than twenty years, this is only his second season coaching for Lynbrook's team. Additionally, two assistant coaches, Alec Dendall and Crispin Hawkins, have been working on athletes' skill and technique.
"An awesome tool [coach Waldrip] picked up this season is an LED light machine that creates a moving light that you need to "catch" along the bottom of the pool. He worked with some other swimmers and me to drill on this machine a couple times a day, which has really locked in my memory so that during a race, my tempo is on track," said senior Chloe Lai.
"
One thing I really appreciate about [Waldrip's] coaching style this year is that he's aware of which swimmers are pushing themselves and which don't work as hard at practice."
— Chloe Lai, senior
Waldrip has also been working to improve team logistics and mindset overall. To minimize the use of resources and swimmers' time away from their classes, Waldrip has reduced the number of meets from a normal five or six to only three throughout the entire season. At these meets, three schools compete against each other at one time instead of two. To increase swimmers' chances of qualifying for CCS, however, the Vikings have also competed in invitational meets which they have not participated in for years.
"It's a huge strain on the [swimming and diving] program to put on as many meets as we have in the past," said Waldrip. "Some people like it and some people don't like it, but all the coaches like it, and [less meets have] helped us have more practice time."
A typical practice entails doing drills and basic conditioning workouts on land. The athletes then do quick warm ups consisting of swimming and kicking for 200 yards each. During the two hours of each practice, they swim anywhere from 3000 to 6000 yards in total. In addition to regular practices in the afternoon, athletes also have the option to swim and train at night with their club teams.
"At times, I would hesitate going to practice because the work that we did was pretty tiring," said freshman Michelle Choi. "Swimming took a lot of time from my original schedule and gave me less time to do my school work, but it was definitely worth it in the long run. Even though it was tiring, I was having lots of fun competing and racing others."
Even though swimming and diving are individual sports, Waldrip has been working to integrate the athletes into one united team, a challenge especially since divers must go offsite at Monta Vista High School to train. So far, divers have been helping out with timing swimmers at meets.
Athletes usually form tight bonds with swimmers from all grades. As a long-standing tradition, right before important meets and CCS, swimmers come together to cheer. Additionally, in order to facilitate team bonding, seniors plan picnics and lunches.
"Everything is for the team," said Waldrip. "There is no individual. On top of that, everyone's got to be fired up and want to go out and win."
As all regular season meets are over, the athletes are hurriedly preparing for the league championship finals and CCS. While the upcoming league finals on April 27 will determine whether or not Lynbrook stays undefeated and wins championships, CCS meets in May will allow swimmers to further qualify to compete at state championships.
About the Writer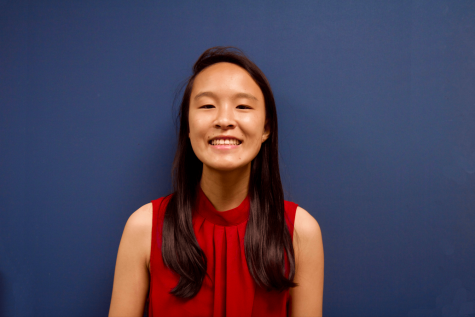 Jessica Li, Content Editor
Jessica is a senior and one of the content editors for the Epic. While not checking stories for AP Style, you can find her doing some of her favorite things:...