Kennedy Miedema: wrestling for more than just herself
Before every wrestling meet, senior Kennedy Miedema calls her grandma who lives in Minnesota. Her grandma, who is battling lung cancer, tells her how she may not be able to see her graduate from high school or college, get married, have kids or even start a life for herself. When her hand is raised after winning a match, Miedema thinks of her grandma and how she has made her proud.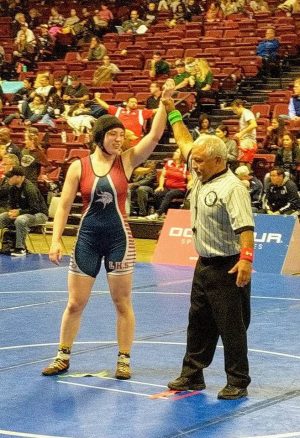 As an eighth grader, Miedema played on her middle school's softball team, unaware that wrestling was even offered at her school. Her close friend, junior Bridget Naylor, who had stopped playing softball due to the commitment that wrestling required, tried to convince Miedema to join the wrestling team as they needed more girls. Miedema was willing to try anything and decided to join the team, where she and Naylor became wrestling partners.
"Your partner is someone you trust to make you better and challenge you," said Miedema. "They know everything about your wrestling style and you end up forming a unique bond. Bridget always challenged me. She was the best partner. She always worked so hard in practice and even outside of practice."
Although Naylor has recently been sidelined with arthritis in her joints, she continues to encourage Miedema and motivates her from the sidelines.
"I think about what Bridget would be doing if she could be there, because she would give anything to wrestle," said Miedema. "So I work hard and try to give it everything I've got because I know she would do exactly that if she was there."
Since she started wrestling, Miedema has competed at Central Coast Section (CCS) three times. This season, she came second at CCS and qualified for states. Despite just barely losing her fourth round by one point, Miedema went on to win the rest of her matches and placed seventh at states with a record of 4-2.
"I was so mad at myself for letting my opponent beat me in one second," said Miedema. "But then my coach sat me down and told me that I was already doing better than I was last year. He helped me pick myself up and we prepared for my next match."
Watch Kennedy Miedema wrestle at the CA Girls Wrestling Championships.
Miedema credits her successful wrestling season to focusing on the sport long before the season had started. She observed many of her potential wrestling opponents and would then adjust how she wrestled accordingly. Miedema has had her fair share of injuries this season, however, and works with athletic trainer Megan Gwozdecke before practices to have physical therapy for her shoulders.
"My shoulders got so bad to the point where I was dislocating my arms multiple times every practice," said Miedema. "The hardest thing about injuries is the mental toll, but injuries happen all the time in wrestling. You need to not let it get you down since someone is out there attacking you and you just need to push through it."
For the past five years that Kennedy has been wrestling, her grandma has followed her career from Minnesota by watching videos posted by Miedema's mother.
"
I couldn't be prouder of Kennedy and all that she has achieved. She brings so much joy in to my life along with never-ending bragging rights. She is so strong and doesn't give up on anything or anyone she believes in."
— Kathryn Riemer, Miedema's grandma.
During each of her meets, Miedema's mother would post Facebook updates about her daughter's record. Despite living in Minnesota, Miedema's grandma would be right there following along. Eventually, Miedema started calling her before all the matches to give her updates. While her grandma doesn't understand much about the technical aspects of wrestling, the motivation and encouragement her grandma provides gets Miedema pumped up before her matches.
"Calling my grandma motivates me a lot because I'm not just wrestling for me," said Miedema. "If I'm also wrestling for someone else and it's not just for me, it means that much more because if I don't do it, then I'm letting the other person down."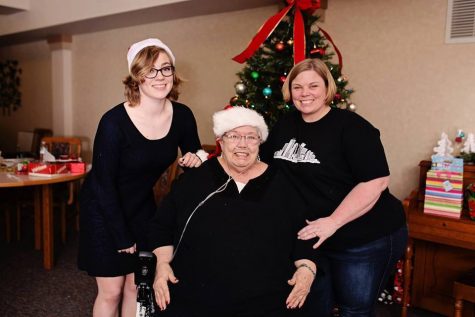 Miedema's only regret, however, is not realizing sooner how important wrestling would be to her and the hard work that she would need to put in, which could have prepared her better for this year. But by giving it her all in every practice and match, she has ended her high school wrestling career on a high note.
"I'm definitely going to miss the people the most," said Miedema. "I love my teammates and I love spending time with them. I'll come back to visit them and my coaches, who have helped me so much."
Miedema has shined in a sport that is often characterized as masculine. The fact that not many girls wrestle serves as motivation for her, since placing higher would open up more spots for future Lynbrook wrestlers at states. From not even competing at CCS in her freshman year to placing seventh overall at states her senior year, Miedema has seen herself grow as a wrestler. The five years that Miedema has dedicated to wrestling reflect her determination and strength which have been showcased even in a male dominated sport.
"To the girls who are interested in wrestling, I would say to just try it," said Miedema. "There are so many weight classes, so anyone can wrestle. If more girls would try it, then maybe some of them who wrestling is made for would stick with it and find their passion like I did."
Explore more photos from Kennedy Miedema's high school wrestling journey.