Lynbrook students take stride in stylish footwear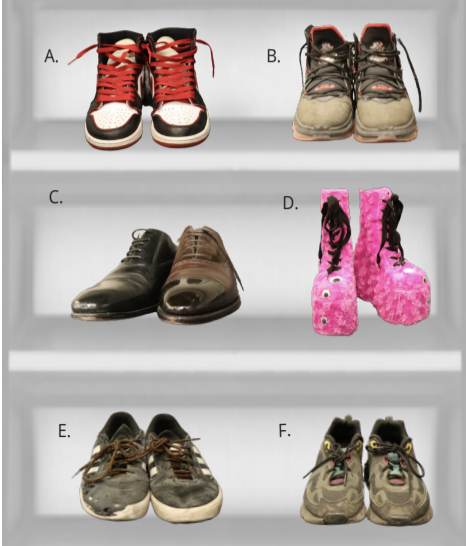 Among the pitter-patter of footsteps on campus each morning, students hear the thumps of a high heel, the squeaks of a new pair of sneakers and the soft thuds of a furry slipper. Whether it be standing in the lunch line, running to class and corralling the parking lot after school, Lynbrook students stand out in a crowd wearing their shoes of choice.
The styles, respective prices and number of shoes in one's collection are some of the contributing qualities of having "shoe game," or great style in footwear. Lynbrook has its fair share of students with impressive shoe game, with some even hand-painting or decorating their shoes to reflect their personality. As with all fashion, footwear trends have walked on and off campus, but many students use their shoes for self-expression and individuality.  
"Because of fast fashion, a lot of people have really similar clothes but shoes are always super different," junior Rishma Khandelwal said. "You can tell people's style apart from shoes."
Khandelwal purchased her dream shoes, Nike Air Jordan 1s in the colorway Bloodline, after raising the money herself through tutoring jobs. She hopes to buy her next pair of shoes after she earns more. 
Some shoes are worn by students who resonate with a specific aesthetic or group. One example of this is Demonia boots, long platformed boots often embellished with fastens or fur, associated with alternative fashion subgroups and historically symbolic of goth fashion. Sophomore Jasmine Aumiller's Demonia boots take the individuality aspect to the next level, covered in pink fur and googly eyes. 
"Wearing shoes should be about how an individual wants to express themselves," Aumiller said. "Personally, I like things that have bold colors or incorporate smaller details."
Junior Nimalan Elanchelvan has collected four pairs of collectible Nike sneakers and used to trade them for a profit.
"I got really into shoe trading when I was in seventh grade," Elanchelvan said. "I started buying shoes from non-retail sellers and I would trade them for a higher price while keeping the shoes at a discount price. There's a big market for that out there."
Formerly interested in sneakers, senior Soohyuk Yoon has developed an appreciation for leather dress shoes and has even learned to shine them himself.
"Not only do you look stylish, but the great benefit is that you don't need to truly care about what you buy — if you buy just one good pair, you always look good in them," Yoon said. "The customization aspect of caring for your shoes intrigued me because it makes you feel like you're really going on a journey with this shoe."
Expressing both individuality and flaunting a good eye for fashion, Lynbrook students strut the Quad wearing a myriad of interesting shoes, oscillating with trend waves. In any case, Lynbrook students certainly make a statement with their fabulous footwear.