Students deserve a modern and diverse literature curriculum
Earlier this year, sophomores read In the Time of the Butterflies by Julia Alvarez, which follows the lives of four sisters in the Dominican Republic. The addition of Alvarez's book is one of many recent actions implementing an overdue shift toward a more diverse curriculum for high school literature classes that have long been dominated by white male voices.
Literature classes aim not only to instruct students in analysis and essay-writing but also to impart perspectives on the human experience through assigned readings. Thus, the traditional homogeneity of these readings has reinforced the marginalization of minority voices. When mainly taught books written by deceased white men, the narratives of more diverse voices are cast aside or are perceived as less important.
"We would like each course curriculum to move toward a 50-50 look in terms of diverse voices," English department lead Joanna Chan said.  
The classics — Shakespearean plays and The Great Gatsby — will always hold value, but countless culturally influential pieces of modern literature still never touch the classroom. Modern books address the problems of a world that high schoolers must grapple with, and a more conscious literature curriculum would prepare them for that eventuality.
"It's useful to learn about the uptightness of the Puritans, but it's more useful to learn about the racial issues that we're dealing with right now," senior Helina Li said.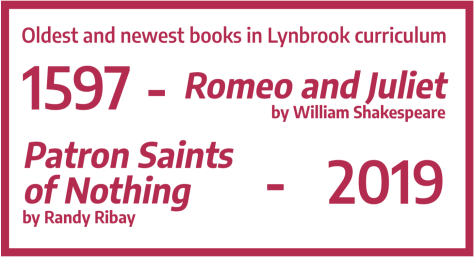 The Book of Unknown Americans by Cristina Henríquez, which the English Department has recently added to the American Literature course, is one such book that deals with the topic of immigration, which is especially relevant for Lynbrook students, a majority of whom come from immigrant families.
Lynbrook's majority non-white  population makes relating to the protagonists of some assigned texts difficult. A colorful cast of characters who reside in settings reminiscent of the modern world guarantees more student investment in literature. The English department is working to include mirror texts, works in which the characters' experiences and demographics allow students to relate easily. For example, Picture Us in the Light by Kelly Loy Gilbert is set in the San Francisco Bay Area and follows a Chinese-American high school student.
Added to the freshman course this year, Aristotle and Dante Discover the Secrets of the Universe by Benjamin Alire Sáenz tells the story of two teenage boys grappling with the realities of growing up and discovering themselves. The novel features Mexican American and LGBTQ+ main characters, representation that allows students to read about people like themselves and introduces different perspectives to those who do not identify with the protagonists. 
"Books are like cultural change," sophomore Sandhana Siva said. "They give us insight into different themes that could be applied to our own situations."
In order to speed up the long process of approving a new piece of literature, the English department is trying to choose books that have already been approved by the district, such as Sáenz's novel. 
Adding new books to the curriculum means that some texts must be replaced. Mark Twain's novel, The Adventures of Huckleberry Finn, may be one of those books due to the controversy surrounding its use of the n-word and racial stereotypes in the portrayal of the character Jim. Currently, the English department is discussing whether or not to keep it in the curriculum. The possible removal of texts like this one can clear the way for works that better represent Asian Americans. 
"We read books to learn about that era and its themes," Li said. "I feel like some books like Huckleberry Finn didn't address the issues of their era very well." 
The current literature curriculum, with a balance of older classics by white men and modern ones by diverse authors with diverse characters, shows a marked improvement compared to those of previous years. As the literature department continues to modify and improve the courses, they should look to include more LGBTQ+ and South Asian representation.