Stanford recruits
Fencer Crystal Qian and golfer Anton Ouyang
Crystal Qian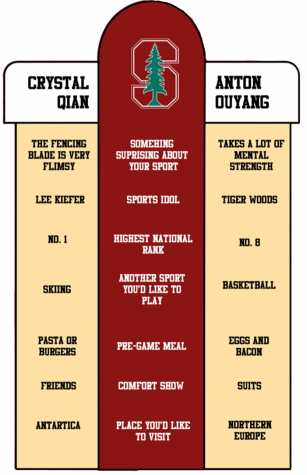 Senior Crystal Qian started fencing at the age of 8. After years of hard work and ambition, she committed to Stanford after being recruited for her internationally recognized achievements.
At 9 years old, Qian competed in her first regional competitions, in which she accumulated a collection of silver medals but consistently struggled to win gold. When she was 10, she competed in her first Summer National Championships and placed in the top 16 for her age group.
At 12 years old, Qian medaled for the first time at a national level. Two years later, in her final year of Y14, Qian demonstrated a marked improvement from her previous performances, winning silver and bronze at two North American Cups. In the final competition of that season, the 2019 Summer National Championships, she capped off her youth career by winning her first national championship. These successes solidified her desire to fence at the international and collegiate levels.
"I think my final year of Y14 was one of my strongest years in terms of national results because I won the entire medal set," Qian said. "I think that year really encouraged me to enter the recruiting pool for collegiate fencing."
After concluding her youth career, Qian earned a spot on the Cadet National Team, which comprises of the top 20 fencers in the country, and started competing internationally. In the 2019-20 season, she traveled with Team USA to compete at World Cups in England, Austria, France and Italy. She won her first international medal in France, placing 6th individually and winning silver in the team event. Through these international competitions, Qian earned international points that eventually elevated her national ranking to No. 1 in her age group.
"Some of my greatest fencing memories are from my first year of competing internationally," Qian said. "I became really close with the people on the team, and it was really cool because we were all from different parts of the country."
In April 2021, Qian was selected for the Cadet World Team, an honor conferred upon the top three fencers in the nation, to compete at the World Championships in Egypt. Although her experience at the World Championships was unconventional because of COVID-19, she was grateful for the once-in-a-lifetime opportunity.
"Making the World Team was a dream I had since I was a little girl, so that was a really exciting moment of my fencing journey," Qian said.
Qian looks forward to enjoying a regular competition season again, traveling upward of once a month for various national and international competitions. Every month takes Qian to a different state, and she has made many out-of-state friends over her years of traveling and competing.
As Qian transitions into collegiate fencing, she is extremely grateful for the relationships and life lessons that she has gained through the sport.
"I'm really excited to experience a different dynamic of fencing that places more emphasis on fun and community," Qian said. "The structure of NCAA fencing will allow me the opportunity to, for the first time, work as part of a team in an otherwise individual sport."
Anton Ouyang
Following a long recruitment process, senior Anton Ouyang committed to Stanford Golf.
Ouyang's golf journey started at the age of 1 when his father taught him how to hold a golf club. He played his first junior golf tournament at Santa Teresa Golf Club when he was only 5 years old; watching the winners hold their trophies at the end of the day, he was motivated more than ever to improve.
"I still look back at this moment as the first time I realized how much passion I had to compete and how addicted I was to getting better," Ouyang said.
When Ouyang started playing competitively, he learned about the importance of creativity when overcoming challenges. He developed diligence and determination when he first set deadlines for himself while practicing, promising that he would not leave the course until he made a certain shot — something that often took more than four hours. One of his favorite golf memories is from a family vacation he took at the Bandon Dunes Golf Resort. While his family was busy taking pictures of the beautiful ocean view, Ouyang was concentrating on breaking his record of scoring less than 80 points on the golf course.
At 9 years old, he made the Professional Golfers' Association Junior League All-Star team and played his way into the Regionals tournament. Two years later, he competed at the PGA Junior League National Championship, which also marked his first time appearing on television.
Ouyang's greatest win came at the age of 12, when he won the 2017 IMG Junior World Championship, which featured 150 of the best junior golfers in the world.
"Winning the IMG  Junior World Championship gave me the confidence I needed to realize that I could really do it," Ouyang said. "That summer in 2017, I won my next five tournaments, highlighting one of my best seasons ever."
Ouyang decided to take a huge risk at the end of 2018, revamping his swing completely in hopes of becoming a better player. Although the changes were difficult to get used to, results began to surface when he won the Central Coast Section Individual Championship in 2019 as a freshman.
Ouyang qualified for the 108th California Amateur as the youngest player in the field at 14 years old, and he later earned a place on the American Junior Golf Association Junior All-Star Team as a top 10 junior golfer in the nation.
In 2021, Ouyang built on his momentum to achieve a career-best No. 8 national rank. He also qualified for the 73rd U.S. Junior Amateur as a co-medalist at Stanford Golf Course, representing Northern California in the most prestigious junior golf tournament.
Ouyang's most ambitious goal is entering the U.S. PGA, but there are many stages to qualifying.
"I feel like I owe it to myself to try and make it to PGA because I have been trying to get to that level ever since I started to play golf," Ouyang said.
Ouyang is excited to be part of a team in college, especially because golf is typically an individual sport.
"Golf is not only an individual sport but also a lonely one," Ouyang said. "Having someone to practice with and having people that motivate you is exciting. You are playing for something more than yourself."