Dividers between urinals are necessary for privacy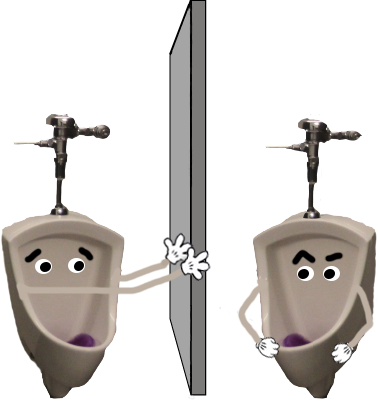 Long before social distancing became common, it was already happening in boys' bathrooms. Uncomfortable faces looked furtively to identify the farthest vacant urinal as others quickly tried to finish their business. One easy solution to resolving this awkward interaction in boys' bathrooms is to install dividers between urinals. 
"Dividers would be good to add in boys bathrooms as it will give the privacy that people want," senior Pranav Kartik said. 
The lack of dividers in boys' bathrooms is a long unaddressed issue and pressures students to use only the corner urinals and individual stalls. These privacy concerns make the other urinals, which can number anywhere from four to eight, obsolete.
Many students have tried to figure out solutions to minimize the awkwardness without dividers, but most of the solutions involve avoiding using some of the urinals, causing long lines of students waiting to use the bathroom. 
"Everyone only uses alternate urinals, skipping the ones in between to not make it awkward," junior Vachan Arora said. "Dividers would make those skipped urinals actually useful."
Since most of the bathrooms were built with the school in 1965, there are no urinal partitions between them. While Lynbrook has constructed dividers for the new bathrooms in the cafeteria, gym and GSS, it has not made any changes to the original bathrooms. The school should make it a priority since they increase bathroom efficiency and foster privacy and comfort among male students.
However, it may take some time for the custodial team to add dividers to the older bathrooms.
"It's not as simple as hanging dividers in these urinal areas," facilities manager Edgar Duenas said. "The U.S. Department of State Architecture in California must inspect any renovation to the restrooms."
Still, the cost and time necessary for putting in dividers is insignificant compared to the comfort they can provide, and they would create a much safer and efficient bathroom system. 
High school is a time of growth and development, which can make many teenagers insecure about their bodies. By putting up dividers, Lynbrook can provide a private and comfortable bathroom environment for all male students. 
Lynbrook has consistently proven its dedication to provide a safe environment for its students. For example, they immediately dealt with the "devious lick" TikTok challenge that inspired some students to vandalize the bathrooms. However, the Lynbrook administration can sometimes be unaware of fundamental needs that are not openly voiced by students due to the intimate nature of the problem. Since discomfort over the lack of dividers has not been publically vocalized by students, it may not have been obvious for administration to act to fix the issue. 
"Before, we put so much emphasis and focus on safety and sadly, privacy took a backseat," Duenas said. "If the lack of privacy was caused by something as obvious as if there was a door missing in a toilet stall, we would take it out and not want anyone to risk using it, but installing urinal partitions has never occured to me."
Installing dividers is a quick and easy process that would constitute great strides in protecting students' privacy. Lynbrook should work to address this issue quickly to boost efficiency in the boys' bathrooms and show empathy for one of the hurdles that male students face during adolescence and beyond.