California tech giants find new home in Texas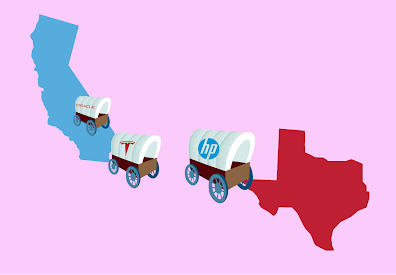 One of California's largest assets is its tech giants, such as Apple, Facebook and Google, in what is commonly known as the Silicon Valley. Although these companies are the face of Silicon Valley and economic growth, some have chosen to expand beyond their California roots.
After the start of the coronavirus pandemic, many tech companies adopted a work-from-home strategy to both maintain productivity and ensure the health and safety of their employees. The success of such strategies has prompted a movement to permanently offer a work-from-home option in the future, thus allowing employees more flexibility in their working environments. This flexibility gives them the freedom to look for possible living locations outside of expensive tech spots such as San Francisco.
Over the past decade, Silicon Valley housing rates have skyrocketed. Ironically, this same phenomenon pushing tech companies away is, in part, caused by the expansive job growth in the tech industry with insufficient housing production. Now, even workers with six-figure salaries struggle to pay rent. However, companies have also taken the initiative to ameliorate the housing crisis through corporate investments. Companies that have chosen to stay in Silicon Valley have attempted to resolve existing issues by encouraging their workers to move into lower-cost-of-living areas with the benefits of free bus commutes and salary bonuses. 
State legislature has aimed to make more affordable housing, one of the largest issues in the Bay Area. Senate Democrats have a proposition that, if passed, could help build more affordable housing across the state — an action that could lower the price for housing in California, even if the drop is temporary. It would take away local power over housing so that the playing field would be leveled for all. In past years, local affordable housing initiatives were voted down because residents opposed demographic diversity that would supposedly devalue their houses. 
"I think from their side, the fear could be that if I ever decide to sell my house I may not be able to receive the kind of price or the value that I invested in," said Dr. Ukil, professor of economics at San Jose State University. "However, what I think they could be failing to account for is more of this long-term perspective because it is difficult to stay long term in this kind of constant upward pressure. It's a short-term versus long term consumer decision-making issue and most individuals have a present bias."
The high prices of real estate in Silicon Valley cut into company profits heavily, making staying in California a poor financial decision. In moving to Texas, companies could gain a higher profit margin with lower expenditures in maintaining office locations thanks to the low cost of real estate. And given that these companies are always seeking to expand their influence, moving to Texas will be a long-term benefit. 
"I do think that the exodus to Austin, Texas, and other areas is a very real phenomenon. With the world being so quick now, the incentives of conglomerating around in the Silicon Valley are not as numerous as they used to be," said junior and Youth Economics Initiative president Ian Chen. "In the past, if companies wanted to make deals, they could walk down the street and find a venture capitalist. That's very beneficial. But at this point in time, venture capitalist firms have spread out and are not solely isolated here; you can find lots of capital in other areas, so it just doesn't make as much sense."
Among the big companies leaving California are Oracle, Tesla and Hewlett-Packard — all of which have moved their headquarters to Texas as of December 2020.  For Oracle, the move was driven not by state tax expenses, but rather by an "effort to have a more flexible approach to its workforce," according to the Wall Street Journal. 
"Theoretically moving to Texas could increase their profit margin under the assumption that nothing drastically affects their consumer base or the demand for their goods," said Ukil. "The interesting question is whether that economic growth will trickle down. It may or may not. Profit margins increasing may not necessarily mean a form of giving back to the local economy or maybe there will be some reinvestment into the company, whether or not that'll help boost businesses around the area and for generations to come, we cannot say right now."
Over the past few years, Texas has advanced in the high-tech sector, and the current exodus east only further expands the high-tech concentration in Texas. Texas has always been a business-friendly state: its average cost of living is lower than most states at 4 percent less than the national average, and its regulations for companies are more relaxed. The California Consumer Privacy Act, for example, while providing data protection and transparency to consumers, produces complications for companies that collect Californians' data. Factor in the huge expenditures for Bay Area office space realty and the brutal cons chip away even further. On the other hand, Texas tech companies, and employees, enjoy benefits such as no corporate or personal income tax.  These alluring advantages draw companies to Texas in search of equal, and more affordable, company development. 
"Theoretically the big reasons why companies move out of the Silicon Valley could have to do with some form of cost reduction," said Ukil. "When they hire people they have to hire a large number of people. The cost of production could get higher due to higher wages paid if it's a high-cost area for workers to live in especially if the salary is proportional. They are also moving to Texas potentially to take advantage of agglomeration economies. When one company moves or becomes successful somewhere, it makes sense for other companies to follow suit and take advantage of the existing resources and human capital."
Despite the evident shift of companies to Texas — in particular, Austin — it differs in culture, landscape and industrial and social capital from the Bay Area. While there is a growing shift in its economy toward the technology industry, the scene is mostly composed of secondary campuses, and the Texan economy is still heavily dependent on agriculture and oil. In fact, in 2021, the oil-and-gas-mining industry in Texas saw an annual job growth rate of 32.1 percent compared to 3 percent for the tech industry.
Although the shift of large tech companies out of California is a recent development that may seem abrupt to some, it does not necessarily change the concept of Silicon Valley or take away from California's economic distinction from the rest of the states. 
"It is the same thing with Wall Street and the New York financial scene. Everyone has always been saying financial markets are going to move out of New York. It is the same thing for the tech industry and Silicon Valley," said Chen. "Silicon Valley is unique because there are just places like Sand Hill Road where you can find a venture capitalist in every single building. There is a natural phenomenon with industries in that they are conglomerates. There is a possibility of Silicon Valley decreasing, but, for the foreseeable future, it will still be the technological hub of at least the United States — if not the world."