Fulk retires as DECA adviser after 9 years
After nine years as DECA's adviser, computer science teacher Brad Fulk will be leaving his role as adviser next year to make time for personal endeavors, including pursuing a master's degree in educational technology. 
To ensure that the club is in good hands following his departure, Fulk is working with the current officer team to select the team for next year and is in the process of finding an adviser to succeed him. 
"I'm here to help guide students along the way, but I've learned firsthand how much of the organization is run by the students," Fulk said. "95% of the work is done by the students, so making sure there are solid student leaders waiting for whoever takes over is going to be really important."
Fulk is currently serving on California DECA's Board of Directors, in which he participates in the organization's decision-making process at the state level. Members of the Board of Directors regularly determine the logistics for large, state-wide DECA events, like the annual State Career Development Contest, and they are often the first to hear about new changes to be implemented at the chapter level. 
"The Board of Directors works directly with the state's Board of Education, so changes on the chapter level often reach us first," Fulk said. "A big part of the reason why I got involved with the Board of Directors was to make sure that Lynbrook was not playing from behind. Staying ahead of the curve when it comes to these changes means that, when the state starts strict enforcement of them, we've already had time to implement the changes and won't have to do anything abruptly." 
Fulk will serve out the last year left in his term on the Board next year, and he hopes that his continued proximity to the organization and decision-making process will help ease the transition for his successor. 
Fulk became DECA's adviser during his first year at Lynbrook in 2011, when the club's officers approached him to fill their previous adviser's position. 
"I would say now that I did not know what I was getting myself into, and that the students who asked me to take over as adviser did not know how involved I was going to get," Fulk said. "I quickly went from just supervising some meetings at lunch to realizing that there were many positives about the club, as well as things that weren't running the way they were supposed to. After figuring out what in the world I was doing my first year, I transitioned into finding ways to improve the club over the years with each year's officer team."
Among the many highlights over the years, such as being awarded Adviser of the Year in 2016 or when Lynbrook DECA became the chapter with the largest membership in the state in 2020, Fulk finds that what he is most proud of is witnessing the club's culture transform during his time as adviser. 
"Back then, DECA was a club where people accomplished things because they were smart, not necessarily because they were committed to the club," Fulk said. "During the first two years where I was adviser, we pushed really hard to change the culture of the club to something more serious and provided more resources for people to study. Watching how we went from a small club with a handful of kids to how we were last year, where, by many benchmarks, we were the most successful chapter in the state, has been very rewarding."
What Fulk will miss the most about advising DECA will be the connections he has been able to form with students, particularly with the officer teams. He is as excited as his students when they see their hard work pay off in competition and enjoys seeing a new side to students when he interacts with them outside of a classroom setting at DECA conferences.
DECA's officers, who work closest with Fulk, attest to how he strives to secure the best possible resources and opportunities for members behind the scenes. They particularly appreciate the time and effort he puts into the club and believe it directly contributes to the club's competitive success. 
"Mr. Fulk has always been very supportive of people, not just as an adviser but also as a human being," DECA President Jasmine Hou said. "He always has the heart to give you genuine advice, no matter whether you are an officer or a regular member of the club, and that is something I really look up to him for."
This year, Lynbrook DECA has faced significant difficulties. The revised career technical education (CTE) course requirement implemented last year, combined with the effects of COVID-19 and distance learning, have changed the conference experience and caused membership to plummet. Still, Fulk has no qualms about leaving the club in the hands of next year's officer team as he begins the next stage of his career.
He points to when the state implemented the first edition of the current CTE requirement three or four years ago, where all DECA members had to take at least one CTE course during high school to remain in the club. Membership first dropped from 300 to 150 members, then sprung back up to 300 within a few years as Lynbrook students who made DECA a priority worked through the requirement. 
"People like to give me a lot of credit for that, but I think it just shows that the students at our school will find a way to make the things they are passionate about happen," Fulk said. " That'll carry on whether or not I'm here, and I think it will be fun to watch from the sidelines as well."
About the Writer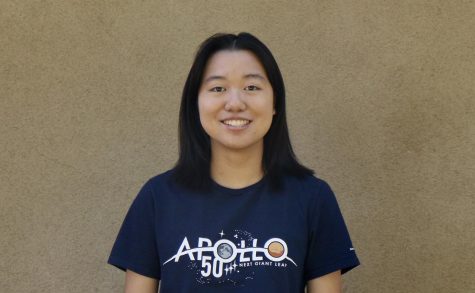 Youqi Huang, News Editor
Youqi is one of two News Editors for the Epic. She loves writing for the Epic and is really excited about covering different aspects of life on campus....