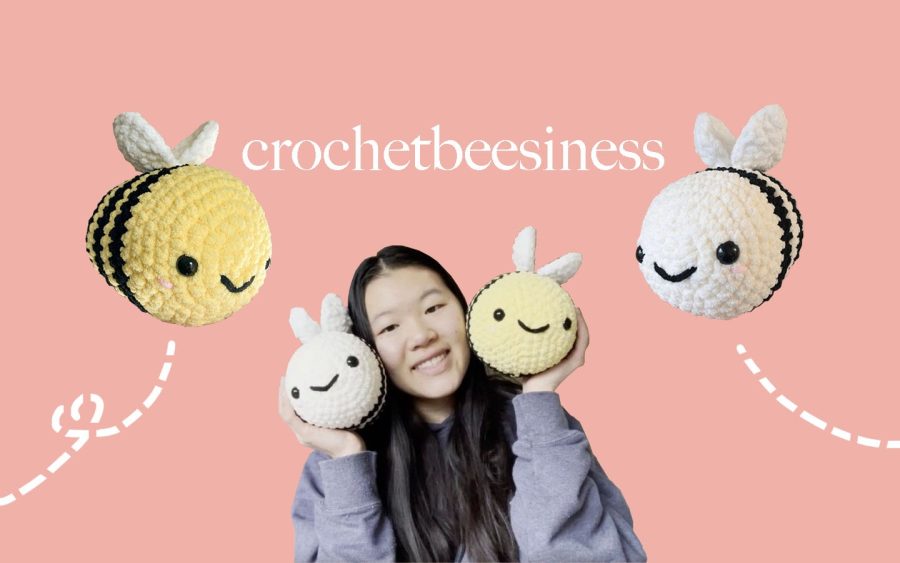 Graphic illustration by Alara Dasdan
Un-BEE-lievable crocheted plushies: Sophomore Annie Liu's Etsy shop
During the pandemic, sophomore Annie Liu has created an Etsy store selling crocheted bees. Inspired to raise money for her charity work, she handmakes and personally delivers each plush toy.
Liu originally came up with the idea to create her store while raising money for the Leukemia and Lymphoma Society (LLS). The LLS is the world's largest non-profit organization dedicated to fighting blood cancer and raised $27 million in one year alone from schools across the U.S. and Canada. Liu was one of many high school students who each created their own seven-week fundraising campaign for LLS to earn the title "Student of the Year."
"I was worried that I wouldn't be able to get anyone to donate, so I figured if I make bees and sell them, I'll get money for the campaign more quickly," Liu said.
Liu has put considerable work in creating and maintaining her store. When first setting it up, she created a YouTube video advertising for it. In the video, she shares her interest in charity work and the medical field, inspired by YouTubers such as Mickey Rai and Dr. Mike. Each bee costs $35. Those interested in donating without purchasing a bee can also visit her LLS campaign site to make a direct contribution.
Making the bees themselves is something Liu finds enjoyable but also challenging. She initially decided to make them after watching craft videos on Instagram Reels and gravitating toward videos of crocheted bees.
"I tell people that you donate $35 and you get a free bee from me," Liu said. "I do enjoy crocheting; it's a good way to spend time. I timed myself once and it took three and a half hours [to make one bee]. Maybe it's because I don't have much experience, but my hands kind of hurt if I crochet for a long time."
In delivery, Liu takes extra precautions to ensure safety during the pandemic. Her bees are made to order and she delivers them in person, using social distancing. For this, Liu contacts the customer to figure out the logistics, such as where and when to drop it off and collect payment, usually at the customer's house.
"If there wasn't COVID and we would go to school, maybe I could have just brought a bee to school to put on my desk and show people," Liu said. "That would have been great. And I also feel like if there wasn't COVID, it would have been a lot easier to go around neighborhoods and ask for donations. I can still do that with a mask and social distancing but it definitely would have been a lot simpler to be able to raise money without the physical restrictions."
Attracting customers through advertising has also been difficult. Liu's go-to method for this is letting people know through individual conversations. In addition, she has also given presentations about her campaign and bees to some of Lynbrook's medical clubs, including Neuroscience Club and Surgery Interest Club.
"I guess it's hard to find a YouTube video from someone who isn't a popular YouTuber," Liu said about the video she made advertising her store. "So all of my orders have been me reaching out to people saying that I'm making this and asking if they want to buy it. I've learned how to deal with rejections. Sometimes I just feel like the person I'm talking to doesn't want to donate or buy the bee."
However, despite the challenges, Liu has enjoyed raising money for a cause she is passionate about. Although she doesn't plan on expanding her store in the near future, as her bees exist solely to raise money for LLS, her time making them has taught her valuable lessons and encouraged her to take initiative. As of March 13, Liu has raised more than $1,225 from her campaign. Her goal is to raise $20,000 by March 27.