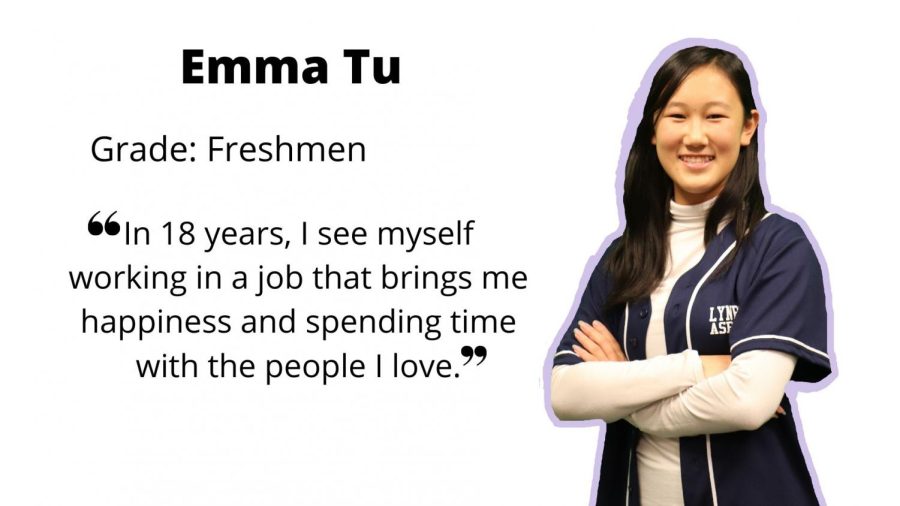 Photo and Graphic Illustration by Audrey Wong
Freshman Emma Tu, Tu-wenty Tu-wenty Three Class President
Freshman Emma Tu is president of the Class of 2023 and a member of ASB. Tu has been a leader in her class ever since middle school, where she took Leadership in seventh grade and was elected student body president in eighth grade.
"To me, my role is a position of kindness, where I do my best to make the people around me as happy and included as possible," Tu said.
Tu looks back on her experiences as a leader fondly, professing that she first fell in love with Leadership when she took the class at Miller Middle School. Her favorite part of leadership is meeting new people and learning from them to improve herself.
"Ultimately, surrounding myself with kindness and being kind to others was what I got out of my experiences in leadership," Tu said. "That's what resonated with me the most."
In addition, Tu played JV water polo in the fall. Before joining the team, Tu did not have much experience with swimming, but as the season progressed, she was able to develop the skills necessary to play and compete with the rest of the team.
"It was so much fun because I was trying something completely new," Tu said. "Everyone on the team was super inclusive and welcoming regardless."
Tu had a pleasant experience when she joined Model United Nations (MUN) this fall as well. Tu's first encounter with Model United Nations took place in middle school, when the club contacted her about establishing a club at Miller Middle School. Tu didn't join at the time, which was one of her regrets, so she joined the club at Lynbrook this year.
"The people there were so nice," Tu said. "It was really new and really fun, and I felt supported the whole way."
Outside of school, Tu plays badminton and is looking forward to joining the team at Lynbrook during the spring. Tu loves to read and enjoys watching Chinese dramas in her free time.
Of all her achievements, Tu is most proud of being elected class president, describing it as an honor. Tu thinks that her passion, the quality she likes the most about herself, propels her to work hard/achieve what she has.
"The things I do, I do them because I love them," Tu said. "For example, I ran for student council because I loved it so much. Because of that, I'm able to work hard continuously and won't ever stray."
Tu's goal for herself is to find three reasons to be happy every day, and she hopes that the Class of 2023 will be able to say that they sincerely enjoyed their freshman year.