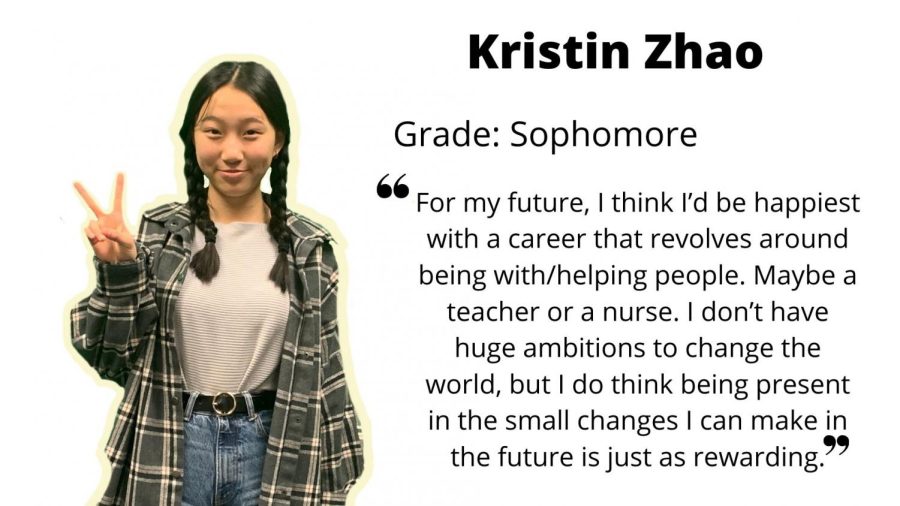 Photo by Kaylin Li, Graphic Illustration by Audrey Wong
Sophomore Kristin Zhao: Positive leader and church youth group leader
Whether she's spending hours practicing for the Class of 2022's homecoming or leading the worship team at her church, sophomore Kristin Zhao does almost everything with a glowing smile on her face. Known for her positivity and compassion, Zhao's joy is contagious, lifting the spirits of those around her.
"I like to make other people happy," Zhao said. "If I'm optimistic, I'm able to lift someone else's spirit, and that makes me happier. Of course, it's really easy to be pessimistic and get sucked into stress culture, but no matter what, I always try my best to be kind and friendly."
Zhao tries her best to contribute to school spirit, participating in Class of 2022's girls dance every year and dancing at the winter rally in January. In addition, she is a member of Junior State of America (JSA) and Agape Christian club, which she joined to find a fellowship at Lynbrook. Zhao is a part of Agape's worship team, serving as a pianist and vocalist.
"I've played piano and have been in choir for a large majority of my life, and participating in worship team is a way I can use those skills I've developed in a more practical and enjoyable way," Zhao said. "Of course, competitions can be good ways of measuring people's musical abilities, but ultimately, I enjoy using them to worship and give back to the community. It's much more rewarding to me this way."
Faith is important to Zhao — she has attended church every since she was young. In 2018, Zhao's family left their home church, Chinese Church In Christ (CCIC) Cupertino, and led efforts to form a new branch of CCIC in Sunnyvale. In just a year, they increased attendance from around 50 members to more than 300 members. Although it was difficult for Zhao to leave many of her close friends, she soon found that a smaller youth group allowed her to form deeper connections and new relationships with youth of all ages.
"If I didn't have Christ, I think I could've sunken pretty deep into the toxicity of the competition and comparison and stress that is pretty commonly seen around here," Zhao said. "I think it helps me to see the bigger picture a little easier, so I can avoid getting caught up in this tiny little bubble we all seem to be stuck in."
Zhao credits her faith to getting her through tough times, especially when it comes to the relationship she has with her father, who is currently a professor of quantum mechanics at a prominent university in China. Her father had always dreamed of becoming a professor, and when the job presented itself two years ago, he couldn't turn it down.
"I'm really proud of him for following his dreams," Zhao said. "Even though it's difficult only getting to see him two times a year and not having him as a parenting figure, we try to FaceTime at least twice a week, and I don't think any of us regret his decision."
Zhao's fellowship tries to help her family out in any way it can, with families offering to drive Zhao and her sister to their activities and supporting Zhao's mother through emotional times.
Aside from playing piano and leading worship at her church, Zhao is in the youth class at Crystal Choir and is a piano accompanist for one of its lower level classes. She has also taken Taekwon-do classes ever since she was in fourth grade and is now a second degree black belt, possessing the ability to chop three boards. At Mighty Fist Taekwon-Do, she frequently works at the front desk and teaches several classes. But, no matter how busy she is, Zhao always makes time for her family and friends.
"I enjoy spending time with people I love and care about," said Zhao. "Even if it's something as simple as watching The Untamed or Friends with my sister, it's nice knowing you have people who will support you no matter what."