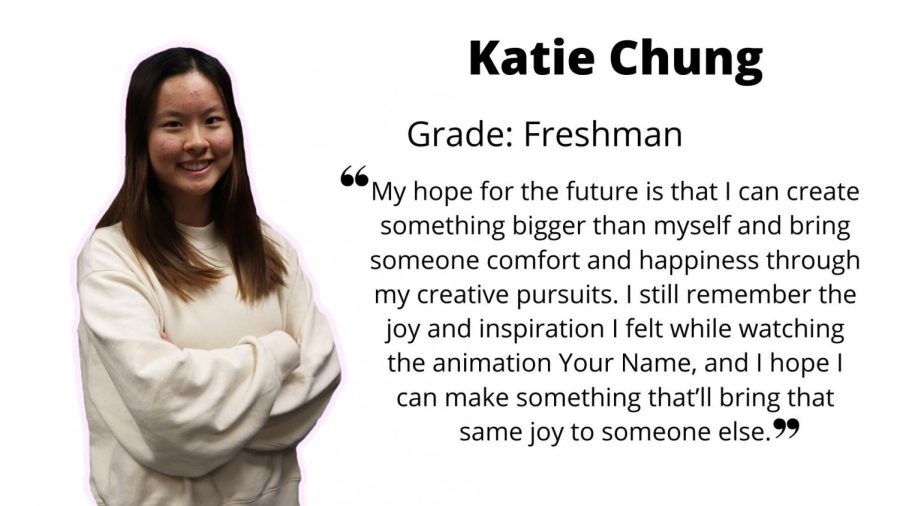 Photo and Graphic Illustration by Audrey Wong
Creative freshman Katie Chung: artist, customizer, PR commissioner
The achievement that makes freshman Katie Chung most proud and perhaps provides the most holistic view of her character is how she designed and screen printed T-shirts for cancer awareness after the passing of a teacher's mother in middle school.
"After the loss of his mother, Mr. Gonzales wanted to start a movement on campus to create awareness," Chung said. "Mrs. Reed heard, and she knew I enjoyed making art so she gave me this opportunity. I designed and screen printed the shirts, which were then sold at wrestling tournaments and other athletic events."
Chung donated the proceeds to cancer charities and finds the experience meaningful to this day. She was awarded by the PTA at her middle school and received a departmental award from Mrs. Reed for her work as well.
"Designing these shirts gave me the opportunity to be part of something greater than myself," Chung said. "I'm glad that I could use my artistic skills to benefit others."
Chung puts her creativity to great use on campus through her leadership position in ASB. Chung is part of the Public Relations commission, which is responsible for producing monthly videos to promote various events taking place on campus. Chung adds personality to their work by writing calligraphy on the posters put up by ASB around campus and on the windows of the cafeteria, encouraging student participation in events like Coin Wars and Match-o-matics.
"Sometimes promotion can get a little repetitive, so I use my skills and try to keep it interesting, drawing the student body's attention by adding artistic flair," Chung said.
Chung values her experience in ASB tremendously. She treasures most the insights about leadership she's gained from other members as the youngest in the class.
"Joining ASB led me to realize that leadership isn't about maintaining a sense of authority or managing others," Chung said. "We plan events and work hard for the enjoyment of others, so in that sense it's more like a position of service."
On her own time, Chung engages in forms of art ranging from embroidery to digital art to dance covers of K-pop choreographies. Chung uses her skills to enrich her self expression, customizing her own water bottle, shoes and backpack.
"I cosplayed as Edward Elric from Fullmetal Alchemist at an anime convention once," Chung said. "I made his metal arm out of foam and spray painted it myself. I spent an entire week on it, and it was really rewarding when I got compliments on it at the convention."
In 18 years, Chung wants to see herself leading a life like her older sister, with a rich personal life alongside a meaningful career.
"I don't know her as a doctor, but for her kindness, her obsession with League of Legends and my own personal therapist who's always listened to my problems and offered advice," Chung said. "When I'm her age, I don't want to be known by others for my success, but who I am and the memories that we share."