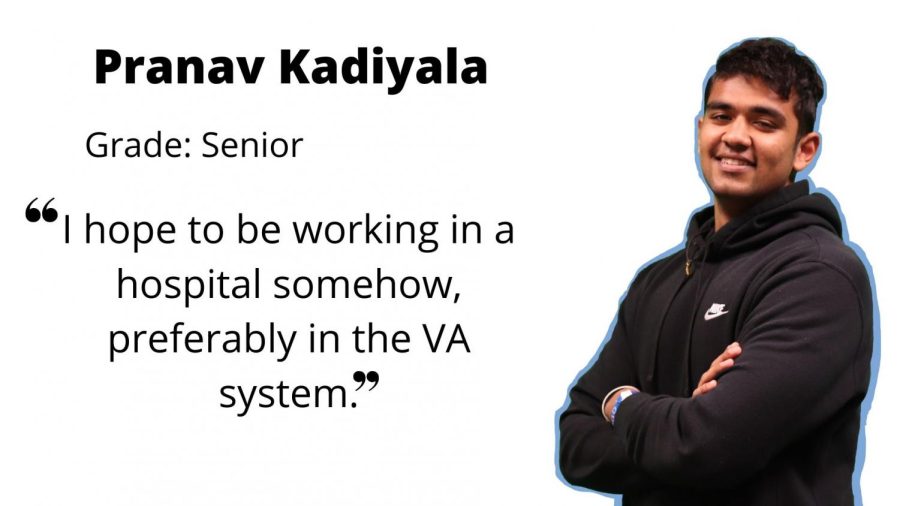 Photo and Graphic Illustrations by Audrey Wong
Senior Pranav Kadiyala: Pre-Med club and Octagon president, track and field member
Though many students may not know his name, chances are most students have seen his face around campus. Responsible and driven, senior Pranav Kadiyala can be seen in representing Lynbrook in several ways, whether at DECA conferences, during Pre-Med club meetings, at track meets throwing the discus and shotput or during Octagon community service events.
These organizations have taught him efficiency, leadership and social skills, shaping him into the person he is today. Kadiyala has learned to be a quick communicator, constantly thinking on his feet.
"With DECA, it's always been really different from normal academics because it focuses more on soft skills like talking to people," Kadiyala said. "You have to impress somebody with how you speak to them versus with brute knowledge, which is not like Lynbrook, so it was kind of a journey to have that shift in mindset."
As president of Pre-Med club and Octagon, Kadiyala has an noticeable drive to serve his community, which is reflected in the activities he participates in outside of school. For example, in the summer of 2019, he worked with seasoned doctors at a branch of the Veterans Affairs Palo Alto Health Care System (VAPAHCS) to learn about the applications of technology in medicine. There, he met several inspiring role models who helped him further his pursuit of a career in anesthesiology.
"I was shadowing anesthesiologists there," Kadiyala said. "The dream would be to work as an anesthesiologist in regional anesthesiology there, in the VAPAHCS, in 20 years."
At home, his parents sparked this aspiration within him. Unlike many of his peers, Kadiyala never felt parental pressure to take up medicine; rather, he came to connect with it organically, inspired by his parents' work in the field.
Despite so many responsibilities on his shoulders, Kadiyala still finds ways to burn through the inevitable stress that comes with club participation and, as a senior, college applications. When he feels the pressure weighing in, he finds time for a few basketball games at Calabazas Park, where he can meet new people to shoot hoops with. In the past he has met many college students also looking for a breath of fresh air, who have guided him through the admissions process.
While making new friends is undoubtedly gratifying, Kadiyala finds that making time to hang out with existing ones is just as rewarding.
"I think I did a really good job of finding a reliable group of friends," Kadiyala said. "Honestly, these relationships I've built over the last four years have been a pretty big part of the success I've had at Lynbrook, so I think the thing I'm most proud of is just the people that I've met and how much I've been able to impact people and vice versa."