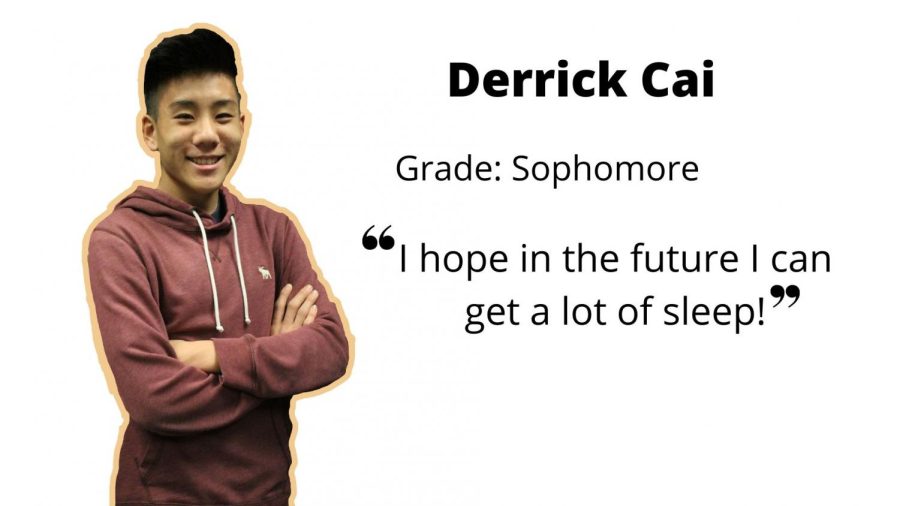 Photo and Graphic Illustration by Audrey Wong
Sophomore Derrick Cai: varsity basketball point guard, debater, and DECA member
Even after swishing two free throws to give Lynbrook the lead with only 10 seconds left of regulation, sophomore Derrick Cai wasn't ready to celebrate until he heard the final buzzer, signaling that he had, in fact, won his team the game.
Having played basketball since third grade, Cai is no stranger to scoring clutch baskets and leading his team to victory. From a young age, Cai was enrolled in a variety of clubs and clinics, such as National Junior Basketball's West San Jose chapter, where he was chosen to play on the selective All-Net team for four consecutive years. He also played for Miller Middle School's team, leading his team to nearly undefeated records every year, and was even selected as Most Valuable Player during his eighth grade season.
Fresh off his first high school season as starting point guard for Lynbrook's JV basketball team, during which he earned two Player of the Game awards, and a summer spent honing his skills, Cai made it onto the 2019-2020 Varsity team. As the only sophomore player, Cai admits that he was initially nervous about fitting in with a team of upperclassmen. However, he discovered that he felt comfortable almost immediately after joining, finding that all the players were welcoming and great role models.
Despite being the youngest player on the team, Cai has already made quite an impression: he is not only arguably the best free-throw shooter, but he is also kind and spreads positivity among his teammates, constantly smiling and building team chemistry.
"He also has a really high basketball IQ and deals with pressure well," said senior shooting guard Neil Warke. "Even though he's a sophomore going against much bigger seniors, he can hold his own and is able to see the game calmly. He rarely gets rushed by the defense and always hits big shots to win us games and get the crowd hyped."
However, Cai's basketball journey hasn't always been so smooth — when he was in eighth grade, he broke his foot and fractured his tibia, after which he was sidelined for several months. While the injury continued to affect him for more than a year, he learned the importance of taking care of his body. Now, after practices and games, Cai follows a strict regime, using foam rollers and soaking his calves in warm water.
For Cai, basketball is a year-round activity. During the months when Lynbrook basketball is not in season, he plays for Silicon Valley Basketball Club and has won numerous Asian league and Amateur Athletic Union championships with his team. In his free time, Cai competes in public forum debate tournaments and participates in DECA events, such as Virtual Business Challenge and Team Decision Making. With aspirations of pursuing a major in business during college, Cai attributes his interest in the field to his basketball career.
"Playing basketball has made me realize how much I enjoy working with other people and being on a team," Cai said. "My events in DECA and debate are both partner-based, and they have confirmed my desire to continue collaborating with others."
From draining his signature midrange jumper to preparing marketing presentations for his DECA event to cheering on the Golden State Warriors and Phoenix Suns, Cai hopes to continue growing in more ways than one — not only in height but as a basketball player and aspiring businessman.