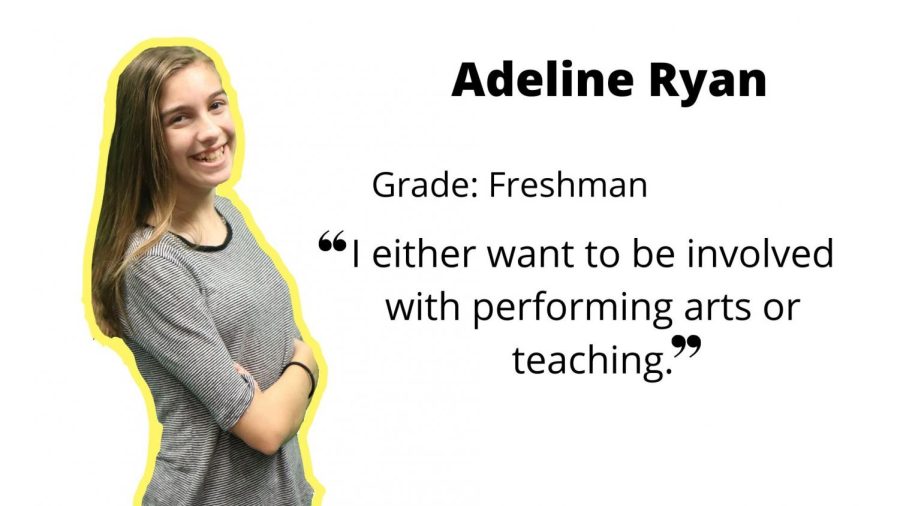 Photo and Graphic Illustration by Audrey Wong
Freshman Adeline spreads positivity
Freshman Adeline* hasn't known her classmates for very long, but many have already experienced her positive energy and friendliness.
Unlike many Lynbrook students, Adeline did not go to Joaquin Miller Middle School; instead, she attended a small private K-8 school, Canyon Heights Academy. She found the culture at Lynbrook quite different from what she had experienced at her former school, mainly due to the larger student population. However, she has embraced the opportunity to make more new friends.
"I see strangers and people I don't know as just an opportunity to make new friends," Adeline said. "I really like bonding with people whenever I can. I'll help [people I already know] through whatever problems they're having, talk honestly about my own experiences and whatever they want to talk about. I think the most important thing is not hiding things from people that you want to connect with. You need to be yourself."
Not only does her outgoing and open personality help her to connect with her friends and classmates, but it also makes it easier for her to pursue her passion for performance. Adeline enjoys singing and drama, finding them both exciting and challenging in their unpredictability. This year, she auditioned for the fall play, "You Can't Take It With You" and landed a minor role as a policewoman. Her mother, a music teacher and choir coach at her previous school, has also helped inspire her to pursue her interest in drama. Adeline sometimes helps her mother out with her choir class, doing tasks such as demonstrating vocal warm-ups.
Adeline foresees that she will become more involved in drama and acting in the years ahead. She plans to volunteer at an acting camp this summer, and is considering attending a college with a good drama program.
In her career, Adeline hopes to teach drama or be a preschool teacher. She loves working with children and helping others learn.
"I love it when things click for someone," Adeline said. "I like helping them learn and grow."
At her old school, Adeline tutored a kindergartener whose mother specifically requested her help. Adeline made flashcards and worksheets to help the 5-year-old with spelling and watched word shows with her. Adeline herself learned to read at a very young age and has been able to enjoy books since kindergarten. Recently, she has not had as much time to read, but she still loves stories and the literature she reads in class.
Bubbly and kind, Adeline is unafraid to speak out and be herself. She hopes to use that special quality to connect with other students and create change in her time at Lynbrook.
*Last name omitted upon request.