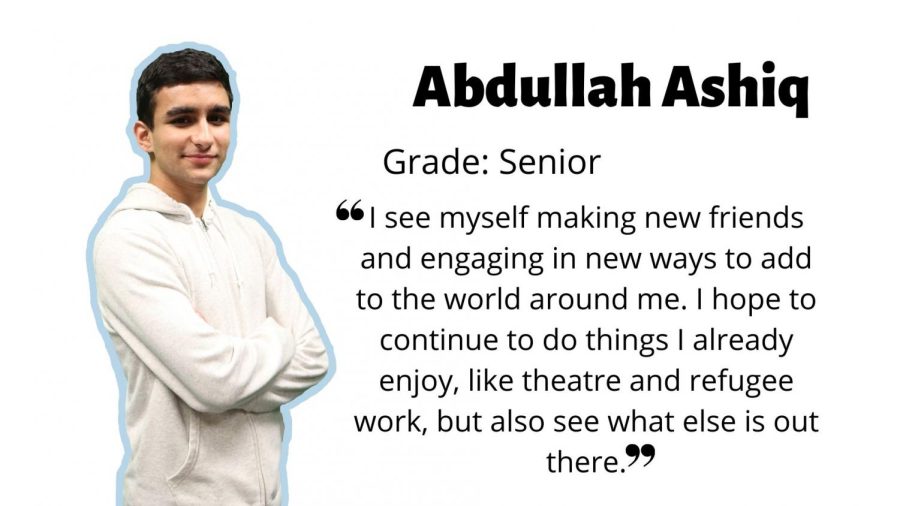 Photo and Graphic Illustration by Audrey Wong
Senior Abdullah Ashiq connects with and shows compassion for others
After some thinking, senior Abdullah Ashiq decided his group of loud, outgoing friends might likely describe him as the "group therapist."
That makes sense. Most of the aspects of Ashiq's life are a reflection of his efforts to show compassion and a deep understanding, especially for others and their emotions. Ashiq is the lead editor of Aletheia — a student publication that features student submissions and professional articles on different topics, usually heavy and personal ones such as judgment, religion and familial relationships.
Ashiq also has been involved with theater since his middle school drama class. In his sophomore year, he became more serious about acting, and joined more plays and even some competitions. He attributed his love for drama to the creative freedom, complexity and challenge of acting.
"I feel like it's a unique form of creative expression," Ashiq said. "It's a strange art form. It's fun and it's something I can express myself creatively with and explore my own boundaries with."
Ashiq had some important insights to share about acting. He explained how ideas and emotions go through multiple layers of people to reach the audience: acting starts with the playwright, who then communicates their vision to the actors, who have to express that in the way they think is best.
Ashiq is also a coordinator for Paper Airplanes Youth Exchange Program, a youth program that provides tutoring to refugees, and the president of the affiliated Lynbrook club, Paper Airplanes, which gives Lynbrook students the opportunity to meet with and teach Syrian refugees.
"English education opens up opportunities and can give new starts to many refugees who need them," Ashiq said.
He not only finds satisfaction from helping others but also draws from his own experiences to empathize with them. Ashiq's parents are both immigrants from Pakistan who came from poor backgrounds, helping him better understand the foreigner experience in America and relate more to the refugees he organizes tutoring for.
"A lot of refugees that come over to America, especially in the Bay Area, are Muslim," Ashiq said. "A lot of my good friends are refugees and I think they are an integral part of my community. It's important to me that we all share a Muslim identity; in Islam, the idea that Muslims are one body, brother and sisters bound together by spirituality, is a central component."
Ashiq's Muslim heritage plays an important role in his life. For him, Islam does not have a strict structure, but remains a constant part of his daily life with prayers and fasting. His religion and identity as a Muslim has also influenced his personal choices and values. He has often felt a responsibility to represent his community well.
"The Muslim experience is very strange in the U.S.," Ashiq said. "There has been a lot of times where there's a pressure, a need to predict questions and give quick responses and be the best ambassador you can be. That is a reason why I try to be a better person — the more compassionate person — because I want that to reflect as part of who I am."
Ashiq ties self-reflection — a quality he demonstrates well — closely with Islam. He also takes Arabic classes, incorporating more of his heritage into his life. Ashiq is grateful for the hard work of his parents and the opportunities he has now to pursue his own career goals in the future. He wants to continue his current education in Arabic literature and history as a minor, and to study something biology-related in college, aspiring to become a doctor to help others.
Ashiq will leave Lynbrook knowing he has striven to be the best person he could be and make differences in the lives of others, and he hopes to keep doing so in the future.