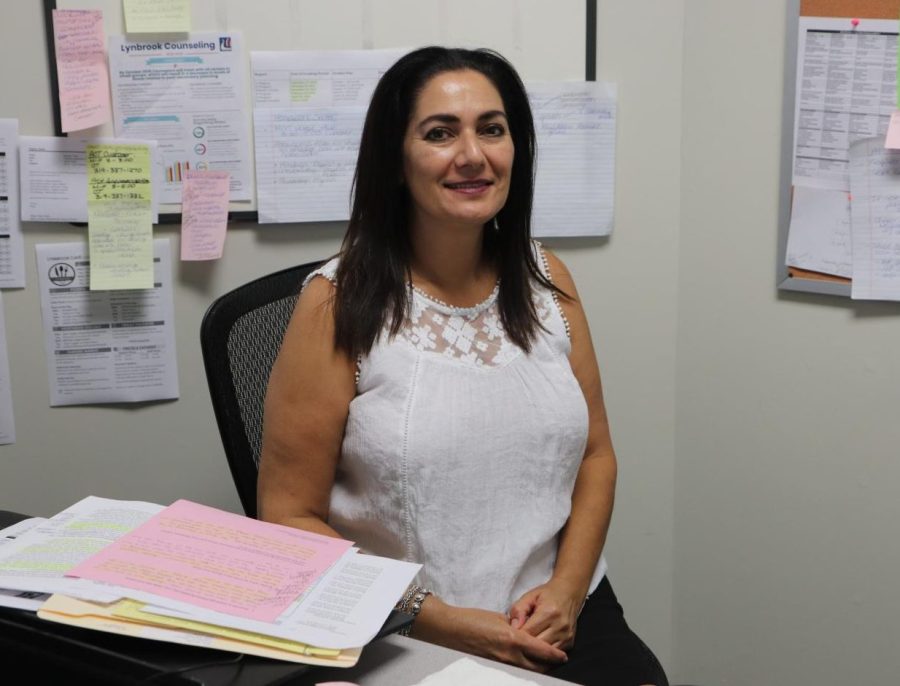 Meet our new guidance counselor, Susie Taylor!
As the school year kicks off, the Lynbrook guidance team welcomes their newest member, Susie Taylor, who will be working with students in the English Learner and Engage Program as well as with the student body as a whole.
Taylor has been a guidance counselor for five years, previously working at Leigh High School in the Campbell School District. After a friend notified her of the job opportunity, Taylor decided to leave her old district and become a guidance counselor at Lynbrook. So far, Taylor has had an enjoyable experience at Lynbrook.
"The students here are pretty darn amazing and are just so wise for such a young age," Taylor said. "Lynbrook is also very organized. Everyone practices the same mission, which is making our students our number one focus."
Taylor graduated from Connecticut University where she majored in accounting and communication. After realizing that she truly loved working with students and educators, Taylor decided to become a guidance counselor.
"I think the core of loving to work with students is being able to guide them," Taylor said. "Not only through the academics or the college process, but also to give them some of my words of wisdom as a mom who has raised three kids."
In her free time, Taylor loves to cook and spend time with her family and five cats. She loves to rescue cats and help others find their feline companions. Someday, Taylor hopes to start a nonprofit organization where she can officially receive the proper donations to allocate a dedicated space in which her rescued cats can peacefully reside.
"A piece of advice I would give Lynbrook students is to take some time to get to know yourself and figure out what you want to do after high school," Taylor said. "It can be hard to determine what you want to do after high school, but if you follow your heart, everything else will fall into place."
Taylor believes that students do well when they follow their passions; she hopes to help her students understand why they are doing what they are doing. She also aims to help students plan as far ahead as they can, while at the same time, help them understand what truly makes them happy. Her goal as a counselor is to help students embrace themselves and not feel confused or bad about who they really are or who they want to be.
Taylor is currently thinking of going back to school and becoming an administrator. Wherever her future takes her, she is certain that she loves working with students and hopes to continue working with them for as long as she can.