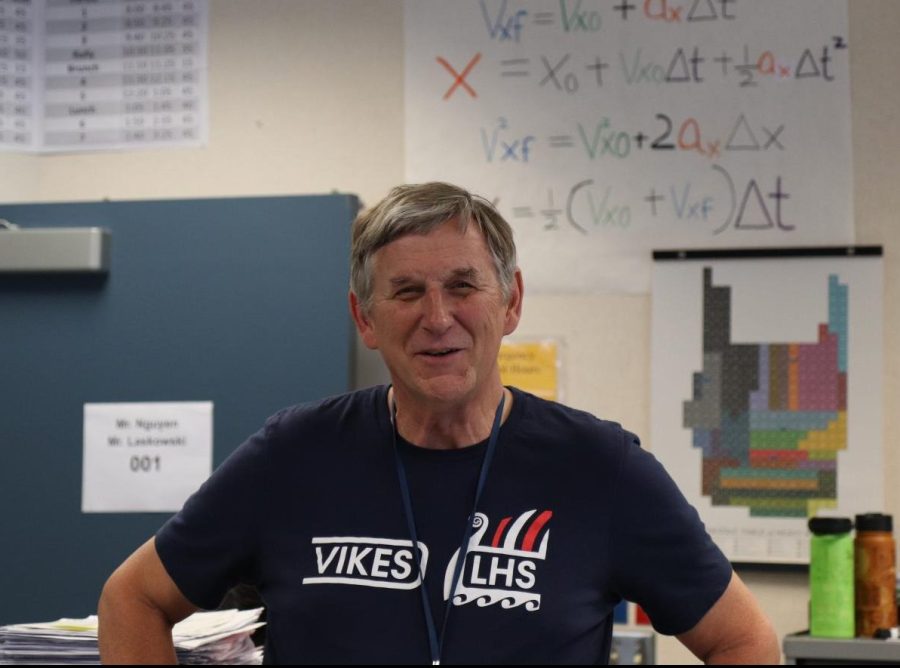 Meet Mr. Laskowski, our newest physics teacher
Larry Laskowksi welcomes the 2019-2020 school year with his arms wide open, ready to embark on an adventurous journey with his Physics Honors students. Originally an engineer, Laskowski didn't quite expect this change in his career, but after the 2001 recession, he began to search for a new job. Meanwhile, he began volunteering to train adult leaders in his son's Boy Scouts program and found the experience rewarding.
"I truly enjoyed training people; it was just so fun, and I had an amazing time!" Laskowski said. "Concurrently, I was still looking for a job, and when I simply could not find one that I liked, my wife suggested that I become a teacher."
Open to the possibility of a teaching career, Laskowski began teaching adult education classes in the FUHSD Adult Education program. To his surprise, Laskowski enjoyed teaching these community classes as they were quite similar to his rewarding training experiences with Boy Scouts. By the end of 2003, Laskowski knew he wanted to become a teacher and began his search for a teaching job.
Laskowski was soon hired at a private middle school where he could teach without a credential and taught sixth, seventh and eighth grade science for nine years. Hoping to further advance his teaching career, he obtained his credential in Chemistry, Biology and Physics from Santa Clara University. At the end of his ninth year teaching middle school students, Laskowski decided to switch gears and become a substitute teacher for FUHSD.
Initially, Laskowski subbed at Lynbrook for a couple of years, and eventually, he took a job at Homestead High School as a long-term sub for Chemistry Honors, Physics Honors and AP Biology. After finding his experience at Lynbrook enjoyable, Laskowski decided to return to Lynbrook, where he tried several times to get a teaching job but wasn't hired. However, this year, Laskowski finally got a job offer to teach seventh period Physics Honors.
So far, Laskowski has enjoyed his time at Lynbrook. He loves the friendly and outgoing environment the student body creates and is truly amazed by the level of passion his students show for physics.
"Sometimes, I feel like students get a little too serious and they just need to lighten up with a joke or something," Laskowski said. "But at the same time, the environment is kind of invigorating because I get to work with so many passionate and attentive students."
Aside from teaching at Lynbrook, Laskowski also continues to teach at the FUHSD Adult School, primarily working in adult secondary education. In his free time, Laskowski likes to go on bike rides, spend time with his grandchildren, listen to amateur radio and play around with computers and technology. Although Laskowski would like to spend more time with his three grandchildren, Laskowski also loves to teach and realizes that he can do both at the same time.
"As a teacher, I just hope I can really teach my students important life skills," Laskowski said. "While grades are important, working as an active community, helping one another out and learning from each other are valuable skills to have in life. My goal for my students this year is to enforce these skills and show my students the real world because it truly is such an amazing place!"
For the foreseeable future, Laskowski hopes to continue teaching and make more fun and memorable experiences with the students and staff at Lynbrook.