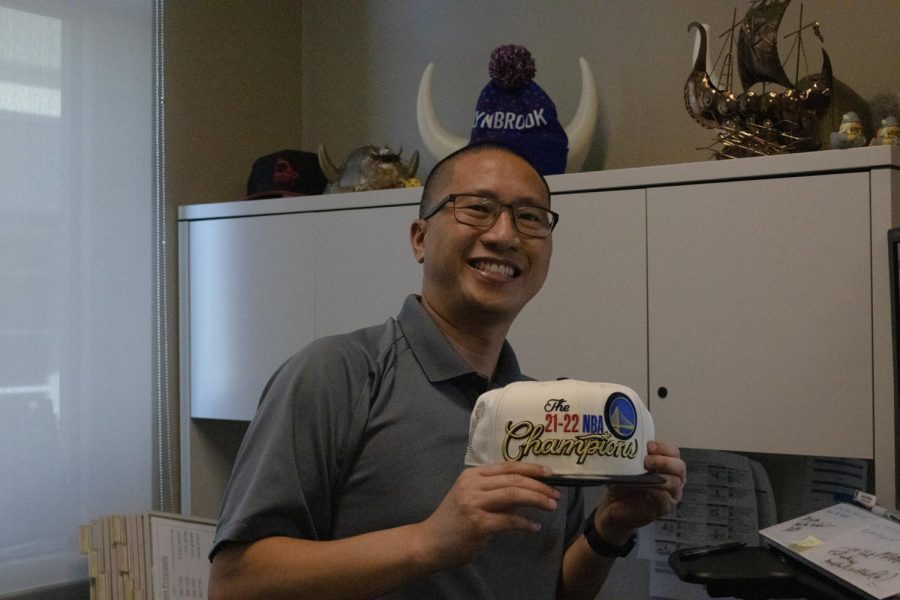 Calvin Wong
Calvin Wong, Executive Assistant to the Principal, has always been within the FUHSD community. He graduated from Miller Junior High School in summer of 1996 and began his first career as a statistician on the basketball team at Monta Vista High School in the fall of 1999, where he graduated from. In 2014, he became a financial ASB specialist at Monta Vista and worked there until he transferred to Lynbrook this year. 
"I did grow up with the community," Wong said. "It felt like it would be a great fit for me to work here."
He found his interest in education through basketball, his favorite sport since childhood. He is a big Golden State Warriors fan – he even has a hat displayed in his office and a few bobbleheads at home. Although he never played on a basketball team in high school, he always enjoyed playing in his free time, and basketball was his closest connection to staying involved in sports.  When he graduated from high school, the water polo coach and athletic director advised him to find a job in a high school if he wanted to be involved with high school sports. Eventually, Wong got a part-time job at the Los Gatos-Saratoga Union district office while coaching Monta Vista's basketball team. In the winter of 2006, he accepted an offer to be a long-term substitute in the special education department as a paraeducator for Monta Vista. After a year and a half, he worked as a front desk secretary and eventually became a financial ASB specialist at Monta Vista in 2014.  
From 2000 to 2020, Wong was always on the coaching staff. He started off filming games, but later, he became the head JV basketball coach at Monta Vista. In 2016-17, he also coached Lynbrook's JV boys basketball team with the former coach Jeffery Bale. From 2017 to 2019, he was the basketball head coach in Monta Vista. 
This year, Wong actively interacts with parents, students and teachers as one of Lynbrook's administrators, supporting Principal Maria Jackson. Wong facilitates communication between Jackson and booster groups, foundation groups and parent inquiries, while he addresses daily questions from teachers and staff members about school operations. 
Although he anticipated there to be a lot of work as a new staff member, he has found the staff at Lynbrook to be  very accommodating and helpful. 
"The team's support for me has been fantastic," Wong said. "Staff has been very patient with me learning how things are practiced."
Wong looks forward to helping students balance out their work and fun. By supporting them whenever they come in and have questions or concerns, he wants to leave a positive impact on Lynbrook. 
"I hope I leave Lynbrook in a better place than before I came," Wong said.