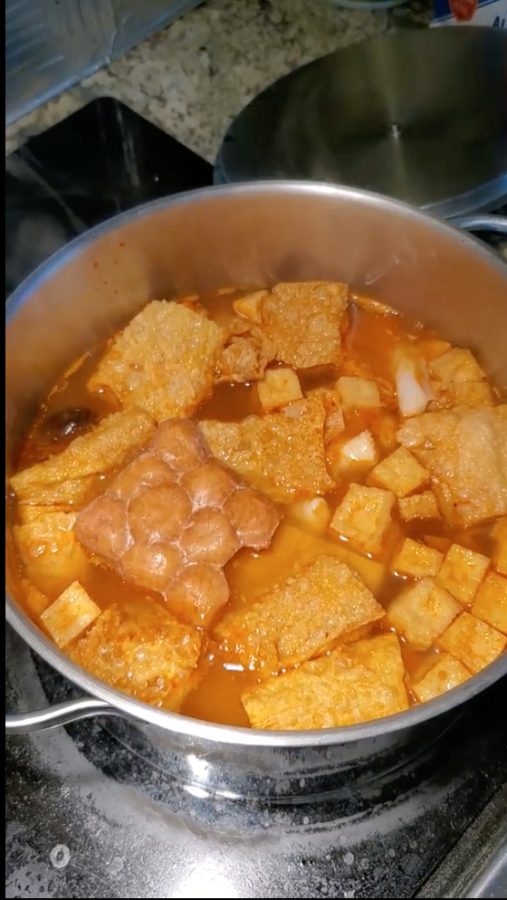 Hotpot: a meal of family and unity
I remember my first Thanksgiving. Unlike Snoopy and Woodstock's, mine had no pecan pie, mashed potatoes or even the famous turkey. My parents grew up in poverty and were fascinated by the world of glorious cuts of meat and lavish feasts depicted on TV. One year, they surprised my family with their rendition — hotpot, a food that has since become a family tradition 12 years strong.
Hotpot is a dish originating from China, combining rich broth with customizable fresh meats and vegetables. On the coldest winter days or when I crave a filling meal, I can easily whip up hotpot on the stove. Its allure may also be due to its versatility, able to please even the pickiest eaters because anything can be a hotpot ingredient. It's also able to be stored and eaten for multiple meals. Hotpot has never failed to be delicious for me.
Contrary to the American dining experience, which dictates one order per person, hotpot is a dish best enjoyed with friends and family. Served in a large metal pot, the circular shape and sharing of food symbolizes unity in Chinese culture. Circles, and in particular yin and yang, represent harmony, which is an important principle in Chinese philosophy. I have had my fair share of otherworldly hotpot experiences at popular joints — bear-shaped broth cubes, hand-tossed noodles and fatty wagyu — but nothing beats the rustic and cozy feel of a homemade meal. 
On ski trips, we would set up our own cooking supplies in hotels, filling the air with the fragrance of herbs and spices. We eagerly crouched around the pot, chopsticks in hand, waiting for the timer to go off and for us to dig in. In that makeshift kitchen, I felt the warmth and power of wordless communication, of human connection at its core. Even if we had gotten into a quarrel, a bowl of hotpot would silence our grievances and humble our momentary egos, reminding us of our strong familial bonds.
As my high school chapter ends and my college adventure begins, I will miss this quintessential food. Hotpot has rightfully earned its spot on the table as a staple food in my family. Perhaps I can find a way to make a bootleg hotpot in my dorm; I will be sure to review it if I do.