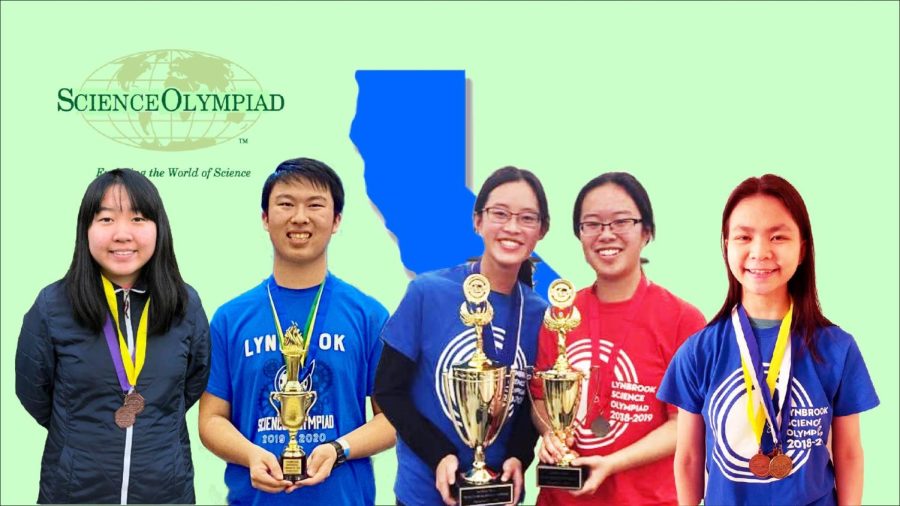 Graphic Illustration by Allison Hsieh
On March 6, Lynbrook's three Science Olympiad teams attended the Santa Clara Regional Tournament virtually and finished in second, fourth and eighth place out of 36 teams. Team A qualified for the State competition for the first time since 2012 and competed against 35 teams on April 17th.
Lynbrook's Science Olympiad teams were previously managed by Science Club before it became its own club three years ago. Since then, the Science Olympiad club has been able to gradually refine the process of assisting club members with events and managing the logistics of competitions. Despite the pandemic, the club continues to receive a stream of new members and is expanding its information database to provide members with more resources to prepare for competitions. Additionally, due to more opportunities for club members to compete each year, regional competitions outcomes have improved significantly over the years.
"The year before the club was founded, we placed ninth, and the year after that, we placed fifth, one place shy of qualifying for States," Science Olympiad club vice president Kaylia Mai said. "We're improving exponentially, which is very good for the club's future. I would say we are almost comparable to Mountain View now, who has been the long standing first place of our region."
In March 2020, contestants were in the last stages of preparation for the regional competition and on track to qualify for the state competition, but the event was cancelled due to the COVID-19 pandemic. Although the contestants were unable to see the fruits of their labor, they were motivated to prepare for the following year and come out stronger than before.
 "In 2019, we missed qualifying for states by 14 points, and that was really rough on the team because we had expected to go to states," Mai said. "We tried much harder in 2020, but then regionals were cancelled. As a result, there's definitely a lot more drive within the club this year, and the members have been dedicating more time outside of usual meetings to prepare and learn the material."
The competitors prepared for their events by meeting with their partners on Zoom for approximately two hours a week, compiling reference notes to use during the competition and completing practice tests. In light of the pandemic, club officers have also made a more conscious effort to provide support to ensure that the members have the tools to succeed. 
"I think one of the key things we discovered throughout these three years is that all the students have the potential to do well, and sometimes all it takes is making sure that they have the resources," Science Olympiad club president Michael Zhao said. "We have mentorship between more experienced members and younger members. We share resources between our three teams because we belong to one school. We have a Messenger group that's always open as a virtual command center."
Science Olympiad's 23 events are usually split into two categories: study events and build events. Both types of events required contestants to participate in groups of two or three. In study events, contestants answer questions in a test format; in build events, contestants build a device in response to the prompt and see how well it fares against the grading criteria. Because of COVID-19, most build events were cancelled or modified into computer simulations, and all competitions were hosted virtually via a lockdown browser. 
The many technical difficulties that came with the new online format proved to be one of the largest roadblocks during the competition. Because partners collaborated to complete one test, it was difficult for both people to work on the same test at concurrently due to website malfunctions. Contestants also experienced difficulties in switching between the testing website and Zoom to communicate with their partners.
"There was one time when the time zone was set wrong on the website, and the event ended right when I clicked on it," Team A member Tiffany Hwang said. "Also, if Wi-Fi goes down in the middle of a test, nothing much can be done, and your other partner has to finish the entire test by themselves."
Despite the technical difficulties, online competition came with many of its own advantages. Previously, contestants had to commute for hours to arrive at the competition site, but this year,  they could compete in the comfort of their homes. For those who competed in the few build events available during the pandemic, they no longer had to transport delicate builds.
"Usually, I have to wake up at six or seven to get everything printed out and make sure I have everything, and then I drive for an hour to the competition site and pray that I don't forget anything or break anything along the way," Hwang said. "At the actual competition, I actually spend a lot of time sitting around doing nothing, waiting for the graders to grade my test. I usually have to dedicate an entire day to Science Olympiad on competition day, but I don't have to do that when the competition is online."
One of the key advantages to online competition was the increased number of competitions available for members, giving members more experience. Because the contestants were no longer confined to competitions within driving distance of the Bay Area, they were able to compete against many other teams that were not in their area, giving members more opportunities to pursue competitive success.
"This year we have been competing in a lot of national tournaments like the MIT Invitational and the BEARSO Invitational," Zhao said. "It would have been very difficult to fly out 45 people to Massachusetts to participate in the MIT Invitational, but now we can participate from the comfort of our own homes. We get to compete with some of the best competitors around the nation and realize that we're continuously improving by being able to go to all sorts of these top tier national level tournaments and do well."
After many adjustments to the pandemic, invitationals and long hours of preparation, the three Science Olympiad teams secured 35 top six medals in 23 events at the Santa Clara regional competition, with eight of the medals being first place. Team A, which placed second place overall, competed in the state tournament on April 17th, with results being released one week later. If they place first, they will earn a ticket to the national competition.
"Science Olympiad tournaments in our region have been very static, so it's always been the same few teams at the top for the past few decades," Zhao said. "We have not gone to States since 2012, which is back when I think the most current students were in elementary school. We're all very excited, but I'm also very proud of all the members. I'm proud of the freshmen who just joined this year and surmounted all those challenges that COVID brought, and I'm proud of the seniors who have been on our team since we found this club three years ago who continue to grow, improve, and keep the faith that we can make it to the state tournament and do our best."