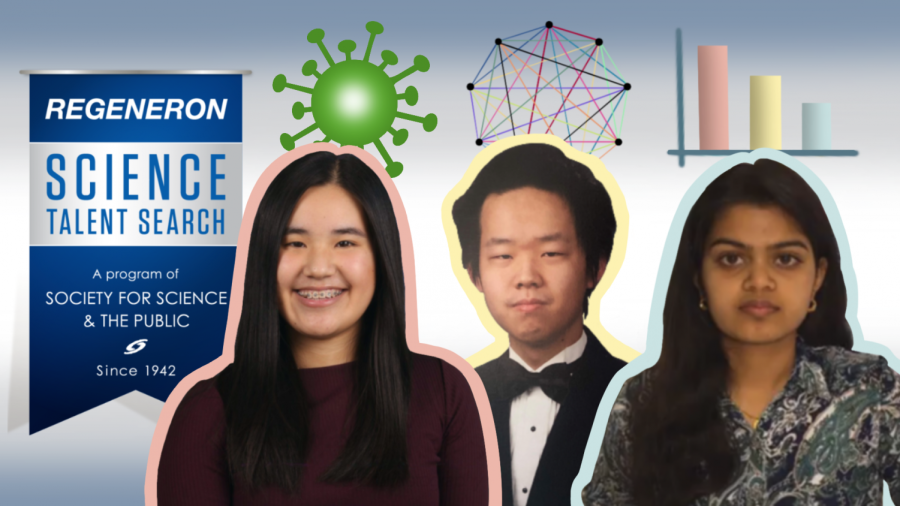 Graphic illustration by Crystal Qian
On Jan. 7, seniors Claire Tang, David Hu and Eshani Jha were named among the 300 semifinalists of the 2021 Regeneron Science Talent Search (STS), the most prestigious nationwide STEM competition for high school seniors. On Jan. 21, Tang and Jha were selected as finalists, an honor conferred upon only 40 of nearly 2,000 applicants across the country. Both will be awarded a minimum cash prize of $25,000, with the top 10 awards ranging from $40,000 to $250,000.
A program held by the Society for Science since 1942, Regeneron STS aims to recognize the nation's most promising young scientists in critical scientific fields of study ranging from biochemistry, environmental science and earth science to engineering, mathematics and space science. Tasked with presenting fresh, innovative ideas to tackle burgeoning global challenges, entrants submitted their original STEM research reports by Nov. 12, 2020. This year, Tang, Hu and Jha's individual projects were selected among 1,760 entries from 611 high schools across 45 states and 10 countries. In addition to awarding semifinalists $2,000 each for their innovative scientific research, the program will also donate $6,000 to Lynbrook High School to invest in STEM, matching the semifinalists' cash prize.
Claire Tang
Tang, who was selected as a finalist, developed a fervent passion for STEM at a young age and has not looked back since.
"As far as I can remember, I've always been interested in STEM," Tang said. "I grew up being naturally interested in math, and I began studying more advanced STEM topics outside of school as early as middle school. I started doing STEM research in my freshman year in Lynbrook's STEM research course and have continued on my own since then."
Previously, Tang had already participated in several other research competitions, but Regeneron STS's promise that her original research would be reviewed by a national jury of professional scientists swiftly attracted her attention.
"When I learned that I had been selected as a finalist, I was super excited," Tang said. "I was super happy in the moment and didn't realize how big of a deal top 40 was, and it was good to see that all my work had paid off."
Tang's project, titled Automated Diagnostic Imaging for COVID-19: from the Unknown Detection to Clinical Prediction, explores diagnostic imaging to help assess the severity of COVID-19 in patients. Including experimental results, essays, write-ups, test scores and recommendation letters, Tang's submitted application totaled an extensive 81 pages.
Tang was introduced to the field of medical imaging through a summer internship she completed in 2019, for which she assisted doctors in diagnosing knee tissue degeneration based on magnetic resonance imaging (MRI) images. Since then, Tang has maintained a keen interest in the use of artificial intelligence-based techniques to develop automated medical imaging technologies.
Inspired by the myriad of unsolved problems in healthcare and seeing artificial intelligence emerge as a promising tool in bioinformatics research, Tang developed three novel deep-learning models to enable an automated imaging-based diagnosis to assist doctors with the disease detection, severity assessment and outcome prediction aspects of COVID-19. Her project, which utilized a dataset of computed tomography (CT) and X-ray images of lungs, aims to assist the limited number of doctors with providing accurate analyses of lung images.
Despite shelter-in-place restrictions, Tang was able to successfully and effectively conduct her research under the nurturing guidance of her mentor, Daniel Rubin, from Stanford Medical School.
"Fortunately, since my project mainly involved computer science and math, I didn't actually need to go to a lab for any experimenting," Tang said. "Shelter-in-place made it more difficult for me to discuss with my mentor or utilize the more powerful computing resources that would have been available in a lab, but I was still able to communicate with my mentor and complete my project online."
In the future, Tang hopes to further her study of computer science — especially artificial intelligence — to develop innovative technologies that address real-world challenges and promote discoveries in fields of science ranging from genetics to astrophysics.
David Hu
Hu also began his STEM journey early in elementary school, participating in numerous math contests such as the widely-recognized Math Olympiad and American Math Competition. While continuing to compete through most of middle and high school, he began exploring other areas that captured his interest, such as research and development, in the past year. When Hu initially conceived his research project, he only sought to get a taste of the logistics of math research, but he seized the unique opportunity to apply for Regeneron STS when he first heard of the competition.
"I was just hoping to get a better understanding of what math research is like," Hu said. "I think the competition was a good way of seeing how interesting my research project would be and how other people would find my research."
Hu's project, titled Probabilistic Zero Forcing on Grid, Regular, and Hypercube Graphs, examines his favorite area of math: combinatorics. From June to October 2020, Hu studied the general structure of objects spreading between a network, which holds practical applications such as that of a rumor or virus spreading among a group of people.
With a plethora of math equations and theorems involved in his modeling and computational processes, Hu spent countless hours writing programs, working with his mentor and proving results under different experimental conditions.
"I remember there was one thing that I was trying to prove, and I thought I had solved it, and so I wrote it up," Hu said. "Then, suddenly, when there were two weeks left before the project was due, I realized it was completely wrong. Fortunately, I managed to fix the error, so that was really good."
With his auspicious debut into STEM research, Hu harbors a bright outlook for the future, having set his sights on studying computer science or math in college and continuing his blossoming research journey in the coming years.
"Even though I wasn't selected as one of the finalists, I'm glad to have had the opportunity to work on this project, and I look forward to pursuing research in the future," Hu said. "I just hope to complete some more fun projects, learn some more exciting theorems and hopefully discover something cool myself."
Also selected as one of the finalists, Jha explored a new and highly effective way to filter toxins from wastewater in her project titled Thiol Functionalized and Manganese Dioxide Doped Biochar for the Removal of Toxic Organic and Inorganic Contaminants from Water. Jha and Tang will compete against 38 other finalists for more than $1.8 million in awards from March 10 to 17.