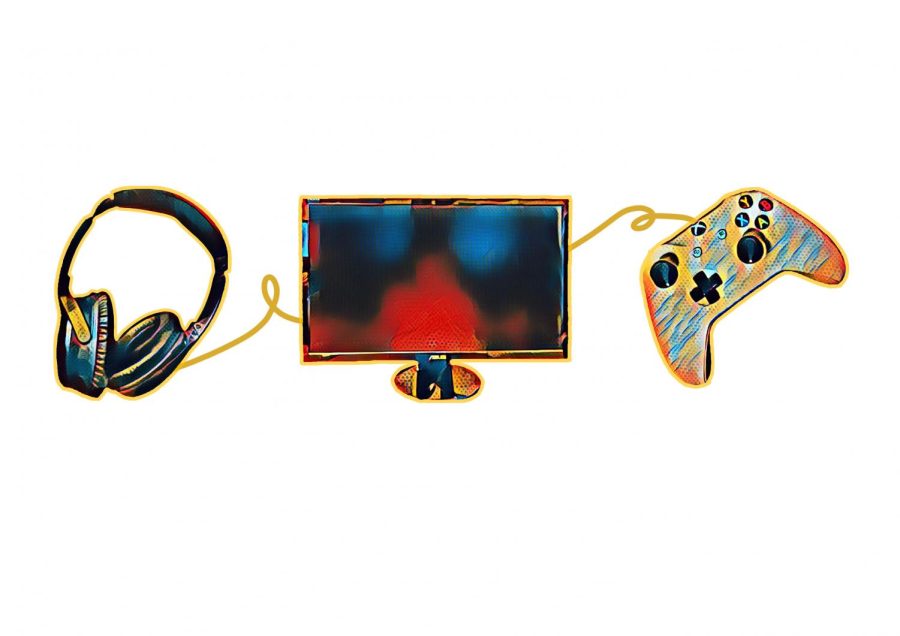 Shamita Gurusu and Lillian Fu
In 2019, the esports industry has generated more than $1 billion in revenue, and its earnings are projected to grow to $1.8 billion by 2022. This growth, brought on by recent advances in technology and graphics, has taken many by surprise. In years past, the idea of earning money through gaming has seemed inconceivable. The rise of esports represents, in many ways, a transformation of the culture and industry of sports.
The term "esports," short for "electronic sports," refers to competitive organized gaming. Popular online games that have esports competitions include "Fortnite," "DotA 2," "Overwatch" and many more. In recent years, universities have caught on to the esports trend, offering courses and majors such as Entertainment Arts and even recruiting esports varsity athletes.
"I think we'll see esports overtake almost all physical sports, as far as the money market goes," said computer science teacher Brad Fulk. "I think in the future you'll see a lot of esports on TV more than regular sports because a lot of the current generation are into esports."
Esports competitions date back to 1972, when Stanford University hosted a recreational Spacewar! tournament. Spacewar! was a multiplayer space combat video game developed in 1962 for the newly installed software program, DEC PDP-1, at the Massachusetts Institute of Technology. As the gaming market developed, the purpose of esports competitions shifted from recreation to advertising and promotion.
The creation of gaming leagues in the past decade has also furthered the growth of esports. Every additional league attracts more players and raises the level of competition within their respective games.
Overwatch League, set up in 2016 by the game's company, Activision Blizzard, was one of the first global professional gaming leagues to mirror the structure of sports leagues by having corporate sponsorships, salary benefits for players and more organized schedules.
Esports viewership has increased with the growth of gaming streaming platforms as seen through Twitch Interactive, a subsidiary of Amazon founded in 2011. Twitch Interactive allows gamers to stream their gaming experiences and make money through fan subscriptions. In the past three years, the number of Twitch users has more than doubled, rising from 590,000 concurrent viewers in 2017 to around 1,260,000 concurrent viewers in 2019. Youtube Gaming was also popular among esports fans until the program was retired and its features combined with the main Youtube site in March 2019 in order to attract audiences from the main site.
Twitch, Youtube and in-game chat applications such as Discord and Xbox Party have enabled gamers worldwide to connect with each other anytime, anywhere. These and other technologies have fostered a sense of community that draws people to esports.
"When I was a kid, you couldn't get into video games the way that you do now." Fulk said. "Now, even the games themselves are designed to intentionally connect people. It used to be that you only connected with the person you were sitting next to, but now they have designed games in a way where you can play with players in other countries."
In the past two decades, gaming has progressed immensely. Video games, which previously were popular with teenagers mainly in Europe and North America has now shifted to a global scale, encompassing a vast demographic of people from a variety of ethnic backgrounds and ages.
"I think it's all about what's popular," Fulk said. "The more popular anything is the more people pick it up. Quality of the game makes also makes a big difference and as a result we are able to see the massive growth of esports."
While some parents may dismiss gaming as simply a hobby, the esports industry can be quite lucrative. Some professional gamers, such as Tyler "Ninja" Blevins of Fortnite fame, claim to earn six figures a month. In recent years, esports events have started to offer more than $1 million in prize money; for example, this year, a 16-year-old champion won $3 million from the Fortnite World Cup.
Like the Fortnite World Cup Champion, professional gamers, as well as esports audiences, are often relatively young. The age of a typical esports player ranges from 24 to 27 years; the minimum age to enter is usually 17, sometimes even lower. As a result, many teens, including Lynbrook students, have interests in the world of esports.
"I have always been into Nintendo games, they were an essential part of my childhood," senior Wei Chong said. "At the beginning of high school, I became really interested in the competitive aspect of gaming and taking part in a passionate and competitive community of gamers is something that I really enjoyed and still do to this day."
While the esports industry is still young, its recent achievements indicate that its hype is unlikely to die down anytime soon. As the esports industry continues to grow, gamers find that their hobbies may not only be pastimes, but potential careers as well.