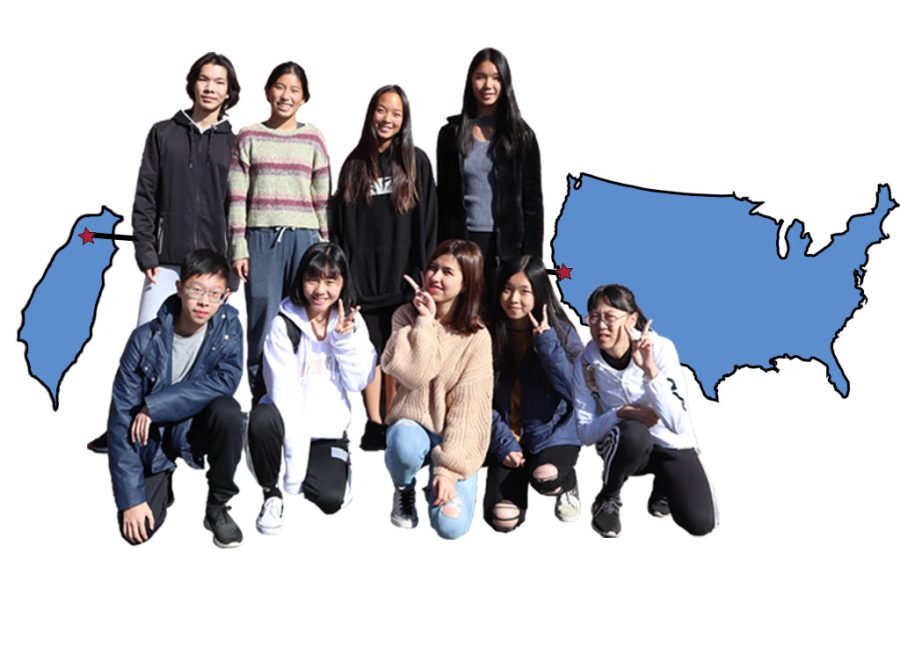 Graphic illustration by Dhriti Iyer and Teresa Arisawa Photos by Priyanka Anand
When the group of five high school students from Hsinchu, Taiwan, signed up to come to Cupertino as part of the Cupertino-Hsinchu Sister City Association's (CHSCA) annual student exchange program, they imagined that they would be visiting a high school resembling those they had seen in American movies. From Oct. 29 to Oct. 31, the Taiwanese students explored Lynbrook with their hosts, accompanying them to their various classes and interacting with teachers and students throughout the three days. At the end of their trip, they were pleasantly surprised that through their exposure to American culture, they found that Lynbrook students had much in common with them and their friends back home.
Nicknamed "Windy City" for its climate, Hsinchu is located in northern Taiwan and is one of the country's major educational and technological hubs. The city's exchange program with Cupertino, founded in 2004, aims to promote a cosmopolitan culture in both communities and expose students to unfamiliar cultures.
The five students from Taiwan — sophomore Yuan "Caroline" Han, senior Ting-Hsiang Wei, junior Yu-Cih Chao, freshman Ting-Yun "Melissa" Peng and freshman Shao-Ying "Jocelyn" Yang — come from different schools across Hsinchu. One of the first differences they noticed was the organization of grade levels: in Taiwan, seventh to ninth grades are considered junior high school and tenth to twelfth grades are high school. As they looked closer, they found more distinctions between the two systems.
"The school campus is so much bigger here," Wei said. "Here, you get to choose your classes. In Taiwan, you are given your classes and can not choose. Also, it seems more like a university here because you move around to your classes, while in Taiwan, all the teachers come to your homeroom class."
The students also explored the culture of Cupertino, which to their surprise, was quite similar to the culture in Taiwan.
"The people are much nicer here," Han said. "In Taiwan, everyone pretty much minds their own business. But the culture is also very similar because there are many Asians here."
On days when the exchange students were not shadowing their hosts at Lynbrook — freshman Vivian Chen, junior Justin Wu, junior Di "Kelly" Zhi, freshman Janice Chong and freshman Jasmine Chen — the host families took them around the Bay Area, visiting famous sightseeing spots in San Francisco, Stanford University and the Apple and Intel campuses. They also went to shopping malls, giving the hosts an opportunity to introduce the exchange students to local culture and activities.
"I do not normally go shopping during the week, but we went to a mall on a Tuesday, which was really fun," Chong said. "[The exchange program] is a great way to take a vacation from the normal school things and show the exchange students around."
Near the end of their stay, the exchange students also experienced an integral part of American culture — Halloween. Since Halloween is not widely celebrated in Taiwan, the exchange students had a unique opportunity to participate in a fun social event that was completely new to them.
"We decided and bought our costumes ahead of time and we [were] really looking forward to trick-or-treating," Chao said. "Taiwan does not have such a huge celebration of Halloween. Only preppy American schools sometimes have costume competitions."
The exchange students left on Nov. 3 with many new stories to share with their families and friends in Taiwan. The student exchange experience not only helped exchange students and hosts learn about each other's lifestyles, but also helped them discover many unexpected connections between their cultures.