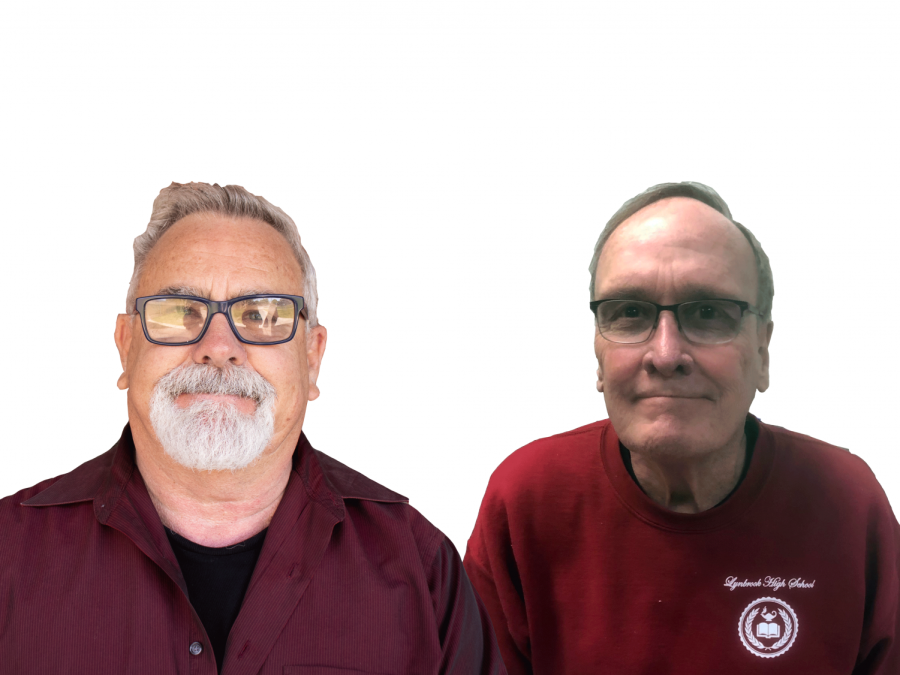 WILLSON:
Willson never expected to find fulfillment as a teacher: working as a substitute for the district was a thoughtful decision, partly because it offered more benefits compared to the jobs he had before. What surprised him was that the job was fresh, nerve-wracking and thrilling all at once. He realized that working with students would allow him more room for freedom than he had ever imagined before.
"What I loved most about my job was the creativity it allowed me," Willson said. "The school gave me an immense amount of freedom to expand the scope of the school's art department, and the students were always incredibly enthusiastic."
Willson has seen much change over the years he has taught: he has moved from the old music wing to the old art room and oversaw the renovation of his own classroom 12 years ago. The quirky red, white and black embellishments he put up into the room give it an atmosphere of his own.
"[The classroom's] atmosphere is really pleasant," said freshman Lauraine Kong, an Art 1 student. "Mr. Willson always turns on classical music when we work and lets us listen to our own music. The classroom is calm, but occasionally there's laughter coming from the tables in the back of the room, and I think that really lifts the mood."
26 years later, Willson has taught hundreds of students and seen remarkable talent. The inspiration and energy he derives from his students have grown into him, and he is hardly ready to let it go as he moves on with the next phase of his life.
Willson plans to move to his vacation home in Aptos, Calif. after retirement. From there, he hopes to spend some time for himself, figuring out how to spend this newfound freedom after all these years of work.
"Being an art teacher has been a part of my identity for so long, I don't know who I am without it," Willson said. "[Lynbrook] has been a wonderful community of brilliant young minds, and I don't know how I'm supposed to move on. I can't say I'm looking forward to it, but it's new. It's a change. And a change is what I need."
PENNER
Forty-three years, seven schools and thousands of students: chemistry teacher Jon Penner's career in education has been a journey beyond anything he ever expected.
After graduating from the University of California, Santa Barbara, Penner began work at a private Catholic girls' school in San Francisco. Over the years, Penner found himself teaching at several high schools, including Gunn, Palo Alto and Saratoga High School.
During his tenure at Saratoga, Penner was promoted to assistant principal. He continued working in administration at various schools until the summer of 2007, when a friend of his informed him of an open position at Lynbrook to teach freshmen biology. Excited at the prospect of being in a classroom again, he could not refuse the opportunity to interview for the job. Penner left administration that fall and never looked back. As he returned to teaching, Penner remembered the reason he loved his job: the students he taught.
"There's just no comparison: it's so much more fun being in the classroom," Penner said. "I like interacting with the students. [As an administrator], I was in charge of everything, and I got really burned out. I'm so glad I ended up at Lynbrook. The kids here are wonderful. They're smart, they're polite and they're responsible."
Penner is grateful that he has been able to return to the classroom for the final years of his career, but as he approaches his 70th birthday, he knows that it is time for him to retire.
"My favourite memory [from Penner's class] is sitting in the front seat in class and laughing at his chemistry jokes," said senior Arushi Gautam. "Mr. Penner welcomes my group of friends and I to his classroom every brunch and shares candy with us along with a few stories every now and then."
Though he will miss his students, Penner tooks forward to his newfound free time and intends to make the most of it by traveling. Days after the school year ends, he will leave for St. Thomas, U.S. Virgin Islands. Later in the year, he plans to visit Shanghai and Bangkok.
Today, as Penner looks back on his career, he is grateful to have made meaningful connections with so many students over the years.