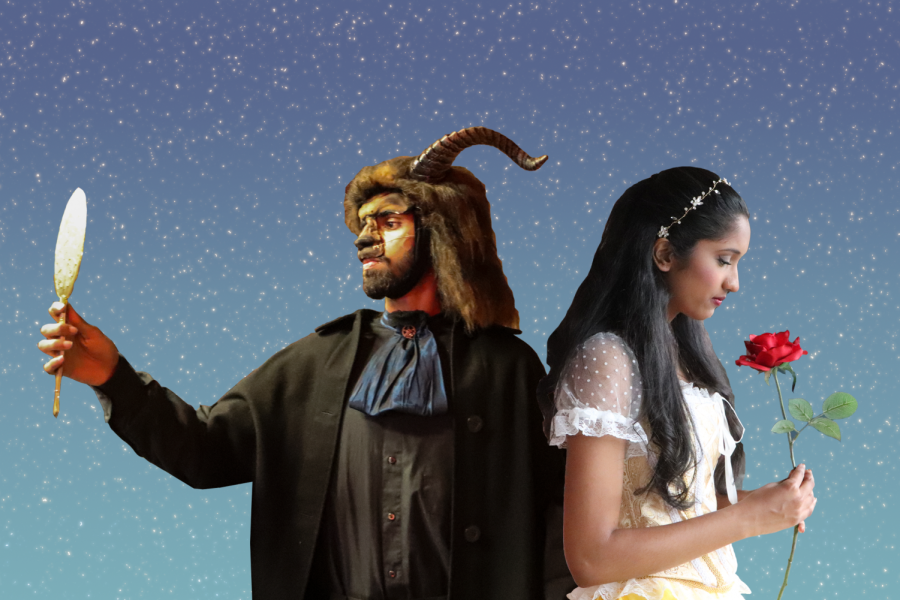 Kaylin Li
Cellos and the low rumble of the timpani breaks the silence. The rest of the orchestra follows in beats later. Then suddenly, the velvet curtains are drawn to the side, and light fills the auditorium. The voice of the narrator, literature teacher Jessica Dunlap, sounds through the speakers, "Once upon a time…"
And so began "Beauty and the Beast," Lynbrook's first musical in six years, featuring steampunk castles; corseted, ballooning dresses; and intricately engraved props. Though the performance only ran for three days, from April 25 to April 27, those days were the culmination of months of hard work by directors, cast members, set designers, costume designers and sound and lighting technicians.
"We wanted to do something that was easily recognized by everybody, something that everybody knows, that everybody would be excited about seeing," said vocal director Crystal Isola. "It's a great family show; you can bring all your kids, bring your whole family to see it. It's pretty. It's got a big orchestra. It's got great music that's very recognizable. It's got a lovely story. "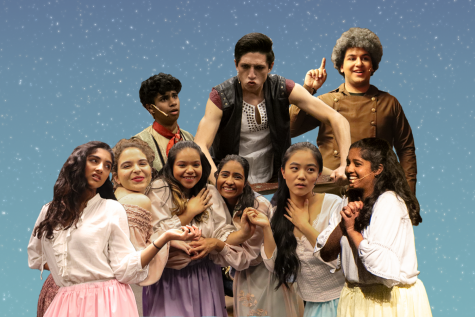 The plot of the musical is true to that of the Broadway musical, following the protagonist Belle into a castle in a strange forest, where a prince has been turned into a beast due to his callousness. To turn back into a prince, the Beast must fall in love before all the petals on a magical rose fall off, or else he will stay a Beast forever.
Auditions for the spring musical lasted for a week in November 2018. Students were called to Studio 74 to sing a section of "Be Our Guest," then called back to dance, sing songs and act out scenes specific to characters that they would fit. The finalized cast list was released the week after, with a total of 26 actors, including leads, supporting characters and ensemble members. When senior Estella Lin, who was cast as the teacup, Chip, realized her friend Meghna Kaligotla had gotten the part of Belle, she instantly congratulated her on social media.
"She thought I was joking the first time," Lin said. "And I was like, 'No. You're Belle. Like here's the screenshot.'"
Rehearsals began the day after winter break, and for two weeks, Isola, the vocal music director for the show, taught the cast vocal techniques for their parts. Michael Pakaluk, the instrumental music director, wrote in parts for the violas, who had not had a part in the original score. Building of the set started in the first week of March, where student volunteers indirectly involved in the musical pitched in, helping the cast construct props and design costumes. By the beginning of April, the show was polished through tech weeks, during which the cast and orchestra met for sound and lighting checks.
"I think for the first three months, it was [not as good as we hoped]," said senior Adam Katz, who played Gaston. "And then in the last month, we've really been picking up. It's crazy what we've gotten done. We had nothing, and then the entire production was up in the last two weeks."
The days of the performances came. Right before each performance, the cast would huddle and chant in a circle called the Energy Circle to pump up everyone for the performance. The performance, which the directors labored to cut down to two hours long, garnered silent sympathy during more emotional scenes, laughter during more raucous scenes and applause all around.
"For me, I'm more musically oriented than acting oriented," said Kaligotla. "So I think for me, my favorite part is being able to tell a story with song as well as acting. Acting is more in your face, like 'okay, this is the plot,' and music is more straight up emotion."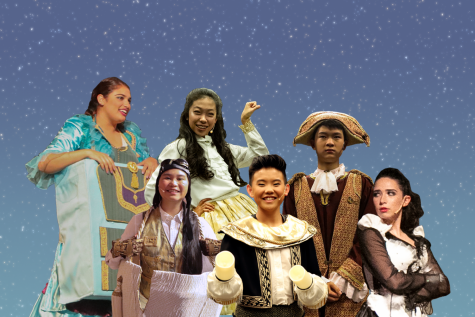 During intermission, volunteers sold Beauty and the Beast themed concessions, such as petit fours and brownies decorated with edible red roses. The Saturday afternoon performance ended with a gala, in which cast members signed playbills and took pictures with excited audience members. The experience allowed the drama department and choir department to collaborate in ways that they never had before.
"In the past, the drama department has been a niche community," Katz said. "Only drama kids would do drama stuff. But now I have the inkling that it's going to grow and expand a lot more, and people are going to come in for shows. So, if [joining the drama department] is in someone's head, but you're just not sure, one hundred percent come in; the drama department will welcome you. It's really fun."
Isola hopes that a musical will be performed every other year, as had been the norm years ago.
"It is such a worthwhile experience," Isola said. "I always tell my students that everybody should have once in their life, at least, the experience of being in a school musical. It's just so life changing, something you'll remember for the rest of your life, having that experience. I hope that underclassmen consider being in the musical in two years. It's open to the whole school, so even if you're not in drama or choir, you can audition for your school musical."