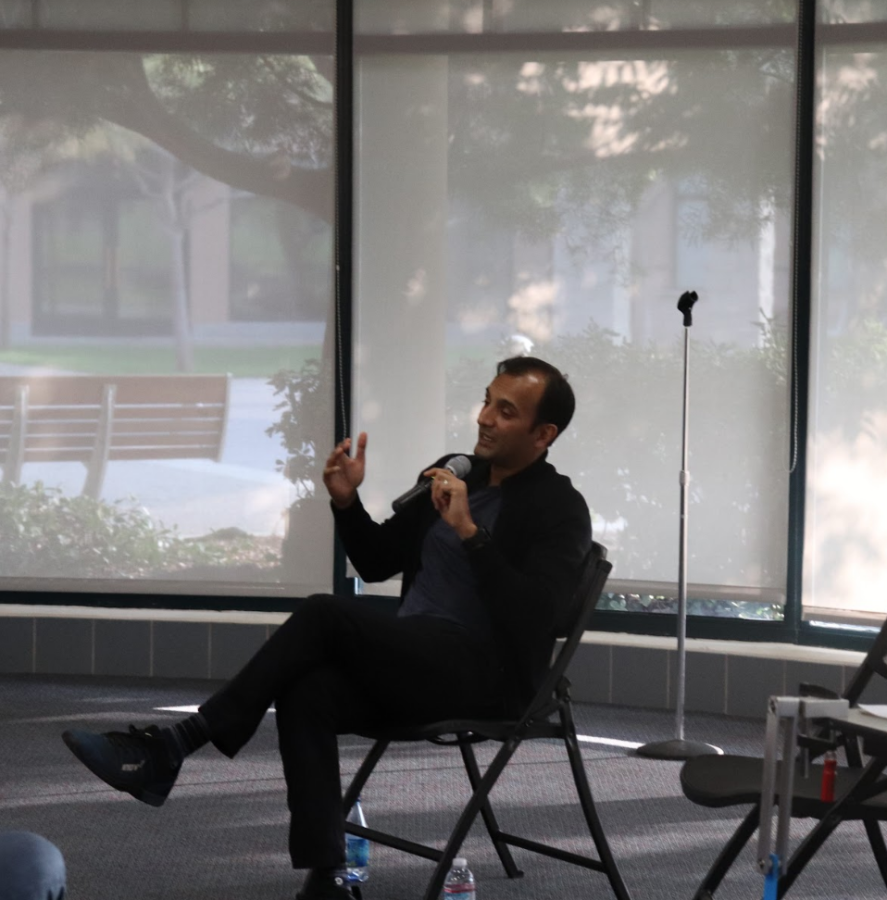 Melissa Chen
Not many people can say they have worked with a president of the United States. Monta Vista High School alumnus, Dhanurjay "DJ" Patil, is one of those select few. Appointed by Barack Obama, Patil served as the first U.S. Chief Data Scientist from 2015 to 2017. In a speaker event at the Quinlan Community Center on Nov. 17, Patil spoke extensively about his journey from high school to the White House.
The event was hosted by the Cupertino Chamber of Commerce (CCC) and the Cupertino Library Foundation (CLF) and was organized as part of "Let's Talk Education!", a series of community talks featuring FUHSD high school graduates who have been in the workplace for more than three years.
"There are some [FUHSD graduates] who didn't get into the best schools and didn't know exactly what they were doing," said CLF President and CCC Education Series Chairman Henry Sang, who helped organize the series. "They needed to grow up a little, but once they found out what they had to do, they became really successful. DJ's one of them."
During his talk, Patil explained that in the 1980s, Monta Vista was a fairly vocational school, meaning it was training students for occupations in construction and engineering, with courses focused on with courses focused on manual skills such as building circuit boards, wiring houses and repairing automotives. Despite the emphasis on mechanical work, there was still academic pressure.
"There were students who were being pushed aggressively by their parents and expectations," Patil said. "That was real."
Patil admitted that he was not considered an outstanding student in high school: his grades were poor, and he often misbehaved. He shared stories with the audience about pulling clever but harmless pranks. For example, on several occasions he picked the classroom locks and shuffled desks around.
"I felt a lot of pressure," Patil said. "But what I did was I kind of opted out of the traditional measuring stick."
For the most part, Patil did not get caught up in grades. The audience learned that he chose instead to focus on activities that he enjoyed, like photography and innovation. Some teachers were especially supportive of his creative endeavours. Patil's physics teacher lent him a box of experimental lab equipment.
Patil was fortunate to find interests that he could express himself through and that he felt kept him grounded during high school. In his talk, he advised students to find their passions and apply their learning to the real world.
After graduating from Monta Vista, Patil attended De Anza College, where he majored in mathematics. He later studied at the University of Maryland, College Park. Patil became a more diligent and industrious student in university. Patil shared with his audience what he believed to be the moment that sparked this change. After a humiliating qualifier exam, he drastically altered his academic routine. He woke up early to study for hours on end, only taking breaks for meals and exercise. The following qualifier, Patil placed first in his class. Using this anecdote, Patil emphasized the importance of hard work and resilience, regardless of the different abilities that people may have.
"You get to cry for 10 minutes. You get to mope for another 50 minutes," Patil said. "At the end of that hour, it's about what you do next."
To enhance his talk, Patil conducted a simple "science experiment" that involved the audience, using a device that demonstrated a behavior Patil had been captivated with since high school: chaos theory. The device had a stick that swung upward and dropped in rapid and erratic circles through a thin opening. The audience was instructed to clap when they thought the stick would complete a final cycle. The task seemed simple at first: within seconds the stick slowed to a stop. However, it soon started spinning furiously again. The confused room filled with broken applause as the device stopped and started inconsistently.
Minutes later, the machine finally came to a stop. Patil drew a parallel between the device's chaotic, unexpected behavior and life itself — an interesting comparison to which he attributed his obsession with chaos theory.
"Just when you think things aren't going right, the whole system can shift," Patil said. "You can build an algorithm to keep a chaotic device like this perfectly controlled. It needs high speed observations and control. You always have to be testing and reiterating ideas to figure out what works and what doesn't. You have to be able to make observations and respond quickly."
Building on this idea, Patil explained that it was with this adaptability and attitude that he constantly revised his plans to reach his goals, whether it was through writing to university professors to continue his formal education or turning his study habits around. After university, Patil was determined to successfully channel his intelligence, skills and creativity through his career. He worked for numerous companies, including LinkedIn, where he co-coined the term "data scientist." Patil is notably a founding board member for Crisis Text Line, a non-profit organization which uses new technologies to provide on demand mental and crisis support.
As U.S. Chief Data Scientist, Patil ensured that the government was taking full advantage of the potential of data science and technology to better serve the country. In this position, he contributed to the Precision Medicine Initiative, a large research project that hopes to make advances in the prevention and treatment of cancer and other diseases through data studies. Patil has since left the White House, but his passion for healthcare and reform remains. Currently, Patil's work centers around building a healthcare system that makes effective and responsible decisions.
Throughout his talk, Patil urged students to make their work meaningful and recognize their social responsibility.
"Let's figure out what we can do together," Patil said. "What if every student in every one of our schools decided to say, just as Cupertino, what could we do collectively to make this world a little better? What would we come up with?"
This is more or less the question the event organizers were pondering before they began coordinating community talks like Patil's. They recognized two prevalent problems within the community of students and parents.
"The first thing we recognized was ineffectiveness," Sang said. "The second thing was anxiety. There was tension and stress coming from brutal competition students must face at a daily basis at school."
Students were often being ineffective by investing time in work and activities that did not significantly contribute to them achieving success. There was misconceptions and confusion about how to succeed in school and beyond. Patil is among the many graduates and qualified individuals that the Cupertino Chamber of Commerce reached out to in the hopes of resolving these overarching issues in the school community and education. Patil's talk emphasized being adaptable and resilient, and channeling passions powerfully and creatively.