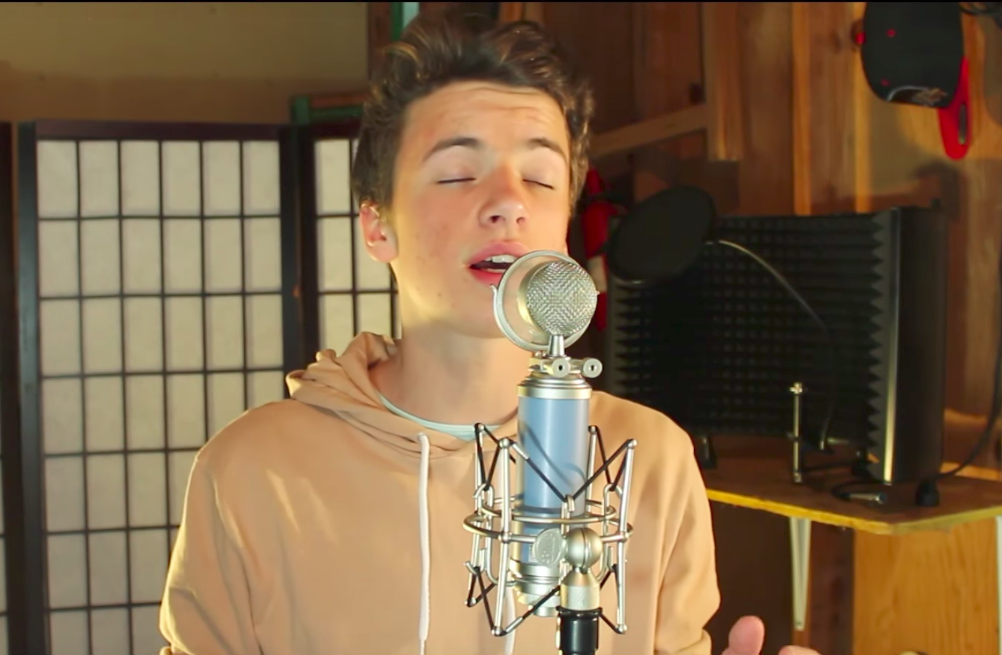 Though junior Greg Gontier has been interested in music for years, it was not until May that his YouTube channel catapulted him into the spotlight. In May 2017, his cover of Justin Bieber's remix of "Despacito" by Luis Fonsi and Daddy Yankee went viral with over 935,000 views; subsequently, his subscriber count skyrocketed to over 23,000. This success is just the beginning for Gontier, who then released his first single on June 26 as part of Konvey, a duo that he started with his childhood friend, Saratoga High School junior Vittorio Morini Bianzino.
Gontier originally started his channel in July 2013 to further his passion for music and share his work with the rest of the world. As Gontier continued polishing his singing, his crew also grew in size. Nowadays, he recruits a plethora of friends to help him film, record and edit his videos, although originally, it was only his parents.
"I just walked up to my dad, and said that I wanted to start making music on YouTube," Gontier said. "And he was like 'Alright, let's buy a mic.' He was super supportive."
When Gontier first began creating cover songs, his preliminary roadblock was the simplicity of his videos. Without background music, his videos were too bare, but he didn't play any instruments except for the drums. As a solution, Gontier taught himself to play guitar and later on, piano through videos on YouTube and daily practice. Nearly three years later, in May 2016, Gontier's hard work paid off when his rendition of "Despacito" gained significant attention.  
"The views just kept increasing," Gontier said. "It was kind of a weird feeling. I think that I was the most excited when it hit a hundred thousand views, but then it just kept growing."
After this video, Gontier's channel began to attract subscribers rapidly. In May, his channel had 600 subscribers; after his Despacito video, his subscriber count multiplied.
In June 2017, Gontier announced that he was making his debut as part of the duo, Konvey, with Bianzino, his close friend since sixth grade. Originally, Gontier went to Bianzino for help with filming and editing videos. When Bianzino began making his own music, however, the two entertained the thought of a partnership.  
Together, Konvey released their first single, "Hear the Sea," on June 26. The project took more than six months to grow from an idea into a finished product.
"We created a story in our heads of what we wanted the song to be, and then found the music to be the soundtrack of that story," said Bianzino.
Looking forward, Konvey has plans for new music, along with a tentative release in September or October. As for aspiring artists looking to follow in his footsteps, Gontier draws on his personal experiences, emphasizing the importance of perseverance.
"It sounds kind of cheesy, but just keep doing what you love," said Gontier. "It kind of sucks, not [achieving] what you [hope] for, but it does happen eventually."
At the end of the day, Gontier is still a junior at Lynbrook, even with over a million views on his YouTube channel. He started his channel in the hopes of sharing his music with others, but has quickly grown into an internet sensation with thousands of fans. Through hard work, dedication, and talent, Gontier has carved a name for himself in the entertainment world.