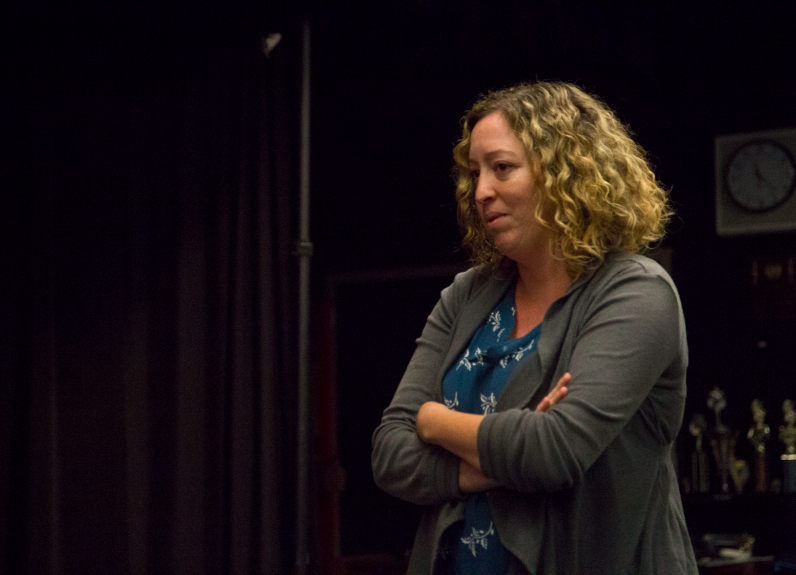 In place of a classroom stands a stage with rows of chairs. In place of written exercises, students play improv games and instead of essays are skits. The unique classroom cultivates a close-knit community with boundless creativity and an almost tangible energy. This is Studio 74, Lynbrook's very own drama studio. This year, however, a new drama teacher is standing in place of retired, long-time drama teacher Laurel Cohen.
Strictly a literature teacher last year, Naomi Rollins has expanded her teaching fields to Beginning Drama, Advanced and Honors Drama and World Literature this year to fulfill the legacy Cohen has left. Rollins has six years of drama teaching experience at Scotts Valley High School; heading all Lynbrook drama courses and productions as well as advising the Thespian Society club, however, will be a new feat.
"I'm very grateful to be taking over after [Cohen] has left such a wonderful place for me to head off from," said Rollins. "But at the same time, it's also challenging. For the space itself, I want to make it my own, but to keep it a community space for the students as well."
Cohen is responsible for establishing the drama department that many students take part in today. She has made several significant contributions toward the program over the past few decades, though she is best remembered for transforming the drama studio. Studio 74 was once an empty wood shop with bare walls and no stage, until Cohen remodeled the room into a drama haven.
In previous years, Cohen has covered various units in her beginning drama classes based on genres, including pantomime, comedy and tragedy. Rollins, on the other hand, is modifying the curriculum, initiating several changes to the department while preserving and strengthening the spirit and the community of Lynbrook drama.
"As I'm taking over this class, I'm still learning about what [students] have experienced in the past, but I would also like to try some new things," said Rollins. "I want to make this drama department fun, but also help students explore different parts of themselves creatively, vocally and artistically."
One significant change to the curriculum is the transition from separate units to smaller, collaborative projects. This new system gives beginning students the opportunity to experiment not only with acting, but with other aspects of drama such as lighting and sound.
In the future, changes will also be made to more advanced drama programs, with Rollins altering course curriculum based on class feedback to decide specific areas of drama to explore. She has given experienced students the freedom to organize the fall play according to their liking to encourage passion and creativity. Furthermore, Rollins plans to spend additional time behind-the-scenes, developing her students to become lighting, sound, set design and costuming experts.        
"These past few years, a lot of the drama department has been based on routine and tradition," said senior Lucy Euler, who works behind-the-scenes in productions. "But this year, Rollins is very open to trying new things and letting us explore other fields of theater."
Rollins is aiming for one production this year; instead of the usual musical performed during second semester, she is introducing Cabaret Night, a chance for students to perform songs from their favorite Broadway shows. With a new production this year, Rollins will delegate more responsibilities to her advanced students in hopes of further raising standards for Lynbrook drama.
"She listens to our advice and input a lot," said drama actress and junior Mohini Adkar. "So, she gives us more responsibility, but there's always help along the way."  
All major decisions regarding the productions are made collectively by Advanced Drama classes. The students are all responsible for various parts of the production including lighting, sound, set design and costuming. Students have the opportunity to realize their visions by designing the costumes and sets while working alongside Rollins.
With a new teacher in place of Cohen, Lynbrook drama faces a fresh perspective. The community spirit, creativity, and positive energy, however, remain unchanged.