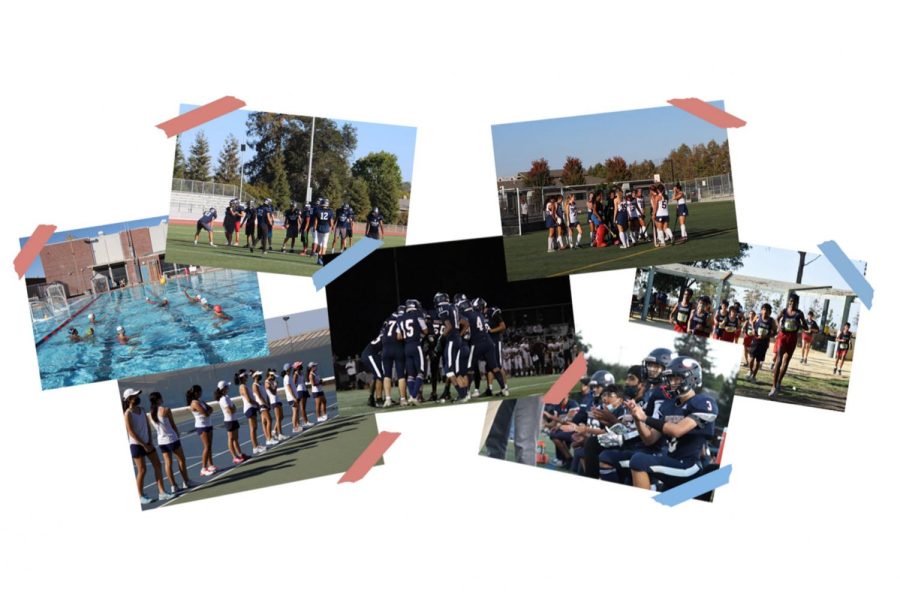 Photos by Epic Staff
Fall sports are back in season, and teams are more united than ever, both on and off the field. From wearing uniforms to school before a home game to bonding with pasta parties, teammates are doing more things together than simply playing sports. The end goal of building relationships outside of practice is fostering a good team dynamic on the field. In August 2021, the fall season — the first full-length sports season since the COVID-19 pandemic — began with boys and girls water polo, girls tennis, field hockey, football, girls volleyball, girls golf and cross country.  
Lynbrook sports' team spirit is first visible when taking a look around campus before a home game: Football players are in their jerseys and field hockey players are in their plaid skirts, or "kilts."
"We're proud to be on the team, and we like to show it off," said senior and varsity football player Jalen Johnson. 
Started by the legacy of Sandi Stober, field hockey traditions are long-standing. Players wear matching bracelets called bear scares and chant "Rah hockey!" in the quad on home game days. 
"We're all just having fun," said junior and JV field hockey player Avni Mangla. "The idea of our whole team coming together and getting to know each other is what makes field hockey special. There's no divide between grades; we're all just girls who want to play."
Girls water polo was recently featured on the Instagram of JOLYN Clothing, a popular swimsuit and active wear brand among water polo players, whose Instagram boasts over 260,00 followers. The team members took a photo positioned in rainbow order, each wearing a different color of a JOLYN swimsuit, which was later reposted by the brand. 
Six out of eight fall sports teams this year are also showing pride through their respective team Instagram accounts. 
"Last year was one of the best seasons we ever had, but we didn't take any photos or videos to remember it by," said junior and varsity volleyball player Sruti Elagovan. "This year, I wanted to change that, which is why the Instagram account came. It helps us bond because we're more attentive towards funny moments in practices and games, and once the season ends, we'll have something to look back at. I don't think the season would be as fun without it." 
Cross country, girls tennis, girls volleyball, field hockey and girls and boys water polo all post witty content and updates on their Instagram accounts as a glimpse into their team dynamics.
"It's run by most of us," said junior and varsity boys water polo player Joseph Zou. "It's a way of showing how JV and varsity can both be on the same page. We take pictures of each other during the games and post them on Instagram for people to see."
Through this platform, boys water polo and field hockey have also shared a healthy rivalry. 
Just as important as showing team spirit is bonding before games. Some Lynbrook sports do this through team dinners, also known as "pasta parties," "pasta fests" and "pasta feeds." In this tradition, the team gathers together the night before a game or race to prepare by eating fueling foods. Another tradition for some girls teams, including tennis, volleyball and field hockey, is "secret sister," in which teammates exchange gifts anonymously before each home game, and the gift givers are revealed at the end of the season. 
Secret sister is one tradition that girls volleyball has developed a unique system for. Using a "Secret Santa" app called Elfster, players create wish lists and send each other anonymous messages, easing the struggle of keeping it secret. They have also allotted a budget for an entire season's worth of gifts.
"Elfster gives me more of a chance to actually talk to my secret sister," said junior and varsity volleyball player Sruti Elangovan. "I give her additional surprises, and when she learns I'm her secret sister, I think this will help us become closer."
One especially spirited team bonding tradition is boys water polo's annual onesie pool day, in which the team swims and plays water polo while wearing fuzzy onesies. 
"Traditions like this bring everyone together as friends and as players as well," said freshman and JV boys water polo player Deniz Genc. "I think that makes a big impact."
According to the Association for Applied Sports Psychology, team dynamics are made up of two components, social cohesion and task cohesion. Task cohesion measures the effectiveness of teamwork at completing tasks, and social cohesion measures the support and relationships among team members. For an effective team dynamic, both elements are important, and they affect one another. 
"If you don't like your teammates, then you're not going to want to go to practice, and you're not going to want to play with them either," said junior and girls varsity water polo player Lauren Yee. "You're going to hold a grudge and it could really change the outcome of everything." 
Even for individual sports like cross country, team dynamics play an important role in athletes' performances. 
"If you run with people during normal practice runs, then you can talk and get to know each other," said freshman and cross country runner Annie Peng. "You don't get tired really easily. When you run by yourself, you're just focusing and really tight. Together, you motivate each other when one person gets tired." 
When players become close with one another, a team's chemistry on the field can improve dramatically. Players develop an understanding of where another player is on the field and what they may be doing. The ability to observe and predict other players' behavior allows for efficient teamwork and lessens the stress a team can experience.
"When you're close with somebody as a friend and teammate, you don't have to speak to them, you just know what's on each other's mind," said senior and varsity football player Jalen Johnson. "That connection really helps in games."